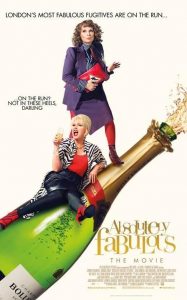 Based on the British television sitcom of the same name, Absolutely Fabulous takes you on a fun-filled adventure with international PR guru "Edina Monsoon" (Jennifer Saunders) and her equally-stylish best friend, magazine editor "Patsy Stone" (Joanna Lumley). Although an enjoyable viewing for all audiences, fans of the show (which ran from 1992 to 1995 and sporadically until 2012) will appreciate the characters, fashion and unique humor to a whole different level. (BKP: 4/5)
Review by Managing Editor Brigid K. Presecky
When 60-something Edina "Edi" realizes both her PR agency and book deal are failing, her botox-injected bestie calls with bad news: fashion mogul Kate Moss, her biggest client, is moving on. Good thing Patsy is attending the Huki Muki fashion extravaganza, filled with industry royals (and an always-welcome Jon Hamm cameo). If Edi can charm her way back into Moss' good graces, problem solved!
Not so fast, ladies. Edi accidentally knocks Kate Moss off of a balcony – drink in hand – plummeting into the waters of the River Thames. When the biggest name in fashion is presumed dead, Edi and Patsy hit the road without telling their families, including Edi's serious daughter "Saffron," (Julia Sawalha) and find themselves in all sorts of 'fabulous' trouble.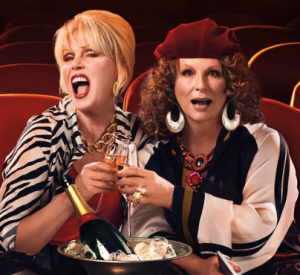 Director Mandie Fletcher has as much comedic timing as screenwriter Saunders, packing on the hilarity with over-the-top dream sequences, car chases and celebrity-filled fashion events. Cameos from Moss and Hamm are not the only ones that will surprise you (I'm in no way talking to fans of the Spice Girls. Or am I?).
For viewers of the television show, either from the original run in the 1990s or its decade-long syndication, Edi and Patsy's journey is an uproarious treat. Sitting a packed theater, surrounded by fans (particularly in the middle-aged gay community) was almost as entertaining as the film itself. Watching their reactions and hearing the applause as characters made their first appearances on screen made it obvious: Absolutely Fabulous was made for them.
Much like Sex and the City, Entourage or Veronica Mars, you have to appreciate the characters' backstories to emotionally encompass yourself in this universe. A reader would not be able to write an objective review on a novel if they flipped to the last chapter. However, they could write about the fun they had while reading it. And this last chapter made being a British fashionista with a gold high heels in one hand and champagne in the other seem absolutely fabulous.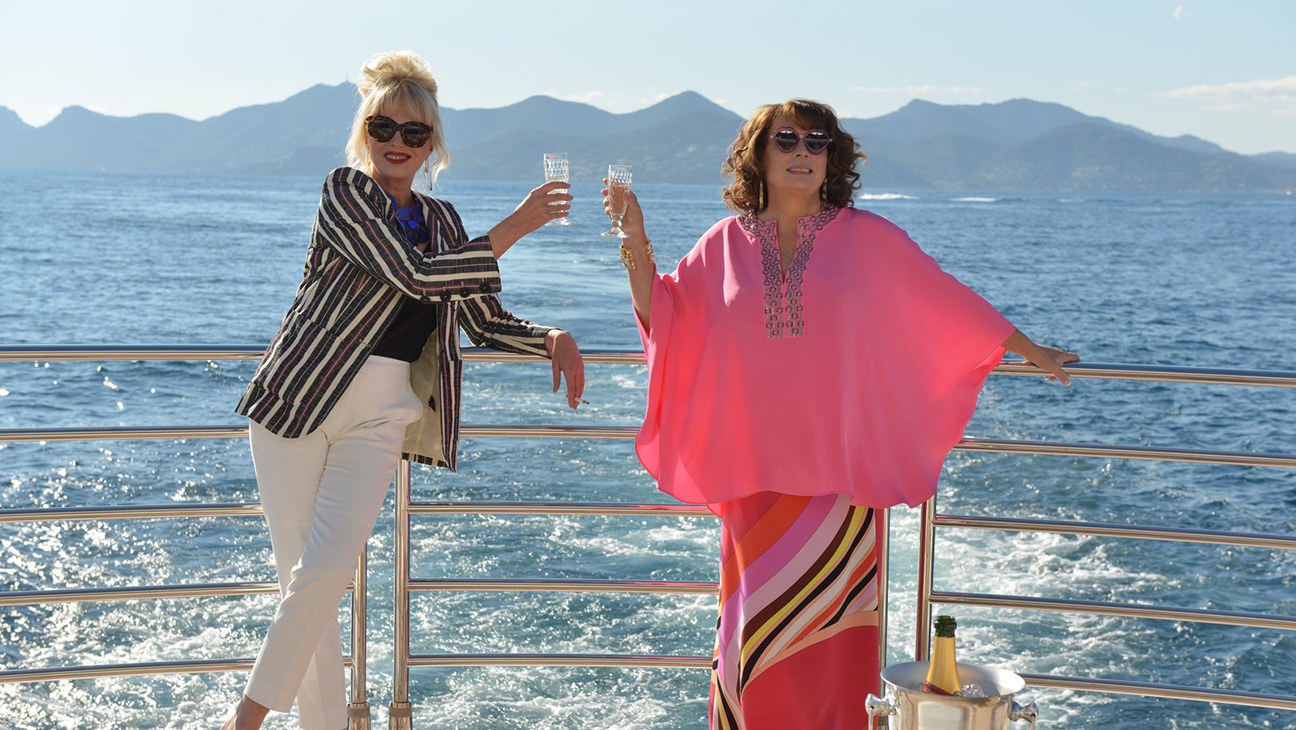 © Brigid K. Presecky FF2 Media (7/23/16)
Photos: Joanna Lumley as "Patsy Stone" and Jennifer Saunders as "Edina Monsoon"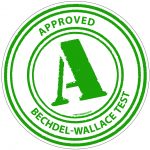 Photo Credits: Fox Searchlight
Q: Does Absolutely Fabulous pass the Bechdel-Wallace Test?
Almost every scene.