Loosely based on Jean-Paul Sartre's short story by the same name, The Childhood of a Leader, adapted by director Brady Corbet and his co-writer Mona Fastvold, tells the chilling tale of a young boy's unnerving childhood, which includes a distant mother, and an absent, brutish father.
But instead of Sartre's story, which follows Lucien in early childhood through young adolescence, we view the rise of Fascism through young Prescott. (LMB: 4/5)
Review by FF2 Associate Lindsy M. Bissonnette
A dissonant and ominous overture abruptly begins. Everyone in the theatre jumps as Bernard Herrmann-ian music (composed by Scott Walker) blares, and we all know how Hitchcock's films ended, don't we? Are the hairs on the back of your neck prickling yet? They will.
As the music wails, early 20th century images play and the story begins with the "The First Tantrum: a sign of things to come." We meet "Prescott" (Tom Sweet) who is rehearsing for a nativity play at his church, and struggling with his French. After the rehearsal he begins throwing rocks at parents, he turns to run when he is caught, but heads straight into a tree (he's only a boy after all). His "Mother" (Bérénice Bejo) brings him home, scolds him and sends him to bed after forcing him to say his nightly prayers, which he reluctantly does "in his head."
"Second Tantrum: a new year" starts the next segment where we see Prescott act
ing inappropriately with Adelaide his "Teacher" (Stacy Martin). We get the sense that Prescott is lacking a male role model, since his "Father" (Liam Cunningham) has been traveling for business. Turns out Father is busy working behind President Wilson's back.
Later, one of Father's coworkers mistakes Prescott for a girl during an important yet unofficial meeting at the house (the beginning of the Treaty of Versailles). Prescott taunts his father in return by refusing to wear clothes or eat, and locks himself in his room. Furious and embarrassed, "Father" breaks down the bedroom door and disciplines his son, breaking his arm.
Tensions rise in the household as we learn of the distant and aggressive relationship between Mother and Father, which negatively impacts the development of little Prescott. His inability to properly process his own emotions results in his stunted social abilities, reclusive tendencies and destructive behavior. We see sequences of dramatic images, which further disturb and distort what Prescott believes to be right and wrong as he pushes boundaries of tolerance in his own household.
There are two more segments of the film, and that's where things really start to get… messy. But you'll have to go check this film out for yourself, and it is definitely worth the watch. Young Tom Sweet is terrifying and devastating as the product of an unforgiving household, and Scott Walker does a brilliant job of creating a soundtrack that is both disturbing and also extremely catchy (remember that Jaws theme song? Get ready.)
Haunting and ominous, The Childhood of a Leader will keep your gut twisted, as you watch the creation of a monster.
© Lindsy M. Bissonnette FF2 Media (7/25/16)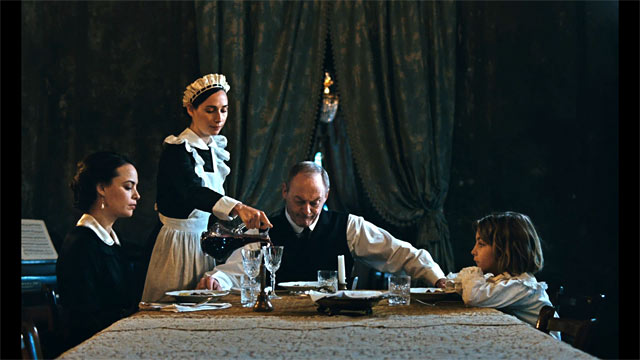 Top Photo: The Childhood of a Leader poster.
Middle Photo: Prescott looking at himself in the mirror in his parent's bedroom.
Bottom Photo: The family sits down to a meal in their home in France.
Photo Credits: Agatha A. Nitecka
Q: Does The Childhood of a Leader pass the Bechdel-Wallace Test?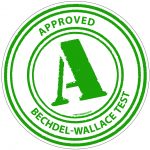 Yes, ma'am!
"Mother" runs this household with an iron hand and has several devastating scenes with the women who work for her (specifically a housekeeper, a maid, and a tutor).  At one point, the housekeeper–who has been on staff at the residence for over a decade–utters a curse so sharp that it almost draws blood.