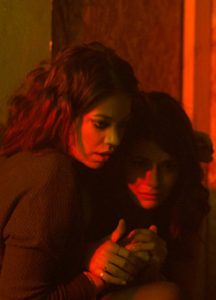 Directed by Henry Just and Ariel Schulman and written by Christopher Landon and Barbara Marshall, Viral's horror plays on the very real paranoia that sets in when discussion of new infectious diseases take over the news. When a parasitic infection takes over the United States, causing apocalyptic chaos, "Emma" (Sofia Black-D'Elia) and her sister "Stacey" (Analeigh Tipton) have to try to survive. Zombie-like infected creatures, complete with nauseating gurgling, spasms, and a generous amount of jump scares, make for an effectively grotesque horror story, while romantic and family subplots feel a little underwhelming. (AEL: 2.5/5)
Review by FF2 Intern Amelie E. Lasker
The Drakeford sisters are new to their small California town, and they're just getting adjusted to their school's social scene. Serious and inexperienced, "Emma" (Sofia Black-D'Elia) has a crush on her sweet doe-eyed neighbor, "Evan" (Travis Tope), but she's not sure how to approach him. Meanwhile, older sister "Stacey" (Analeigh Tipton) seems to know exactly how to deal with boys in a way that infuriates, and even scandalizes, Emma.
Relations within the Drakeford family are strained, and not only because of the sisters' diverging personalities. Emma believes they had to move because Michael was "laid off" from his job as a professor at UC Berkeley. Emma knows there's been some tension between her parents since the move, but she doesn't know why. It's clear there's something going on with their parents' marriage, and that Stacey isn't telling Emma everything she knows about it.
Meanwhile, news reports of a parasitic epidemic sweeping the world have primed us to pick up on signs of approaching disaster. Emma's friend "Gracie" (Linzie Gray) casually mentions her mother's coughing and her own increased appetite. A viral online video Gracie sends to Emma shows us how the infected monsters will look. On grainy security footage, a woman cowers in an elevator, while a man rushes in and vomits blood in her face.
Emma and Stacey's father "Michael" (Michael Kelly) teaches biology at their new school. In Emma and Gracie's class, he shows them graphic videos of parasites being removed from human flesh. He talks about a fascinating type of parasite that can control its host and make it do irrational and dangerous things. The class laughs, oblivious to the imminent threat.
In the middle of class, Gracie starts to cough up blood, and runs outside. Emma finds her collapsed on the pavement. Gracie vomits blood, much like the sick man in the online video. The local government closes the school and puts the town on lockdown. When Dad leaves to pick up Mom from the airport, the girls are alone in the supposed safety of their home. At first, Stacey and Emma ignore possible danger, distracted by the thrill of canceled school and an empty house with no rules. As infection spreads, however, the threat becomes more real and the consequences more permanent. For the sake of safety, the sisters have to grow up in these new high-pressure circumstances, while also figuring out how to be family again.
While the source of horror in this story is an apocalypse of international scale, Viral focuses most on family loyalty and the individual heroism of its teenaged protagonists. However, while I found Viral's parasites and medical emergencies incredibly effective in making me nauseous, I got none of the usual chilling thrill I love to see in horror movies. Sadly, Viral isn't supernatural or imaginative. Instead, it's mostly just gross.
© Amelie E. Lasker FF2 Media (9/16/16)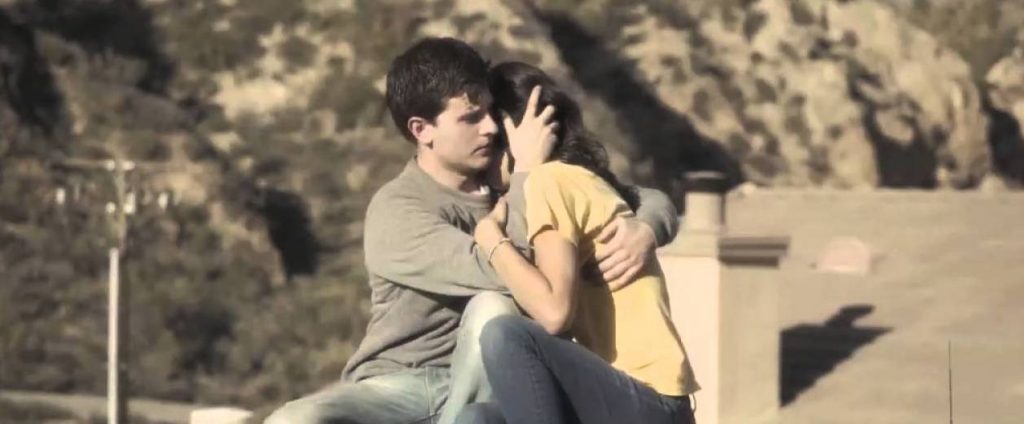 Top Photo: "Stacey" (Analeigh Tipton) and "Emma" (Sofia Black-D'Elia) hide from an infected person.
Middle Photo: "Stacey" (Analeigh Tipton) is horrified by what the infection might do to her family.
Bottom Photo: "Evan" (Travis Tope) comforts "Emma" (Sofia Black-D'Elia).
Photo Credits: Katrina Marcinowski
Q: Does Viral pass the Bechdel-Wallace Test?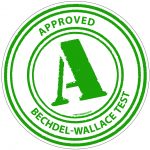 Yes.
The sisters stay loyal to each other, even when their family is strained by their parents' problems, and even, more impressively, when Stacey gets infected. Stacey, horrified by what the parasite is "telling her to do," begs several times for Emma to leave her, and even kill her, but Emma reminds her that the two of them have always taken care of each other.