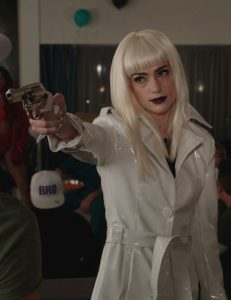 Written and directed by Lisa Addario and Joe Syracuse, Amateur Night is a wild ride, loosely based on real events. "Guy Carter" (Jason Biggs) and his wife "Anne" (Jenny Mollen) are expecting their first child. With no job, no health insurance, and riddled with the fear that he won't be up to the task of fatherhood, Guy struggles to get his "ducks in a row" before the baby comes. But when he takes a delivery job as a last resort, Guy unwittingly finds himself driving three call girls, chauffeuring them from job to job in his Volvo station wagon, and getting a whole lot more than he bargained for during one wild night. (JEP: 3.5/5)
Review by Associate Editor Jessica E. Perry
"Guy Carter" (Jason Biggs) is an award-winning architect, but long since out of work, his growing family's health insurance is about to expire and a new job is nowhere in sight. He and his wife, "Anne Carter" (Jenny Mollen) are expecting their first child, and due in a matter of weeks, Guys has found himself in a place of last resorts. When Anne finds a Craigslist listing for delivery drivers, Guy begrudgingly calls in for the job.
He meets his potential employer "Zoley" (Cedric Yarbrough) at a fast food burger joint, and since he has his own car—an ever-classy Volvo station wagon—Zoley gives him his first assignment. Starting the job immediately, an overwhelmed Guy forgets to ask about the details: the money and what exactly he'll be delivering. To his surprise, it's not pizza.
Zoley works for high-class call girls, providing them with protection and transportation. As the days of "Pimps" are long gone, he works for them, not the other way around. Guy's first assignment is to pick up "Nikki" (Janet Montgomery) and deliver her to her next client, wealthy doctor "Dr. Kurtz" at his lavish Bel Air mansion.
When Guy drops her off, he is instructed to stay in the car and wait exactly one hour until Nikki is ready to leave. But contemplating his need for the money and his distain for his new position, Guy drives off leaving Nikki with Dr. Kurtz. However, when Guy calls his wife on the way home, she instructs him to turn around, finish the job, and make sure Nikki makes it out of the doctor's home safely.
Once Guy returns to the Bel Air mansion, things really start to get interesting. Once Guy learns how much cash he could earn from finishing out the night, the job grows more and more appealing, but the situations Guy finds himself in grow more and more outrageous. Dangerous, hilarious, and precarious situations ensue, especially when they pick up Nikki's girls "Fallon" (Ashley Tisdale) and "Jaxi" (Bria L. Murphy) to work a crazed Bachelor party.
Amateur Night is refreshing in how Nikki and her girls are portrayed: confident, in control, and in charge. Nikki runs a business and does very well for herself, no matter her profession. While Guy has always stayed within the lines, climbed the business ladder step by step, yet finds himself jobless, penniless, and struggling to make ends meet for his growing family. Nikki teaches Guy a few things about himself, and a few things about asking for and getting what you want.
Written and directed by husband and wife team, Lisa Addario and Joe Syracuse, Amateur Night is a wild ride. Although the film's plot gets a little carried away, and continuity issues appear a little too apparent in certain scenes, the film is entertaining in its premise, and Janet Montgomery delivers a commanding performance as Nikki.
© Jessica E. Perry FF2 Media (8/7/2016)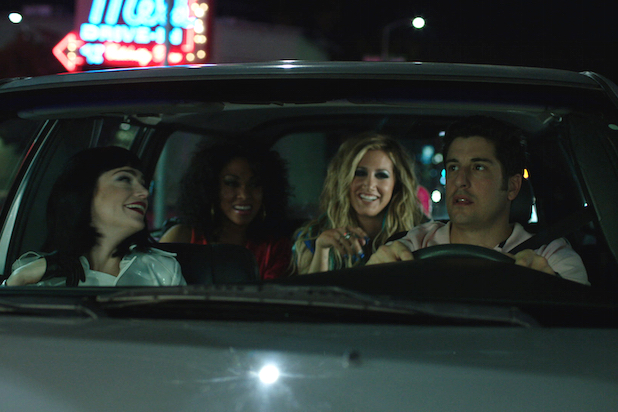 Top Photo: Things get heated during a bachelor party when the girls' money is stolen by one of the partygoers.
Middle Photo: Anne and Guy talk about their next steps for work, baby, and family life.
Bottom Photo: Guy drives the girls to their next gig.
Photo Credits: Cinedigm Entertainment Group
Q: Does Amateur Night pass the Bechdel-Wallace Test?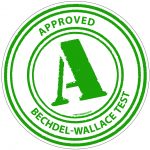 Barely.
Almost all of the conversations between the three female leads revolve around the men they service. In an extremely brief conversation between "Fallon" (Ashley Tisdale) and "Jaxi" (Bria L. Murphy), Jaxi explains how her cousin made a ton of money selling "vitamins."