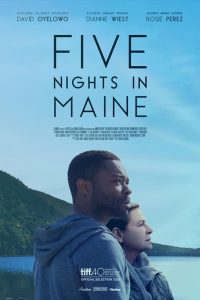 When a man loses his wife in a tragic car accident, he finds a grieving partner – and adversary – his mother-in-law. Although Five Nights in Maine leaves questions unanswered, Diane Wiest and David Oyelowo showcase their abilities in writer/director Maris Curran's feature film debut. (BKP: 3.5/5)
Review by Managing Editor Brigid K. Presecky
"Sherwin" (Oyelowo) and his wife "Fiona," (Hani Furstenberg) live like any married couple: in love, yet co-existing with as many problems as the rest. One late night, Sherwin gets the call that nobody should ever have to answer – Fiona was killed in a tragic car accident.
After his initial spiral of disbelief and heartache, Sherwin drives from Atlanta to Maine to see the one person who might understand his pain, Fiona's cancer-stricken mother, "Lucinda" (Wiest). The tension that might accrue in a typical in-law relationship is more intense here, with Lucinda always being a sore point in Sherwin and Fiona's marriage.
The story moves along as the two share both dinners and sparring matches – and a series of random events (Lemony Snicket's original title for his book series). The who, what and where are answered, but as the film progresses, the 'why' is left to the imagination.
Both Oyelowo and Wiest put their talent on display for Curran, performing at the best to bring distressed Sherwin and the ill-fated Lucinda to life. Known for their recent work in vastly different genres (Oyelowo in Selma, Wiest in quiet CBS hit, Life in Pieces) the two come together to create a believably tense dynamic.
For Curran's feature film debut, which screened at the 2015 Toronto International Film Festival, she brings emotion to the forefront, letting the script resonate with people who have lost a spouse, a child (or even the possibility of a child).
The unanswered questions fade to the background: Does race come into play? Maybe. Is there more to Fiona's death than meets the eye? We don't know. But maybe that's the point. Maybe we don't have to know.
© Brigid K. Presecky FF2 Media (8/5/16)
Middle Photo: David Oyelowo as "Sherwin" and Hani Furstenberg as "Fiona"
Bottom Photo: David Oyelowo as "Sherwin" and Diane Wiest as "Lucinda"
Photo Credits: Toronto Film Festival
Q: Does Five Nights In Maine pass the Bechdel-Wallace Test?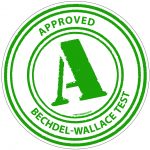 Yes!
Lucinda's nurse "Ann" (Rosie Perez) provides information to Sherwin and comfort to a woman who is grappling with outliving her child.