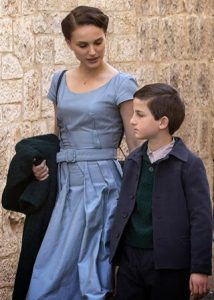 As much as one might want to love A Tale of Love and Darkness, it is difficult to do so. Natalie Portman's directorial debut was meant to inspire others by sharing the life story of Amos Oz, a famous Israeli storyteller; but it gets dragged down in dreary sidestory ultimately fails to invigorate the audience in the way it was intended. Still, for those who already share in Portman's passions for Israel and Amos Oz's stories, A Tale of Love and Darkness is an enjoyable watch and a sign of good things to come from Portman in the future. (RAK: 3/5)
Review by FF2 Intern Rachel A. Kastner
 A Tale of Love and Darkness conveys the story of Amos Oz' youth growing up in Palestine in a post Holocaust-world. It is supposedly told from his perspective, as it begins featuring an elder Amos Oz recalling his younger years, but it is actually a film that focuses on his mother, "Fania Oz" (Natalie Portman) and her experience raising "Amos Oz" (Amir Tessler). Amos Oz lives in a state of flux for most of his childhood, waiting for the day that a Jewish state will be announced. He lives with his mother, Fania, and his father, "Arieh Oz" (Gilad Kahana), and he grows up struggling to understand their flaws and loveless marriage. These experiences are what eventually shape the young Amos Oz into the inspiring storyteller he becomes.
The truth is, as refugees from Eastern Europe, Fania and Arieh both struggle deeply with hope about the future. Fania simply cannot move past the horrors of the past, and falls into a deep depression. She loses hope in everything. Everything, that is, except Amos. She spends nights lying in bed with him, telling and creating fantastical and mystical st
ories with him that appear on the screen in beautiful vignettes. We dive into Amos' imagination as he imagines saving his mother from the deep depression that is ravaging her mind. The film beautifully captures their strong bond and love.
As sweet as the story is, for those viewers who don't feel any particular affinity for Israel, Jerusalem stone or the history in the backdrop of the film, A Tale of Love and Darkness interesting. It's slow, dark and dreary. It is unclear whether the film is meant to be a portrait of Fania, a historical drama about Israel, and the story of Amos' life.
Additionally, it is strange having a protagonist who doesn't speak: Amos' character rarely speaks any lines, which is puzzling considering that this is his story. The film would have benefitted from allowing Amos to speak. It seems that Portman was trying too hard to do too many things at once.. That being said, it is definitely a visually beautiful film to watch, and it is clear that Portman has an eye – so hopefully we will have the chance to see other films she directs that might have wider audience appeal or better structure.
© Rachel A. Kastner FF2 Media (8/2/16)
Top Photo: "Fania" (Natalie Portman) struggles to give her son "Amos" (Amir Tessler) a normal life.
Middle Photo: Jerusalem residents gathering to listen to the radio to hear the UN announce Israel as a state.
Bottom Photo: Natalie Portman as "Fania" standing in line to collect food for her family in Israel.
Photo Credits: Ran Mendelson
Q: Does A Tale of Love and Darkness pass the Bechdel-Wallace Test?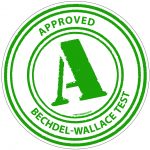 Yes.
When Fania is really struggling with her depression, she goes to live with her sisters. They attempt to entertain and heal her.
Check out FF2 Editor-in-Chief Jan Lisa Huttner's review of A Tale of Love and Darkness here!