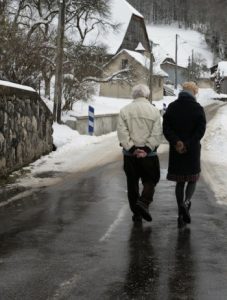 The Seasons in Quincy: Four Portraits of John Berger is a non-linear look at the life of 90-year-old artist, writer and art critic, John Berger. Using the seasons as the backbone of the documentary, these four unique glimpses into his past and present life are equal parts captivating and heartwarming, particularly in Tilda Swinton's opening segment, "Ways of Listening." (BKP: 4.5/5)
Review by Managing Editor Brigid K. Presecky
"We who draw do so not only to make something observed visible to others, but also to accompany something invisible to its incalculable destination." – John Berger
Rather chronicling Berger's life dating back to his 1972 novel "G," Seasons begins in a 21st century winter, in his quaint home in the French village of Quincy. The white-haired, well-spoken poet sits at his kitchen table, across from his old friend and co-worker, Tilda Swinton.
These two old friends, who happen to share the same November birthday, bake apple pie and reminisce about their fathers, both soldiers from the two World Wars. Viewers become transfixed as Swinton carefully takes each apple, cuts it – in half at first, then half again – and peels it with a knife. Directors Bartek Dziadosz and Colin MacCabe make viewers feels as if they are sitting at the same table, participating in a meaningful conversation between old friends.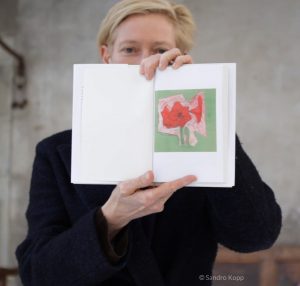 Swinton writes, produces and directs parts here, including the closing chapter, "Harvest." But in between the winter and fall segments, further details of Berger's life emerge, including particular animal interests and his life philosophy. The different filming styles – partially in black and white – of the remaining seasons are less captivating than the simple opening at the kitchen table. However, they are each unique revelations of a interesting man who's led an equally interesting life.
Swinton narrates, "John always calls himself a storyteller, rather than a writer. If we live our lives through embedding ourselves, day by day, in layers of general and particular story, maybe what John as a storyteller does is to recognize the stories woven around people. To bear witness to them. And simply, to identify stories good for the reader's health."
The beauty of storytelling, whether nonfiction or fiction, is to teach the viewer something and expose them to a world unlike their own. Here, we are treated to a documentary about the life of a man who feels like a friend by film's end. You want to hear more from him, you want to learn more from him. The filmmakers of The Seasons in Quincy: Four Portraits of John Berger have done their job. And have accompanied something invisible to its incalculable destination.
© Brigid K. Presecky FF2 Media (9/01/16)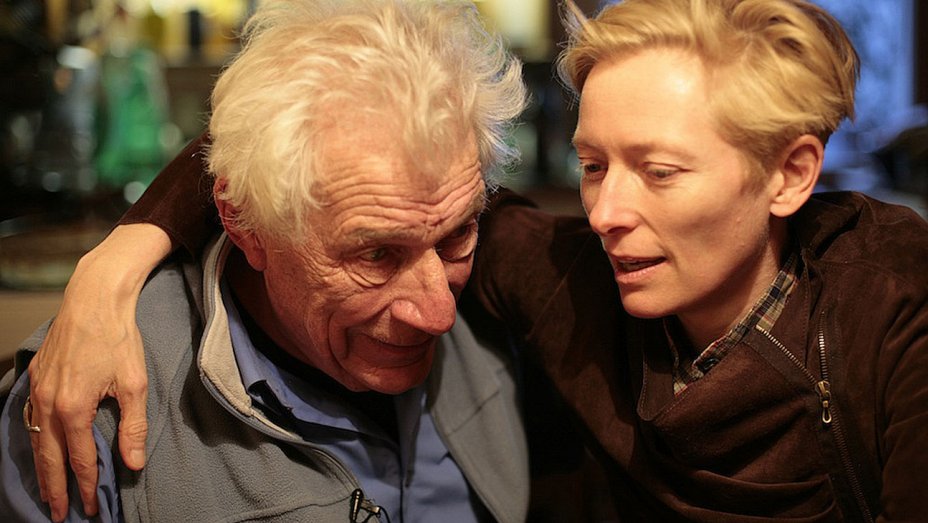 Top Photo: Tilda Swinton and John Berger walk down the snowy streets of his French village in Quincy
Middle Photo: Swinton holds up artwork by John Berger
Bottom Photo: Swinton and Berger, friends since they worked together in the 1989 film, Play Me Something
Photo Credits: Sandro Kopp
Q: Does The Seasons in Quincy: Four Portraits of John Berger pass the Bechdel-Wallace Test?
Unfortunately, no.