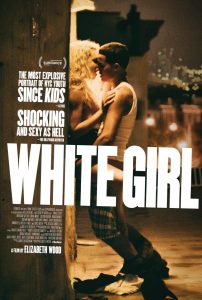 It's every parent's nightmare. Yes. Your baby daughter who goes to college in New York is indeed doing drugs and being sexually harassed at her artsy internship this summer. And yes. Your hard-earned 200 bucks are not enough to cover all the weed and cocaine, or to bail her drug-dealing boyfriend out of jail.
If White Girl is yet another story of bored millennials trying to find themselves, this movie, despite all its violence, would be an absolute bore. However, writer/director Elizabeth Wood has something else in mind: namely the white privilege. In short, there are two things made clear by Ms. Wood: beauty hurts, but being anything but white definitely hurts more. (PS: 3.5/5)
Review by FF2 Intern Peier Shen
Leah (Morgan Saylor), a rising sophomore at an unspecified college in New York, moves to a seedy apartment in Queens with her equally wild friend, Katie (India Menuez). Leah strikes an immediate connection with Blue (Brian Marc), one of the drug dealers who huddle around their apartment building all day. That soon leads to rampant sex on the roof.
Well, there is plenty of sex before that. At Leah's internship, when her boss (Justin Bartha) offers her a line of coke, she happily snorts it up and rewards him with oral sex. But Blue is somehow different; Leah is ready to go through hell for him. And after Blue getting busted for possession of 10 ounces of cocaine, Leah jumps at the chance to help him.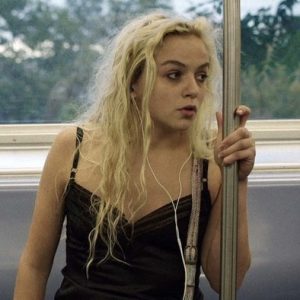 She finds a sleek and jaded lawyer (Chris Noth) to defend Blue. The attorney curiously looks at her and soon figures her out, sending her a huge sum of bill for his service. In order to pay, she attempts to sell the cocaine Blue gets from his drug lord with the help of her boss. In one night, they collect 24 grand at a downtown club and that might even be celebrated as an American success story if not for Leah to pass out and to lose her purse.
Without bail, the lawyer forces her to flirt with him at an upscale restaurant and rapes her that night when she seems to be unconscious. One day, her handsome Latino boy returns, cries in her arms, and proposes in a dreamy morning. But is this gonna end happily? Probably not.
Ms. Wood is raw with her story and her camera. There's no need to sugarcoat anything. And there's certainly no inclination to hide anything. The director has said at a Sundance panel that the movie is semi-autobiographical. And her shaky handheld camera is ready to capture the pain of all the drugs and sex with the if-someone-actually-has-to-go-through-it-you-don't-get-to-escape-it kind of mentality.
Despite all the rough sex and hardcore drugs (which have a way to numb everyone as they numb Leah), the really interesting screen presence lies in Leah's relationship with Blue. The two has a nice chemistry on screen; together, they radiate a youthful charm that is not much represented. Though Ms. Saylor should be commended for taking a demanding role, it is Mr. Marc that seems to perform with a much more natural ease that captivates the senses. A layered character, Mr. Marc's version of the Latino drug-dealer, is sometimes sweet, sometimes belligerent, and sometimes cowardly. It is interesting to watch him as he goes through different phases of his journey, with no part that appears to be too contrived or studied.
As for the moral of the story, it's pretty clear. The white privilege has seeped through our legal system: a white kid can walk free after stabbing someone yet a person of color will be ruthlessly punished for possession of a minuscule amount of drugs. But Ms. Wood goes beyond the apparent. Even Leah's body is resilient: after so much abuse (the alcohol, the drugs, the sex), she recovers quickly and takes on more. Blue however can't; as the moral guide of our story, he understands the system but can't break free. He is the one that will bear the consequence of the society's mistakes, violence, and promiscuity.
But what is the point for the white girl? Till the very end, it is still hard to make out what is this whole experience for Leah. And how should we perceive her? Ms. Wood's White Girl is painstakingly cathartic. But to what end? We are not sure.
©Peier Shen FF2 Media (09/07/16)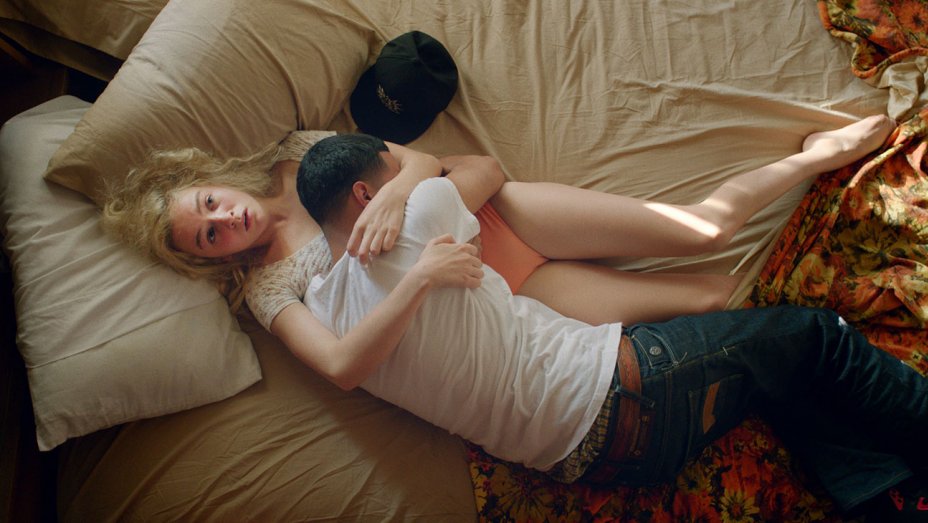 Top Photo: Publicity Photo
Middle Photo: Leah (Morgan Saylor) on the train
Bottom Photo: Leah and Blue (Brian Marc)
Photo Credits: Kevin Tadge
Q: Does White Girl pass the Bechdel-Wallace Test?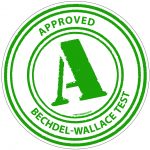 Yes.
The first scenes in White Girl show "Leah" (Morgan Saylor) moving into a new apartment with her BFF "Katie" (India Menuez). They giggle together as they struggle to get their sofa up a staircase and then sort all their stuff.
When Leah invites some of their new neighbors into the apartment, Katie tries to restrain her, but it is already too late. Leah's manic energy pulls Katie into increasingly perilous situations (although none anywhere near as dire as those in which Leah flings herself).
Inevitably, Leah returns home battered and bruised, at which point Katie takes her into the shower, tenderly cleaning her up. Because Katie is literally "there" with her, Leah makes it through. It's a tremendously moving scene of female bonding.
Yet for most of the film, Katie is more like a drug buddy. Since they are almost always stoned out of their minds, Leah and Katie don't really talk to each other much, let alone have any heartfelt conversations. The movie is about women – especially young beautiful women – who are always targeted, desired, and abused. Each has her private hell and each, however beautiful, is utterly alone.