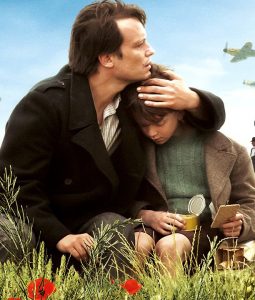 Co-written by Laure Irrmann, Come What May is the heartfelt tale of a father's determination to be reunited with his son. As he treks through sorrow, destruction, and devastation as World War II sweeps through Europe, this father's love knows no bounds. This affectionate film highlights the importance of a father's love and fortitude, and a little boy's resilience and desire to survive. Though at times inconsistent, Come What May has several performances that make it worth the watch. (LMB: 3.5/5)
Review by FF2 Associate Lindsy M. Bissonnette
Anti-Nazi Activist "Hans" (August Diehl) and his young son "Max" (Joshio Marlon) are on the run from German troops. They flee their native Germany to the small village of Pas-de-Calais, France in an effort to escape the Nazi propaganda. But when Hans is thrown in jail after he's mistaken for a spy, young Max must travel with the Mayor "Paul" (Oliver Gourmet) and his wife "Mado" (Mathilde Seigner) as they lead their community to southern France in hopes of finding solace from the war. Hopeful that he and his father will be reunited, Max writes letters on school chalkboards along their perilous journey, so his father is able to follow their trail.
Miraculously Hans is released from prison right as the Germans begin attacking France. He crosses paths with a brave Scottish soldier, "Percy" (Matthew Rhys) whose entire team has recently been murdered. In hopes of some rest, a good meal, and eventually rejoining the British troops, Percy decides to travel with Hans back to Pas-de-Calais and help him find his son.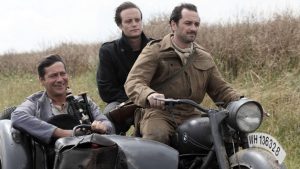 While trying to pack for the trip south, "Albert" (Laurent Gerra) an endearing farmer/wine connoisseur of Pas-de-Calais laments at leaving behind such precious bottles of wine, and decides to taste each one he had been saving. He gets drunk, falls asleep, and the caravan leaves without him. Since then, he has been surviving alone in the abandoned town, and when Percy and Hans discover him, Albert offers them a good meal, good conversation, and even better wine. They team up and journey together, following the path of the caravan, with the help of Max's heartfelt chalkboard letters to his father.
Come What May, co-written by Laure Irrmann will play your heartstrings. Unfortunately, the two main characters, Hans and Max, are also the blandest. With little depth other than their blood relation, Hans and Max fade next to colorful and interesting characters like Percy, Paul, Mado, and Albert. The film is also overwhelmed by a score that would be better suited for a romantic comedy, with its swelling nostalgic melody that repeats in between every major scene, even when inappropriate.
However, there are several outstanding performances like that of Matthew Rhys as heroic "Percy," Oliver Gourmet as father-like "Paul" and Laurent Gerra as lovable "Albert." The poignant performances coupled with the stunning scenery help the film, but in the end, inconsistent writing eliminates all potential for suspense with predictable scenes and underdeveloped characters.
© Lindsy M. Bissonnette FF2 Media (9/14/16)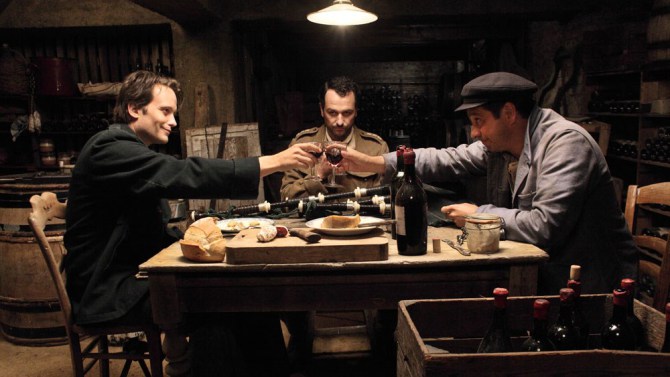 Top Photo: Hans and Max sitting together eating a dinner of tinned food.
Middle Photo: Albert, Hans and Percy riding in a stolen German vehicle.
Bottom Photo: Hans, and Percy delight in sharing some of Albert's most prized possessions, his beloved bottles.
Photo Credits: Cohen Media Group
Q: Does Come What May pass the Bechdel-Wallace Test?
No.
Sadly, there is not a single scene between two women.