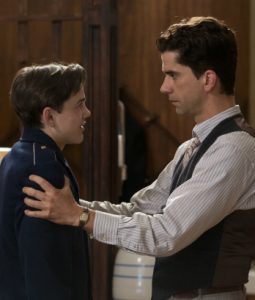 First-time director Meg Ryan delivers a slow and steady, yet powerful, drama about a young boy determined to be the best bicycle telegraph messenger around, in order to help support his family during wartime. (JEP: 4/5)
Review by Associate Editor Jessica E. Perry
It is the spring of 1942, and fourteen year old "Homer Macauley" (Alex Neustaedter) has just applied for, and been granted a job as a bicycle telegraph messenger. The suit is too big, his age is too young, but his determination sells his new employers "Willie Grogan" (Sam Shepard) and "Tom Spangler" (Hamish Linklater) on his reliability as a potential employee.
Homer's brother "Marcus" (Jack Quaid) has just gone off to war. During his absence, it is young Homer's responsibility to be the man of the household after their father's (in a brief cameo performance from Tom Hanks) passing. Vowing to give his earnings as a telegraph messenger to his mother "Mrs. Macauley" (Meg Ryan) and siblings, Homer is determined to be the best and the fastest messenger the town has ever seen.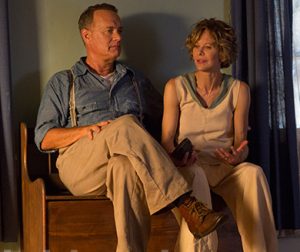 His first official telegraph delivery marks a heartbreaking moment in the film, as young Homer reads aloud the news of her son's death in the war, to an aging mother who is unable to read it for herself. The moment makes Homer sick, but he persists, never backing down from the job, no matter how trying it is to face the harsh realities of a world he had previously been secluded from in his childlike innocence. Homer continues to deliver telegraphs, his story moved along by letters from Marcus, who shares his own story and memories of his family, with fellow soldier and orphan "Tobey George" (Gabriel Basso).
Ithaca is, at its core, a coming of age story about a young boy thrust into adulthood during war time. Screenwriter Erik Jenderesen keeps his story—based off of William Saroyan's novel "The Human Comedy"—small, focusing instead, on character. Meg Ryan's directoral debut is a visually stunning, albeit slow-paced drama, filled with moving performances by young actors, including one to watch, Alex Neustaedter as Homer, and the adorable Spencer Howell as "Ulysses Macauley."
© Jessica E. Perry FF2 Media (9/18/16)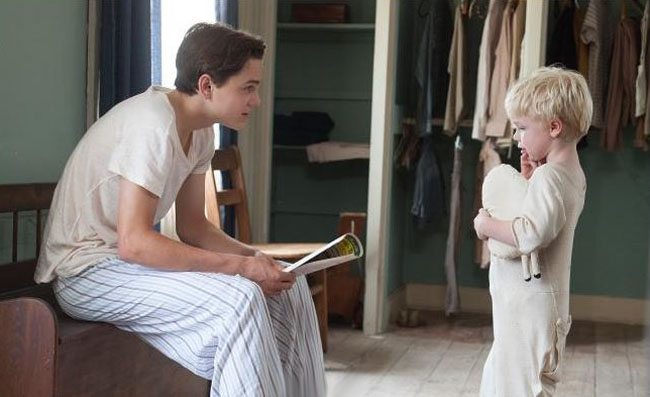 Top Photo: "Tom Spangler" (Hamish Linklater) gives "Homer Macauley" (Alex Neustaedter) the ins-and-outs of his new job.
Middle Photo: Tom Hanks and Meg Ryan as "Mr. and Mrs. Macauley," in one of the slightly unnecessary dream-like sequences throughout the film.
Bottom Photo: Homer talks with his younger brother "Ulysses Macauley" (scene-stealer Spencer Howell).
Photo Credits: Kent Eanes
Q: Does Ithaca pass the Bechdel-Wallace Test?
No.