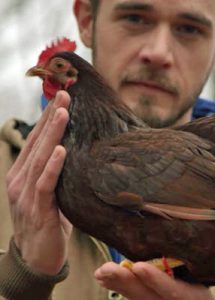 From the Chicken People website:
"Chicken may be just food for most people, but raising the perfect chicken is an all-consuming passion for some. Directed by Nicole Lucas Haimes, this two-hour documentary takes a charming and fascinating look at the colorful and hugely competitive world of champion show chicken breeders.
A real life Best in Show but about chickens, the film follows the struggles and triumphs of both humans and their chickens on the road to compete at the Ohio National Poultry Show, considered the Westminster of Chickens." Directed by Nicole Lucas Haimes.
Top Photo: Brian Caraker in Illinois. (Photo Credit: Martina Radwan)
Middle Photo: Shari McCollough in Ohio (Photo Credit: Sean Lyness)
Bottom Photo: Nomenclature Diagram from the Chicken People website.
Q: Does Chicken People pass the Bechdel-Wallace Test?
Kinda sorta.
Shari McCollough does have some conversations with her daughters about caring for the chickens, preparing to travel to shows, etc. But most of the scenes are either face-to-face interviews or tracking the main protagonists through the competition phase.