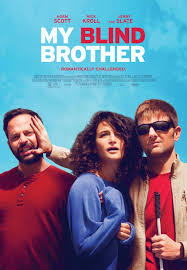 Read Senior Contributor Lesley Coffin's Q&A with Director Sophie Goodhart HERE.
Nick Kroll stars as a struggling singleton in the shadow of his overachieving blind brother (Adam Scott). Writer/Director Sophie Goodhart manages to tell a sweet, funny love story using a common plot device of two guys, a girl … and a lake instead of a pizza place. (BKP: 4/5)
Review by Managing Editor Brigid K. Presecky
Cain and Abel. Stefan and Damon. Even Drake and Josh. If you look to ancient history or Nickelodeon, you will find an audience who finds the stories of brothers fascinating. Why else would Supernatural be entering its 12th season on The CW?
In My Blind Brother, Goodhart creates a pair of brothers who are equally intriguing. There's 40-something "Bill," (Kroll) a self-proclaimed lazy man who would rather watch television than guide his blind brother, "Robbie" (Scott) to the finish line of a marathon. But he does. With each new challenge Robbie embarks on, loyal brother Bill is right there next to him. So, what happens when your disabled and selfish sibling hogs the spotlight? You hit the bars.
Bill meets weepy stranger, "Rose," (Jenny Slate) a grieving mess from the sudden death of her boyfriend. She wants to make her life purposeful, dedicating herself for the betterment of others. But first, she drinks. The two hit it off and an a potential romance turns into a one-night stand, forcing Bill back to square one. As fate would have it, they see each other again when Robbie introduces his new running partner and guide-person: Rose. Uh-oh.
The awkwardly funny and angst-filled love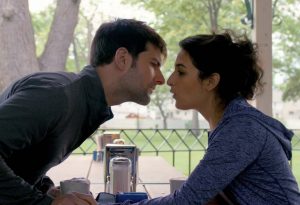 triangle is set in full force as Bill tries to hide his feelings for his brother's new girlfriend, all while the three painstakingly train for a blind swim across the lake.
Adam Scott plays the perfect blind brother, subtly acting in ways that would only be noticeable to those who disdain cocky athletes or passive aggressive "bros." Kroll and Slate play the straighter characters, both grieving over past mistakes and uncertain futures. Nobody is over-the-top or forced into extreme caricatures that typically saturate blockbuster comedies.
One underutilized player, however, is Zoe Kazan as Rose's best friend and roommate, "Francie." She serves the purpose as the proverbial funny sidekick, only interested in Rose's love life and decision making. Although roommates would typically discuss their love lives, there could have been more for Francie and more for Kazan.
What's marketed as a romantic comedy, with the aided use of talents like Kroll, Scott and Slate, has seriously deep elements layered underneath its light-hearted exterior. The plot delves into the cause of Robbie's injury and the lasting impact it's had on their lives. Goodhart shifts the focus back and forth from the love between a man and a woman to the love between brothers, perfectly blending both suspense, sincerity – and touch of hilarity.
© Brigid K. Presecky FF2 Media (9/23/16)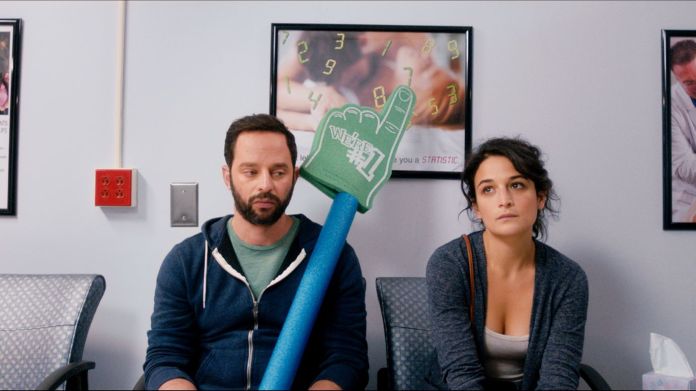 Middle Photo: Adam Scott as "Robbie" and Jenny Slate as "Rose"
Bottom Photo: Nick Kroll as "Bill" with Slate
Photo Credits: THR
Q: Does My Blind Brother pass the Bechdel-Wallace Test?
Unfortunately, no.