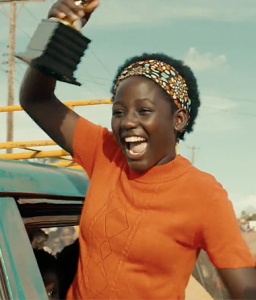 Queen of Katwe is a delightful film based on the real life of a Ugandan girl named Phiona Mutesi (pronounced Fee-oh-nah Moo-tess-eee) who becomes a chess pro while living in a slum in Kampala called Katwe.
Director Mira Nair (with screenwriter William Wheeler) ably sells an uplifting story of an impoverished girl who goes from selling maize in the marketplace to realizing her full potential. (SAT: 5/5)
Review by Senior Associate Stephanie A. Taylor
"Nakku Harriet" (Lupita Nyong'o) is a jaded widow with four children, one of them being "Phiona" (Madina Nalwanga). She loves her children but expects them to live in the now. During a heart-to-heart with Phiona, Nakku Harriet advises her not to dream big because she will be disappointed. But let's start at the beginning.
Nakku Harriet has Phiona selling maize in the marketplace everyday with her brother "Brian" (Martin Kabanza). One day, Phiona looks inside of a shed where other kids — mostly neighborhood kids lucky enough to spend their days in school — are playing chess. She is invited in by "Robert Katende" (David Oyelowo), who is a teacher as well as a chess enthusiast. Phiona knows nothing about the game of chess, but Robert sees the potential in her inquisitive eyes.  
In one early scene, Phiona and her brother Brian are playing chess at home with old bottle caps. Brian beats her. A year later, when she defeats him back in the shed,  Brian pouts. Phiona falls back on apologetic behavior, explaining her own success as mere "beginner's luck." But we can already see that Phiona senses the strength that lies buried inside her.
Robert tries to enter his team, "The Pioneers," into a tournament at King's College in South Africa, despite facing a more affluent, better educated team. Phiona is nervous about playing the best chess player in Kampala, who — of course — just happens to be male. Robert encourages her and the game begins. Is Phiona ready? You betcha!
Although the slums were surrounded by shades of dull and dusty browns, I loved how the brightly colored clothes popped. The fact that parts of the movie are spoken in Swahili with English subtitles adds to the authenticity, along with the upbeat African music.
Overall, I liked the film. I admire the fact that not only did this girl have the odds stacked against her, but she realized that her life could flourish through something she loved and also was good at. I was certainly rooting for Phiona all the way.
© Stephanie A. Taylor (9/28/16) FF2 Media
Top Photo: Madina Nalwanga as "Phiona Mutesi."
Middle Photo: Nalwanga with Lupita Nyong'o as her mother "Nakku Harriet."
Bottom Photo: Nalwanga with David Oyelowo as her chess coach "Robert Katende."
Photo Credits: Walt Disney Studios
Q1: Does Queen of Katwe pass the  Bechdel-Wallace Test?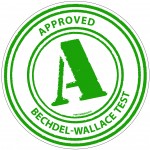 Yes.  
When Phiona asks her mom "Can you do big things from such a small place?" Nakku Harriet tells her not to think about "big things" because she will be disappointed.
But Phiona decides to try anyway! (Otherwise, there would be no movie… certainly not a movie from Disney.)
Q2: Is Phiona Mutesi a real person?
Yes!
Click HERE to read more about Phiona Mutesi on Wikipedia.
William Wheeler based his screenplay on the book The Queen of Katwe: A Story of Life, Chess, and One Extraordinary Girl's Dream of Becoming a Grandmaster (by Tim Crothers).