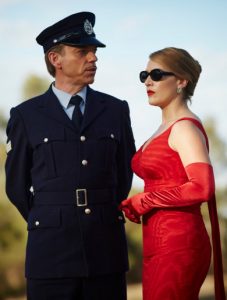 From director Jocelyn Mooorhouse and co-screenwriter P.J. Hogan, The Dressmaker is a genre jumping drama set in rural Australia. When "Tilly Dunnage" (Kate Winslet) returns home to the town that cast her out as a child, she begins to rebuild her relationship with her mother while searching for answers about the circumstances surrounding a haunting event in her past. (JEP: 3.5/5)
Review by Associate Editor Jessica E. Perry
At the film's opening, "Myrtle 'Tilly' Dunnage" (Kate Winslet) leaves her seemingly glamorous life in Paris, and returns to her one-horse childhood hometown in rural Australia. But Tilly is haunted by an event in her childhood that she cannot seem to remember. When she returns, it is the talk of the town. "Myrtle Dunnage is back," after having been cast out as a child. Why would she come back? And why now?
Sent away after the "incident" that has escaped her memory, Tilly has returned for answers. She makes the trek up to her mother's run down home, which sits alone at the top of the hill. When she arrives, the house is in shambles and her mother, the "crazy" "Molly Dunnage" (Judy Davis), has grown quite eccentric after having lived alone for so long.
Molly claims not to remember Tilly, making for some hysterical slapstick arguments between the two women, but they eventually resolve their differences. Molly has her own secrets about that night, but is unable to answer the questions Tilly seeks. When Tilly makes a transformative dress for local girl, "Gertrude Pratt" (Sarah Snook), she finds herself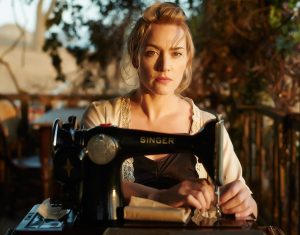 temporarily back in the town's good graces.
Fighting off advances from the handsome "Teddy McSwiney" (Liam Hemsworth), Tilly focuses on her dress work, insisting that she's cursed, and that falling for him will only end up hurting them both. As the slightly convoluted plot unfolds, Tilly grapples with her increasing feelings for Teddy, the circumstances surrounding her assumed "curse," and the actions of the townspeople who seek to cast her out once again.
Directed by Jocelyn Moorhouse, The Dressmaker transcends genre, a dramatic film laced with  slapstick comedy. While the cinematography is notable, the screenplay is a bit flawed in its execution. The film feels like it's ended an entire act before it does, turning the plot on its head and going and going, until audiences are all but tired out. While Winslet is striking in her performance, casting Liam Hemsworth as her love interest takes you out of the film, the age discrepancy casting doubt upon the world Moorhouse has built. But what saves the film, is the relationship and performance between Molly Dunnage (Davis) and Tilly (Winslet), which breathes life back into the film each time it starts to lose you.
©Jessica E. Perry FF2 Media (9/25/16)
Top Photo: Tilly with her occasional partner in crime, the town sheriff "Sergeant Farrat" (Hugo Weaving).
Middle Photo: Tilly with her Singer, making a dress for one of the townspeople.
Bottom Photo: Tilly and Molly with the newly made-over Gertrude Pratt.
Photo Credits: Broad Green Pictures
Q: Does The Dressmaker pass the Bechdel-Wallace Test?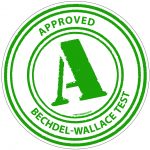 Yes!
Tilly and her mother have numerous conversations about uncovering the past, Tilly's dresses, and their tumultuous mother/daughter relationship.