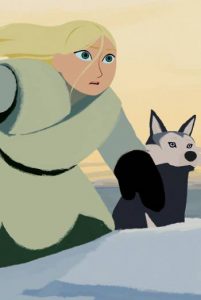 Long Way North takes you on an adventure with 14-year-old "Sacha" (Christa Theret) as she bravely searches for her Arctic explorer grandfather. Set in 19th-Century St. Petersburg, Rémi Chayé's beautifully animated coming-of-age story has enough heart to attract audiences of all ages. (BKP: 4.5/5)
Review by Managing Editor Brigid K. Presecky
Once upon a December, Millennials were introduced to an amnesiac orphan named Anya, a strong female protagonist voiced by Meg Ryan in the 1997 Fox Animation Studios hit, Anastasia. Fast forward 20 years, and a new generation of wide-eyed children can admire Sacha, North's determined heroine in search of her family.
The French-Danish tale travels back to 1800s Russia, as young Sacha bids farewell to her Arctic explorer grandfather, "Oloukine," (Féodor Atkine) as he sets out on a voyage to the Great North.
Sharing her grandfather's love of science and adventure, curious Sacha grows impatient and irritated with her parents' insistence on dresses, royal balls and potential suitors. But when Oloukine's ship, the Davai, is believed to be lost at sea, Sacha flees from her home on a quest to find her grandfather.
This blonde, 14-year-old girl from a wealthy family willingly puts on an apron and gets to work a waitress in order to save money, sleep in a strange place and somehow find a way to get to Oloukine. Writers Claire Paoletti, Patricia Valeix and Fabrice de Costil make the hand-drawn, animated Sacha feel extraordinarily real with her refusal to accept the answers and the gumption to prove people wrong.
Both St. Petersburg and the Great North are beautifully animated backdrops, carefully penciled and colored to make the viewer engaged in every scene. Instead of using pops of vibrant color, Chayé uses simple pale yellows and ashy grays to make the film feel like a storybook fairytale from a bygone era.
Giving a main character qualities like bravery, tenacity and sense of adventure might not seem like anything revolutionary. But applying these qualities to a young female protagonist can sometimes come around every two decades or so (see: aforementioned Anastasia or Disney's Mulan). Sacha is a smart character who loves her family, loves adventure, knows what she wants and goes out and gets it. Does she have flaws? Yes. A sense of rebellion? Sure. And that's exactly why the seeds of this 19th Century-set story are sown with modernity.
© Brigid K. Presecky FF2 Media (9/30/16)
Top Photo: Christa Theret voices "Sacha"
Middle: Féodor Atkine voices "Oloukine"
Bottom Photo: Sacha on her journey to find Oloukine
Photo Credits: Animator Rémi Chayé. Shout! Factory Films
Q: Does Long Way North pass the Bechdel-Wallace Test?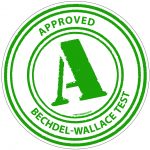 Yes!
When "Sacha" (Christa Theret) becomes a waitress in order to save money and have a place to stay, she has a female mentor who teaches her how to do the job – and do it well.