Full Title = 100 Years: One Woman's Fight for Justice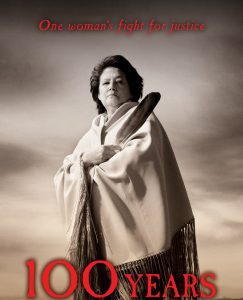 100 Years, One Woman's Fight for Justice is an absolute must see. Writer/director Melinda Janko follows Elouise Cobell, a Native American and banker, who fights for her people when the U.S. government refuses to give 300,000 Native Americans fair pay and compensation for using and destroying their land drilling for oil and gas. In this remarkable documentary Ms. Cobell takes on the United States Government in the largest class action lawsuit in history.
(LMB: 5/5)
Review by FF2 Associate Lindsy M. Bissonnette
Elouise Cobell is nothing short of a hero. This 78-minute documentary is the story of Elouise's 30-year long journey for justice for her tribe. She tackles the issue of missing money from the Indian Trust account, as oil and gas companies continue making profit with money that rightfully belongs to the Native Americans living in poverty.
Oil and gas mining equipment, in combination with large trucks and mindless drilling, has left the land completely devastated and unable to hold crops or livestock. Many of the Native Americans, from the Blackfeet tribe in Montana live without basic necessities like running water, electricity, and gas, despite lines of oil and gas running through their land. Due to poorly managed accounts 300,000 people were owed money, that had somehow disappeared.
100 Years has interviews with many of the Native Americans that are affected, as well as with United States government officials on both sides of the law suit. The fearless Ms. Cobell stands up for her people time and time again in a 30-year long process, while her people continue to go without basic amenities. The documentary painstakingly explores to devastation of big companies on land, while providing an inside perspective on what it is like to take on the U.S. government. Beautiful, and poignant, 100 Years—under the careful supervision of writer/director Melinda Janko—is an absolute must see.
© Lindsy M. Bissonnette FF2 Media (10/16/16)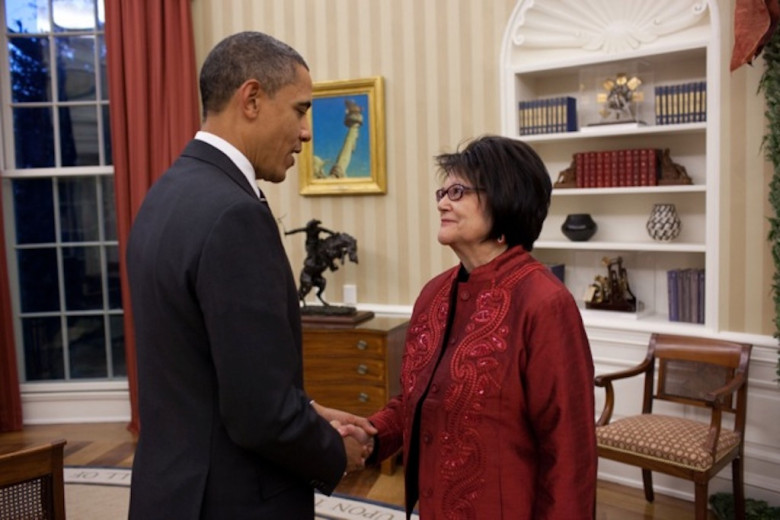 Top Photo: 100 Years poster featuring Elouise Cobell.
Middle Photo: Elouise Cobell and Native Americans celebrating.
Bottom Photo: President Obama shakes Elouise Cobell's hand.
Photo Credits: Melinda Janko
Q: Does 100 Years, pass the Bechdel-Wallace Test?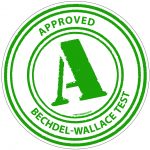 Yes.
There are conversations between Elouise and female Native Americans about numerous issues surrounding the threat to their land and livelihood.
After the film Q&A with Writer/Director Melinda Janko
Q: What happened with the money? Were the Native Americans paid?
A: Yes and no. Of the 3.4 billion agreed upon, only roughly half of it went directly to the people. The other half is in an account where the Native Americans can buy back their own land, and manage it themselves because the government no longer wants to be in charge of it. But if the people do not buy back their land, that money goes right back to the government.
Q: How much money did each person receive?
A: Each person received roughly $1200. Those who had oil drills on their land received more, but I don't have those exact numbers, but those 300,000 people each only received $1200.
Q: What happens next with the documentary?
A: We are involved in several film festivals, and hopefully we will reach as many people as possible. Usually documentaries wait before attending these events, but this story and these people have waited long enough.
For more information about 100 Years visit their website and join their mailing list. On their website you can view a direct timeline of everything that happens in the film, as well as recent press about what is going on.