From screenwriters Robin Hanley and Philipa A. Booyens comes I'm Not Ashamed, a Christian – but predominantly human – story about the first victim of the 1999 Columbine High School shooting. Rachel Scott's story is breathtaking and heartbreaking in its simplicity – a child of divorce and a lover of God, a giver of joy and spreader of spirit, her young life was cut short under terrifying circumstances. But her story has reached millions and continues to inspire them with this important film. (GEP: 4.5/5)
Review by Social Media Manager Georgiana E. Presecky
Rachel Joy Scott was a lot of things – a teenager, a Christian, an actor in the school play. A friend, a coffee shop cashier, a daughter. But she was first and foremost a writer. Her journey was documented in her journals, filled with prayers, drawings and thoughts about how hard high school can be when you feel different from everyone else.
Played by an effervescent Masey McLain, Rachel has what appears to be an ordinary story. She is a young girl trying to do good, trying to make a difference in small ways. Trying to get the guy, trying to live for God without alienating her friends. I'm Not Ashamed travels with her through that fateful final year of high school at Columbine, showing her family struggles and her participation in her church. McLain plays her with earnest eyes and a perpetual smile that might be downright annoying on some actresses, but this genuine performance honors Rachel's life.
Some of the more religious points of Rachel's journey might be off-putting to some – like me, who, though a lifelong Catholic, has found God in the smaller moments of her life, not necessarily swaying back and forth in a sun-soaked Church. But part of having faith is not questioning other people's journeys, so "to each her own." Plus, all of that fades into the background when we see that Rachel walked the walk – she was kind to her peers, but still struggled to forgive and be compassionate all the time. She was real, and Hanley and Booyens do well to show that she wasn't perfect, but she was trying.
There's plenty of plot that could be covered here – Rachel's betrayal by her best friend, her budding friendship with a homeless teen in her Bible group, and her struggle to find a place at a school where cruelty seems to lurk in every corner. But isn't that how every high school feels sometimes? Her parallel story with those of the gunmen, "Eric" (David Errigo, Jr.) and "Dylan," (Cory Chapman) shows three people dealing with the hierarchy of high school in completely different ways.
While it might be necessary to the narrative, giving so much attention to the eventual murderers was my only real qualm with I'm Not Ashamed. We already know their stories – images of them playing violent video games and plotting their sickening "natural selection" raid on the school was almost too much to stomach when weighed against Rachel's sweet and simple story. It felt wrong to delve into their twisted world – almost eerie. It would've fared better in the background, but the filmmakers probably deemed it necessary for younger viewers who might not be familiar with the details of what happened at Columbine that day.
In the final gut-wrenching moments of the film, a student says that Rachel was "what Christian ought to be." I agree. I don't think there are enough examples of that, especially not in film. Someone who doesn't judge or discriminate based on religion, but loves and trusts instead.
In spite of its drawn-out plotlines and occasionally hokey dialogue, the message of I'm Not Ashamed will be comforting not only to Christians, but anyone who needs to be reminded: you don't have to be a prophet or a priest to be a light for people who need it. You can be young and still have an effect on people. It's sad that we might not know Rachel's story if two sociopaths with guns hadn't ended it so prematurely. But a message of compassion they tried to silence has lived on for more than 17 years because of what Rachel stood for in her life. With I'm Not Ashamed, it will reach even more people, which means she did what she wanted to do – touch people's hearts.
© Georgiana E. Presecky FF2 Media (10/23/16)
Top Photo: Rachel is mocked for her faith in a realistic, not-exaggerated depiction of high school life.
Middle Photo: Rachel was helping a friend outside of Columbine in the final moments of her life, when the gunmen approached and asked where her God was now.
Bottom Photo: Masey McLain brought a sincerity to the role of Rachel that emulated her conviction to "be a light" where there is so much darkness.
Photo Credits: Pure Flix Entertainment
Q: Does I'm Not Ashamed pass the Bechdel-Wallace test?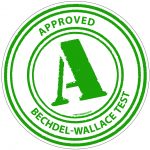 Yes. Rachel's relationships with her mother, her sisters and her friends revolve around a lot more than the men in their lives.