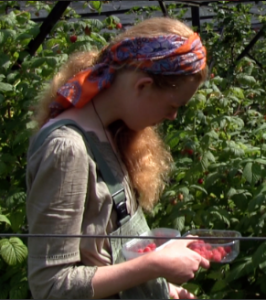 From Rosie Stapel, Portrait of a Garden is a slow-moving Dutch documentary about two gardeners doing expert work as they move through the seasons. We see them in the greenhouse picking grapes and tending to the trees outside, their passion for what they do evident in their faces and their extensive knowledge of cultivation. Their dedication to their work is the best angle of Portrait of a Garden, but painstaking detail is its downfall. (GEP: 3/5)
Review by Social Media Manager Georgiana E. Presecky
Daan van der Have and Jan Freriks work together on a 500-year-old Dutch estate, tending to its plants and growing its fruits and vegetables. They have spent 20 years returning these orchards to their former glory, growing everything from jalapeño peppers to sour cherries. Apples, lemons, fennel, spinach, asparagus, lettuce – you name it, they grow it, and with fierce dedication and special appreciation for each.
They discuss the place of honor gardeners used to hold, and how this kind of work is a dying art form that requires profound skill and understanding in order to do it right. Gardeners used to be "kind of celebrities," says Freriks, whose knowledge of the history of agriculture and gardening is astounding. "They're still mentioned in the literature. That's all fading away now. I think it's a shame."
Van der Have serves as a foil to his older counterpart, telling him not to lose hope – there's a growing interest in gardening, he says, that should not be underestimated. Interactions like this between the two are the highlight of Portrait of a Garden because they tell a very human story – one far more interesting than the foliage. The two men and their estate staff are a delight to watch at work and they deserve to be profiled on this scale.
"The trick is to keep it beautiful," Freriks says, gesturing around one part of the garden. Stapel accomplishes this – the film is aesthetically beautiful as we move through the seasons and watch the garden flourish before our eyes. She also makes a point to inform us what the gardeners are working on with subtle text on the screen – this helps the viewer separate the green from the rest of the green when it all starts to blend together.
Shoveling dirt, pruning branches, clipping vines – you've seen one, you've seen them all. Portrait of a Garden is extremely straightforward in a way that makes it dull. It's unfortunate, because the film is an otherwise-interesting love letter to a trade that brings beauty and new life to a world that really needs it.
If any metaphor can be taken away from such a forthright and factual narrative, it's that anything worth doing takes a lot more work than we realize. We stroll through a garden or eat a salad and don't realize the painstaking detail with which these daily luxuries were created. Pears and tomatoes don't just appear in the produce section. Other themes include the cycle of the seasons, the idea of making something out of nothing, the importance of trades to which we don't give nearly enough credence. Portrait of a Garden and its subjects will teach you this. (And a whole lot more than you ever thought you needed to know about cultivating plums.)
© Georgiana E. Presecky FF2 Media (10/30/16)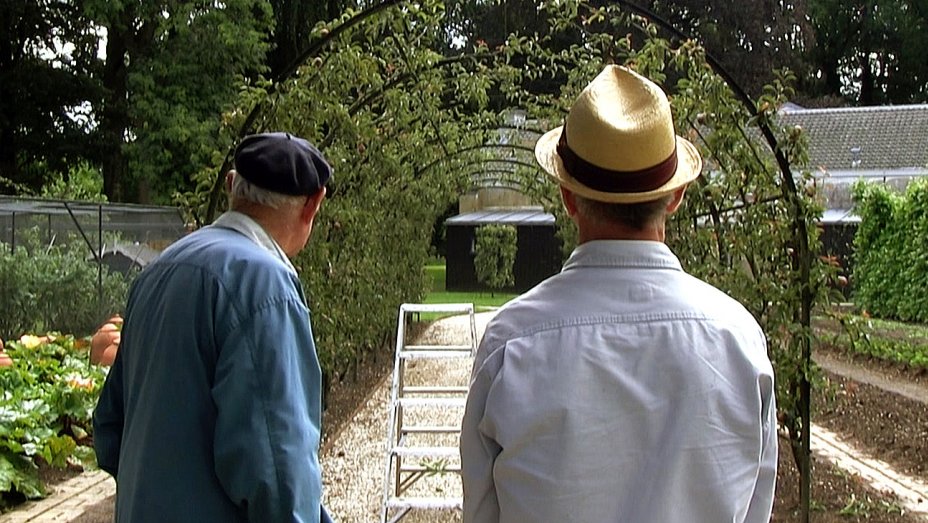 Top photo: Kitchen garden staff tend to the estate.
Middle photo: The garden's grounds extend from trees to vines, crop rows to greenhouses.
Bottom photo: Freriks and van der Have see the results of their year-round work and dedication to the estate and its incredible variety of plants.
Photo credits: Rose is a Rose Films
Q: Does Portrait of a Garden pass the Bechdel-Wallace test? 
Not really. Women are members of the garden staff but aren't really seen interacting in any meaningful way outside of working alongside each other while tending to the plants.