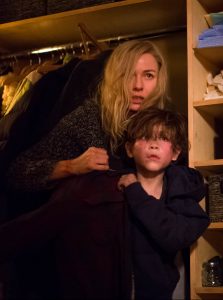 Unlike its marketing campaign as a spooky horror film, Christina Hodson's thriller tells the disturbing story of a mother caring for her paralyzed son in an isolated, snow-covered mansion. Shut In's the stellar cast of Naomi Watts, Oliver Platt and Jacob Tremblay strengthen a questionable, less-than-thrilling plot that leaves you with questions and very little scares. (BKP: 3/5)
Review by Managing Editor Brigid K. Presecky
As the "Directed by Farren Blackburn" faded in on the screen, a moviegoer in front of me leaned to his wife and said, "That was good." She said, "Eh." As a film critic who sees multiple films on a weekly basis, hearing reactions like this is what makes this job so fun.
I was with his wife. "Eh" summed up my feelings about Shut In with one word. So let's get to it, shall we?
Teenage "Steven" (Charlie Heaton, now best known for the Netflix phenomenon Stranger Things) bickers with his father about being sent away for behavioral issues. Remind me never to get in a car with Steven! Instead of verbally snapping at his father like a "normal" teenager, their altercation turns physical and their car veers into an oncoming truck. Cut to six months later: his psychologist mother, "Mary" (Naomi Watts) is left widowed, caring for the now-paralyzed Steven all day, everyday in their old, creaky house in the middle of nowhere.
The only things that keep her sane? Her young patients, particularly a nine-year-old deaf orphan, "Tom" (Jacob Tremblay) and her therapist, "Dr. Wilson" (Oliver Platt).
When Tom breaks away from social services,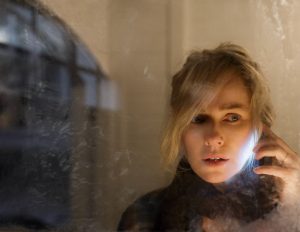 he sneaks into Mary's house where he's welcomed with warm blankets and hot chocolate. And that's when things start getting spooky. Tom leaves a cozy, safe house and runs into the freezing darkness without telling Mary. Knowing a nine-year-old boy is alone in the woods during a snowstorm – with little chance of survival – causes Mary to unravel her already-fragile mind.
She hears noises at night, furniture that's been moved and pictures herself drowning her paralyzed son in the bathtub. Apparently, her Skype-call therapy sessions with Dr. Wilson aren't helping much.
Hodson's script attempts to pack in a backstory, a love story, an orphan story and a horror story all in one, quickly-paced, 90-minute film. With a slow buildup and accelerated execution, Shut In leaves viewers questioning what they just witnessed. The mysterious noises, the jumps, the candles all point towards "horror" but the thrilling aspects of the film all but fade away by the second act.
The performances, however, keep your eyes fixated to the screen. Tremblay, without saying a word as deaf Tom, conveys emotions of shock, worry and terror with his big, adorable doe eyes. Give Naomi and Platt a script from the bottom of an development intern's coverage pile and they'll, without a doubt, try to turn it into gold.
But with their impressive work on the screen, Shut In only reaches bronze … at best.
© Brigid K. Presecky FF2 Media (11/12/16)
Top photo: Mary hides with her young patient, Tom
Middle photo: Naomi Watts as widowed Mary
Bottom photo: Mary takes care of her paralyzed son, Steven
Photo credits: Jan Thj, EuropaCorp
Q: Does Shut In pass the Bechdel-Wallace test?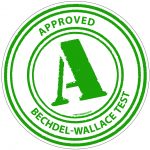 Yes!
"Mary" (Naomi Watts) has an assistant, "Lucy" (Clémentine Poidatz) who brings her groceries to stock up during the winter storm. There are only a handful of scenes, but yes – it does pass the Bechdel-Wallace test.