A heartbreaking portrayal of drug addiction and homelessness, writers Maria Nation and Tim John's cinematic rendition of the true story and bestselling novel,  A Street Cat Named Bob, forces audiences to stare the horrors of these issues in the face with bluntness and honesty. (EML: 4/5)
Review by FF2 Associate Eliana M. Levenson
The film opens on a busy street as an indie song plays. Eventually, we find "James Bowen" (Luke Treadaway), a clearly homeless man playing guitar on the streets in the hopes of making enough money to eat. While he's talented, he isn't getting much attention from passer bys. Mostly people rush past him, averting their gaze, not wanting to feel guilty for ignoring his suffering, but also not wanting to participate in what they are sure is his drug habit.
What follows is a dynamic and poignant portrait of homeless life. First, James attempts to purchase a meal with the money he's earned but comes up short. Rather than cut James some slack, the owner insists that James pay in full. Desperate, James attempts to sing for his food, which only gets him kicked out of the restaurant and his desired meal to be wasted as it's submerged in soapy sink water.
Now back on the streets in the pouring rain, James' story is linked to others who are also struggling with a life on the streets. A fellow homeless man, "Baz" (Darren Evans) approaches James looking for a drug dealer. James insists that he's clean and sends Baz away. Later, however, as the downpour continues and a place to sleep seems impossible, James is convinced to join Baz in an unlocked car for the night. The two shoot up heroin, and in the morning, when they are caught in the car by the vehicle's owner, Baz is unable to wake James. Baz leaves James alone as he flees the scene.
James wakes up in a hospital, greeted by "Val" (Joanne Froggatt) the doctor running the detox program that James has been participating in. She explains that James risked death by mixing his prescribed methadone with heroin. James insists that he's really trying to get clean but that his situation makes it difficult. Val, believing him, is able to convince a friend to provide him with subsidized housing, knowing that getting him off the streets is the key to James' success and survival.
When James moves into his new accommodations, he is instantly taken with the girl next door, "Betty" (Ruta Gedmintas) but does not approach her. One night, James wakes to a strange noise. Fearing a break-in, James instantly goes on the defensive and creeps around the apartment, ready to attack the presumed robber. However, James finds no such attacker. Instead, he finds "Bob" (Bob the Cat), a stray orange cat who has found his way in through an open window.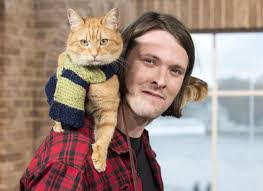 Though he has little, James feeds Bob and begins to care for him. When he notices that Bob has a large gash on his side, he goes to Betty, who helps him find a clinic to treat Bob's wounds. James spends all of his money on Bob's treatment, including the money his estranged father shoved into his hands after an awkward chance encounter on the streets. With Bob as his responsibility now, James' life begins to change.
Bob begins to accompany James on his busking gigs, and his presence attracts larger and larger crowds. Now making a more steady income, James' situation seems to be improving. But as always, life is more complicated and James' journey, now intertwined with Bob's, becomes a rollercoaster as both try to find redemption and salvation through each other.
While the pacing of the film drags at times, it's overall effect, particularly in its blunt approach to what homelessness and drug addiction are like, is quite powerful. From the opening, as James stands out in the rain, to getting lured into a car by a fellow drug user despite his desire to remain clean, to his discovery of Bob and the transformation his life takes, the film keeps you invested in James' survival and journey. The emotional jolts provided by Betty's tragic past and James' own struggles to reconnect with his estranged father, only add depth to this colorful portrait of a man picking himself back up and rebuilding his life.
But of course, where would any of this be without Bob the Cat? Not only does the cat serve as the driving force of change within the film, giving purpose to James and providing him with an ally as he braves his transformation, but Bob's perspective is expertly brought in through director Roger Spottiswoode's creative cinematic choices. As shots alternate between Bob and James' perspectives, the audience is given the opportunity to see this story through a new lens, a different angle, adding a unique quality to this redemption story. Spottiswoode's directing style plays with the concept of a dual protagonist, making this not only James' story, but Bob's as well. In many ways, the shot vocabulary of the film enhances the perception of Bob in the "guardian angel" role while still grounding the cat in his actual surroundings.
Overall, the film is a creative take on the classic drug addict redemption story. There is a brutal honesty in this film that, while unnerving at first, forces the audience not to gloss over or sugarcoat the experience. By making the audience watch the struggles of the homeless, not just James' hardships, but also those that are not as lucky as he is to break free, Spottiswoode creates a powerful and impactful piece that can hopefully affect the way that we treat those in need.
© Eliana M. Levenson FF2 Media (11/28/16)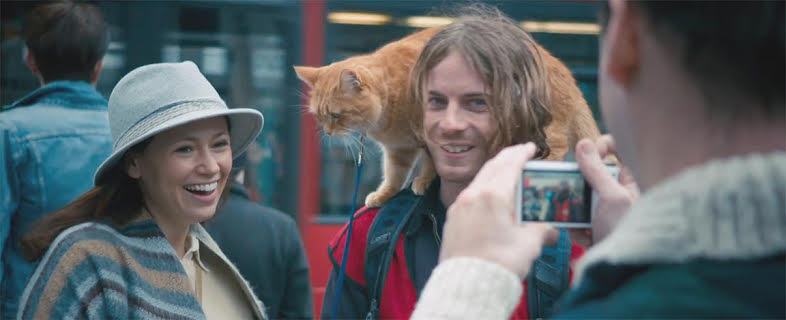 Top Photo: A poster for Roger Spottiswoode's film adaptation of  A Street Cat Named Bob, based on the best-selling novel by James Bowen and Garry Jenkins.
Middle Photo: "James Bowen" (Luke Treadway) and Bob the Cat pose for some pictures with passerbys, on the way to becoming an internet and media sensation.
Bottom Photo: The real life James Bowen poses with the famous Bob the Cat.
Photo Credits: Andreas Lambis
Q: Does A Street Cat Named Bob pass the Bechdel-Wallace Test?
Unfortunately no.
While the film does a lot to expose and illuminate the existence of those fighting drug addiction and homelessness, there is little regarding female empowerment or focus within the film. Though both Betty and Val are strong, independent female characters who drive the story in their own ways, they are never in a situation to speak with each other, nor do they speak to any other women without discussing James' character.