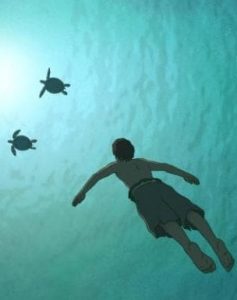 The Red Turtle (screenplay by French writer Pascale Ferran) is an animated story of a washed up man on a seemingly deserted island, whose only inhabitants are crabs, birds, and of course, turtles. His prospects of survival seem hopeless until one day his path crosses with a beautiful red turtle. (EBT: 4.5/5)
Review by FF2 Contributor Elyse. Thaler
From the very first shot of the film viewers are immediately transported into a story of survival, where a Man is being thrashed about in the ocean's stormy waves. The next scene finds him alive, but stranded, on an island devoid of any other human life. We watch as he comes to terms with his reality. There is celebration that he finds food, absolute terror when he slips from a cliff and traps himself in a cave, and pure hope as he builds raft after raft to try to escape.
But something always thwarts his plans.
So, when the man finally comes face to face with a red turtle during another one of his escape attempts, we can't help but be mystified. We also can't help but question the turtle's motives. Does she mean well, or is foul play at hand? Or does she appear for some other reason entirely; could she perhaps be an answer to some sort of existential question that even the Man does not know he is asking?
The Red Turtle manages to tell a heavy, heartfelt story where the only word of dialogue is "hey". Instead, behavior and emotion is guiding the viewer, fully immersing them in what is happening before their eyes. And boy, is it beautiful! Each shot is reminiscent of iconic children's books that are known for their color and depth. Any frozen frame within the film would be worthy of putting up on your wall and calling it an art piece. 
But just because there is minimal dialogue does not mean the film is silent. The score, composed by Laurent Perez Del Mar, brings life to the already beautiful imagery and helps the story come even more to life. Director Michael Dudok de Wit and screenwriter Pascale Ferran give their audience permission to not only see the story and the struggle, but also to feel it.
The Red Turtle, so captivating is the magic, that is seamlessly woven throughout the plot. Anyone who is familiar with Studio Ghibli (Kiki's Delivery Service, Spirited Away, Ponyo) will recognize how miraculous circumstances appear in these films without worrying about the "why". There are many magical elements to this film that are left unexplained, but because the power of the story is so strong this does not necessarily feel like a loss.
It is a conscious decision on my part to not delve further into the plot of The Red Turtle because it is the twist and turns and magic that leave you captivated. Something that can only be felt by experiencing it on your own. I promise, this film will not let you down.
©Elyse Bunt Thaler FF2 Media (11/23/16)
Top Photo: Man building a raft.
Middle Photo: Man meeting the red turtle.
Bottom Photo: Boy swimming with turtles.
Photo Credits: Sony Pictures Classics
Q: Does The Red Turtle pass the Bechdel-Wallace Test?
No.
This is a film without dialogue, other than "hey". So even though there was a female character there was simply no dialogue to make the test applicable.