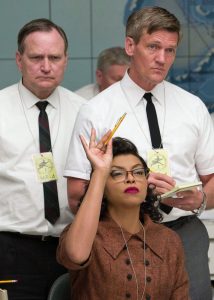 Hidden Figures, directed by Theodore (Ted) Melfi and co-written with Allison Schroeder, recounts the inspiring story of three black women who helped NASA advance in the Space Race. Taraji P. Henson leads the impressive cast as Katherine Goble Johnson, the first female mathematician to assist in America's first orbit of Earth.
A triumphant story is brought to life once again, giving the exceptional Figures well-earned recognition and, most notably, continued box office domination. (BKP: 5/5)
Review by Managing Editor Brigid K. Presecky
They'll call it a mystery, But we're gonna call it victory, We'll be writing history, It's gon' be victory.

– "I See Victory," Pharell Williams
Based on Margot Lee Shetterly's non-fiction book, Hidden Figures travels back to 1960s America, with NASA's mission to make John Glenn the first American astronaut to make a complete orbit of Earth. The formerly-unrecognized brains behind the operation, however, take center stage here, with mathematician "Katherine Goble" (Henson), "Dorothy Vaughan" (Octavia Spencer) and "Mary Jackson" (Janelle Monáe) working in the segregated West Area Computers division of Langley Research Center in Virginia.
Known as "human computers," these women rise through the ranks of NASA, using their extensive intelligence as a defense against racism and sexism in the mostly-white, mostly-male constitution. Schroeder and Melfi's adapted screenplay shows both sides of humanity, using ignorant supporting characters (Jim Parsons and Kirsten Dunst) as passive-aggressive racists "abiding by the rules," while Kevin Costner's Space Task director "Al Harrison" and Glen Powell's "John Glenn" represent the forward-thinking leaders who treat people with dignity and respect. Every character is rooted in realism – they aren't caricatures of good and evil, which is a surprising choice given the 21st century norm of labels and pigeon-holing.
The Henson, Spencer and Monae trio is a force to be reckoned with, lending both their dramatic and comedic chops to portray real-life heroines who blazed trails for women in math, science and computing. Monae, known for her singing and songwriting career, gives a standout performance as Jackson, one of the first female aeronautical engineers. Prepare for frequent crowd applause, an instinctive response to compelling dialogue and powerful execution.
Like other potential Oscar contenders this year, Hidden Figures is driven by themes of hope and the human spirit. People are willing to purchase movie tickets because stories like these help them feel more worthy, more inspired, more empowered – and finding that kind of unmatchable feeling elsewhere might take too long.
With Shetterly's book, Melfi and Schroeder's adaptation, Pharell Williams's music, Hans Zimmer's score, skilled actors, and countless other factors, these brilliant pioneers get their deserved attention five decades after they broke through their own personal glass ceilings. Hidden Figures, we're gonna call this victory!
© Brigid K. Presecky (1/15/17) FF2 Media
Top Photo: Taraji P. Henson as "Katherine Goble Johnson," a woman with a brilliant mind who was also a daughter, a mother, a wife, and a friend who loved her life with a huge heart and a spirit of steel.
Middle Photo: Janelle Monae as "Mary Jackson" argues her way into a classroom filled with hostile white men so she can complete her qualifications as an aeronautical engineer. 
Bottom Photo: Astronaut "John Glenn" (Glen Powell)–the first American to orbit the Earth—extends his hand in gratitude to "Katherine Goble," the mathematician who ran the numbers that got him safety home.
Photo Credits: 20th Century Fox Corporation
Q: Does Hidden Figures pass the Bechdel-Wallace test?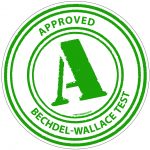 Absolutely!
Although the film touches on love lives and treatment from the men at NASA, almost the entire film passes the Bechdel-Wallace test.