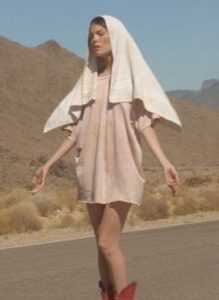 Directed, written, and starring Celia Rowlson-Hall, MA is a surreal reimagining of the Virgin Mary's spiritual journey. A modern Madonna is pregnant and looking for a place to give birth to the savior, but first she must find her way through the highways and motels of the American Southwest. (GPG: 4.5/5)
Review by FF2 Contributor Giorgi Plys-Garzotto
We open on the titular "Ma" (Celia Rowlson-Hall) distraught and wandering in the desert on her way to Las Vegas. She is found by a drifter named "Daniel" (Andrew Pastides) who becomes her companion and chaste lover. Together the two take out a room in a roadside motel and come to know one another through wordless, physically-driven scenes that flow in and out of dance sequences so smoothly that the viewer barely notices each transition. Really, most of the actions and interactions in MA feel like choreography, from something as simple as walking to a car to the crescendo towards the end as Ma goes into labor. As the film's writer and director, Ms. Rowlson-Hall makes the film flow simply but powerfully through physicality alone.
The choreography, also done by Ms. Rowlson-Hall, is both idiosyncratic and flexible, using a pronounced style to capture the whole range of tone and emotion portrayed in the film. At times, it is as playful as children's make-believe games, as when Ma and Daniel are getting to know each other in their room. Other times, like when Ma has an em
otional breakdown, it resembles Maddie Ziegler's work in Sia videos, performed underwater: frenetic and jerking, the dancer like one possessed by their inner demons. Always, though, it expresses the emotionality of the scene beautifully and poetically.
The only issue with the film's feminism involves the promiscuous, hedonistic motel desk girl "Misti" (Amy Seimetz) depicted as a foil to Ma's virgin, who ends up being treated by the narrative of the film approximately how you'd expect a "whore" figure would in a film about Christianity. While the rest of the film explores femininity and gender expression in a free and playful way, this (probably unintended) reproduction of the source material's attitudes gives the viewer pause, but it's a short and non-integral factor in an otherwise impressively woman-driven and woman-loving story.
As a character, Ma's unworldliness puts her at odds with the often ugly world of the film, putting her in danger and causing her pain. Through spare, solemn camerawork and primally expressive dance, the Madonna's struggle unfolds as a passion-play in its own right—the story of a woman trying to escape a harsh world to find a better one for her unborn child.
© Giorgi Plys-Garzotto FF2 Media (1/15/17)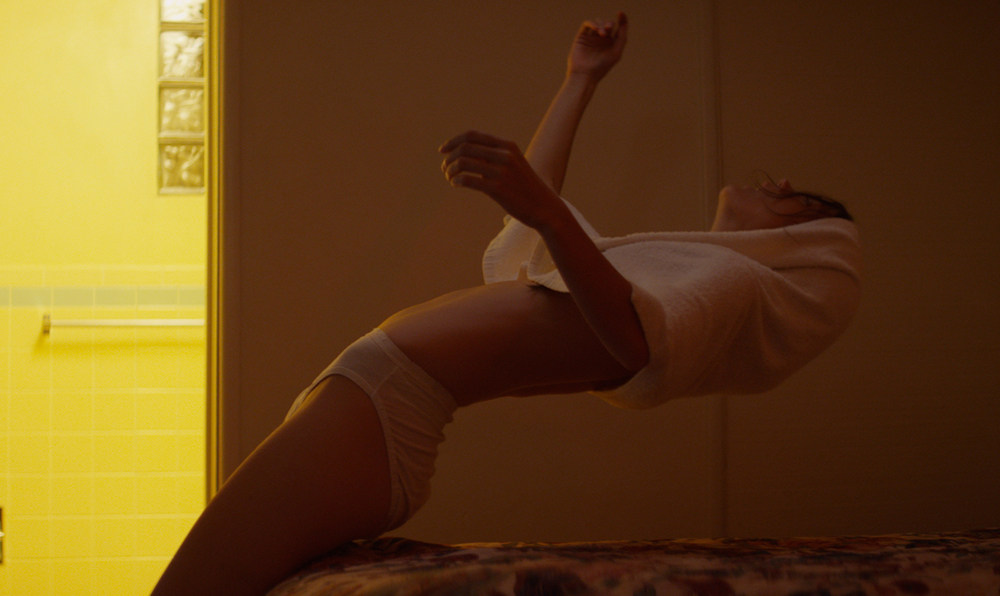 Top Photo: Ma waits for a car to pick her up in the desert.
Middle Photo: Ma surveys the desert.
Bottom Photo: Ma physically reacts to overhearing other motel guests.
Photo Credits: Factory 25
Q: Does MA pass the Bechdel test?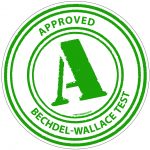 Yes!
This is a difficult question to answer since there's hardly any speaking in MA at all. Much of the film is focused on Ma alone, and the majority of the rest of the story is centered on Ma and Daniel's relationship. However, Ma has a moment with the motel girl, as well as interaction with a mysterious blonde girl who seems to be ruler of the palace in Las Vegas where Ma gives birth. In light of these moments, I give it a pass!