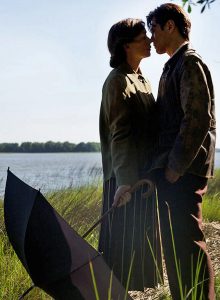 Directed by Maggie Greenwald, Sophie and the Rising Sun is a wartime melodrama that meets interracial romance. Set in the fall of 1941, in the days leading up to the attack on Pearl Harbor, a Southern white woman, "Sophie" (Julianne Nicholson), and a mysterious Japanese man, "Grover" (Takashi Yamaguchi), fall in love in a small fishing village in South Carolina. Racism, bigotry, and repressive societal norms prevent the two from pursuing each other. (KKK: 3.5/5)
Review by FF2 Intern Kimi Kay Kumar
When "Grover Ohta" (Takashi Yamaguchi) ends up in a small town beaten to pieces, an open-minded widower, "Anne" (in a phenomenal performance by Margot Martindale) rescues him to care for and shelter in her garden house. The African American housekeeper immediately decides to quit because there is no way she will wait on a "yellow foreigner."
She is replaced by "Salome" (Lorraine Toussaint), the other mysterious character in the film. Grover proves himself to be the idyllic, mystery guy who not only expertly tends to Anne's garden, but also knows how to read poetry and loves to paint, much to Anne's surprise. Anne takes a liking to him as he is well mannered and an adept gardener, just like her deceased husband.
However, "Sophie" (Julianne Nicholson), in her 40s and unmarried, also takes a liking to the foreigner, but knows better than to share her admiration for Grover with the town ladies. Sophie and Grover's bond deepens, as they paint by the water together. They become the gossip of the town, and the gossip of the moralistic "Ruth" (Diane Ladd). However, when Pearl Harbor occurs, naturally, Grover becomes the target of violence again. Anne, fearing for his safety, hides him in her fishing cabin and conjures up a town lie that he has been put on a bus to Canada. However, when Anne breaks her ankle, she realizes she cannot efficaciously look out for him anymore.
Maggie Greenwald brings Sophie and the Rising Sun to the screen at the right time for viewers, in a nod to female solidarity. She handles the severely rooted racism in the disguise of patriotism. Cinematographer Wolfgang Held beautifully drives the narrative forward through soft, willowy locations. He adds tenderness to the film where the script lacks it. However, the true stars of the film, Martindale and Toussaint, bring richness to their characters through their performances.
Although the plot points feel a little bluntly tied together, Greenwald's intentions of delivering a period piece in light of prejudice shines through. Her writing abilities give way to the strongest asset of Sophie and the Rising Sun, which are solid female relationships.
© Kimi K. Kumar (2/10/17) FF2 Media
Top Photo: Margot Martindale and Julianne Nicholson as "Anne" and "Sophie" gardening together.
Middle Photo: Takashi Yamaguchi as "Grover Ohta" taking a stroll down the fishing village.
Bottom Photo: Sophie and Grover in love.
Photo Credits: Monterey Media
Q: Does Sophie and the Rising Sun pass the Bechdel-Wallace Test?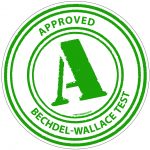 Yes, it definitely does.
The movie is a strong female-led cast with characters such as Anne and Sophie discussing the war taking place or Anne and Ruth discussing other women in society, specifically Sophie.