Director and screenwriter Susan Glatzer entrances and infects us with curiosity about the existing Swing dance world in her documentary Alive and Kicking. Glatzer co-writes the piece with Heidi Zimmerman, exposing the problems our modern world has in its lack of physical intimacy and communication, and what potential Swing dance offers to remedy this. (KIZJ: 4/5)
 Review by FF2 Intern Katusha Jin
The movie begins by reminding us of how our society is structured in a way that focuses less on physical intimacy and more on online interaction. It describes the lonely and mechanical nature of everyday life.
"Now it's video games, it's isolation. I don't think people have these skills of personal interaction anymore." – Stephen Sayer (Swing dancer)
"…the world is becoming a kind of spectator sport…now you go to a concert and people are [holding up] their phones." – Dorry Segev (cofounder of Mobtown ballroom)
Glatzer then smoothly introduces the intimacy and warmth of Swing dancing by describing its history, the types of dances that fall under the umbrella of Swing, and by showing us a tour of Swing dance performances around the world from Sydney to St. Petersburg.
The dancing community is described as a circle of friends; a community of people who are like members of a family. Hilary Alexander runs Camp Hollywood, a Swing convention in Los Angeles, which helps facilitate yearly gatherings. We see different parts of the convention and how it serves as a way for Swing lovers to be exposed to other dancers who also want to socialize through Swing.
In contrasting these two vastly different sides of our society, where one is stuck communicating through screens and the other is all about communicating through body language, Glatzer opens our eyes to the culture of dancing that has exis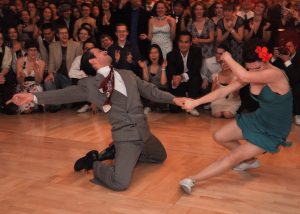 ted since the 1930s. For passionate dancers, it is described as a legal drug. They feel married to dancing because it plays such a vital role in their lives. In hindsight, it seems strange that most of us know so little about this culture.
"I'm not doing it for the contest; I'm not doing it to win. I'm doing it just to dance." – Evita Arce (Swing dancer and teacher)
Glatzer delicately delves into how Swing affects its dancers, how it brings them together, and how it helps solve the issues we have today with isolation. It circles back from the passion of dancing to the loneliness of so many people in society, whether it is during school or when clocking in and out of a job. She brings to our attention how in Swing dance we are able to have the physical connections that we are missing in our daily routines.
Glatzer and Zimmerman describe Swing as an outlet where people can actively celebrate life. However, the writers do not shy away from divulging the side of dance that is not often seen. Being a professional dancer also comes with its hardships, and the nature of the profession often makes for uncertain futures. Those who choose this profession must have a fierce passion and a willingness to take risks for it, as it often takes priority over other aspects of life.
Beautifully edited and compiled with past recordings, interviews, and newly filmed pieces, this documentary highlights how happiness is something that we choose to create ourselves.
"We celebrate life every chance we get." – Meschiya Lake
© Katusha Jin (4/12/17) FF2 Media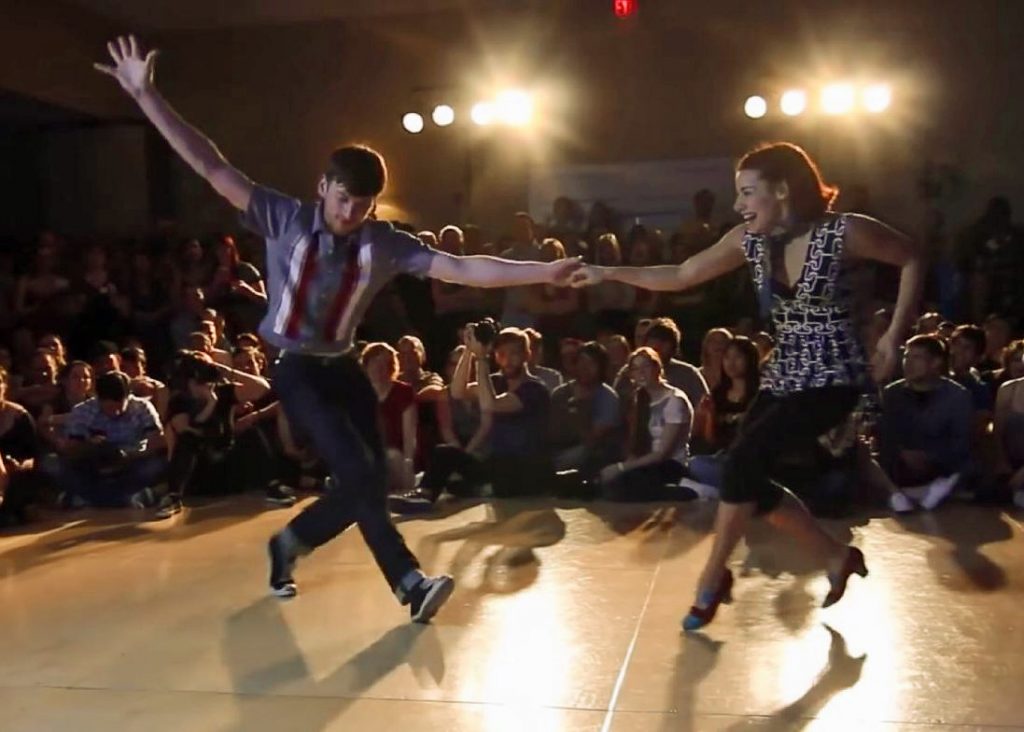 Top Photo: Dancer carried aloft by the crowd!
Middle Photo: A couple of Swing dancers in the middle of a dance move.
Bottom Photo: A couple of Swing dancers performing in the spotlight.
Photo Credits: Magnolia Pictures
Does Alive and Kicking pass the Bechdel-Wallace test?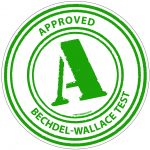 Yes, definitely!!
Women talk to both women and men about the importance of dancing and the roles it plays in their lives.