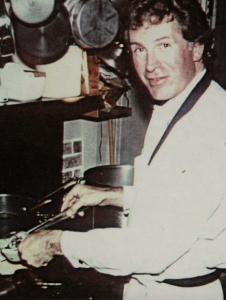 Lydia Tenaglia's Jeremiah Tower: The Last Magnificent is an absorbing documentary about the life of a once well-known chef who returned to the culinary world after nearly 20 years spent off the grid. Tower's own testimony to his life and choice is what sets Tenaglia's film apart from the tired documentary format—his first-person account is refreshing, along with other credible chefs like Martha Stewart, Mario Batali, Wolfgang Puck and producer Anthony Bourdain. (GEP: 3.5/5)
Review by Social Media Manager Georgiana E. Presecky
Bourdain starts The Last Magnificent off with an important thought, "We should know who changed the world. We should know their names." It's a compelling beginning to a not-always-compelling hour and 42 minutes, because it begs the question: who is Jeremiah Tower? How did he change the world? Why should we know his name?
They're central questions of any good documentary, and yet Tower's own autobiographical take on his life is what provides the film's best answers. We learn about his broken family life and how he fell in love with food—"before I read books, I read menus." He and his friends describe the saga of Chez Panisse, the Berkeley restaurant that led to Tower's famous relationship-turned-feud with owner Alice Waters. Tower begins as a mysterious figure who disappeared from his friends and the culinary world for two decades, and he ends up a Harvard graduate, an iconic chef, a friend, an anomaly and a person who loves food and just got lost in the politics of it all.
As Tenaglia and her subjects paint a picture of who he is, viewers will feel justified frustration at the lack of credit he is given for his culinary trailblazing. Good biographies care more about honesty than likability, and Tower's life and career have been complicated enough to keep viewers interested in his next move.
The only cringeworthy aspects of Jeremiah Tower: The Last Magnificent are the frivolous, History Channel-style recreations of Tower's memories. From his youthful days reading menus to his adventures in college and at Chez Panisse, the actors in these recreated moments take away from the authenticity of the stories themselves. I now understand why some documentaries stick to simple voiceovers and photographs—cheesy recreations don't add much.
Phrases like "pioneer" and "father of American cuisine" only go so far—the talking heads must provide anecdotes to support such claims, and they do so in droves. But Tower himself summarizes it best when he describes the role food played in his history, through good and bad times: "From my own past, the menus and the food that are the fixatives for the memories."
© Georgiana E. Presecky (5/10/17) FF2 Media
Top Photo: Young Tower at Chez Panisse.
Middle Photo: Old photos of Tower.
Bottom Photo: Tower reflects on a complicated life.
Photo Credits: The Orchard
Q: Does Jeremiah Tower: The Last Magnificent pass the Bechdel-Wallace test?
No.