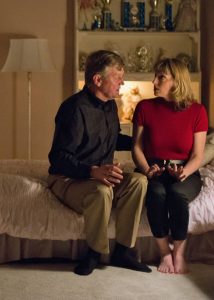 In 1996, the body of a charismatic 6 year old girl was found in the basement of her parent's elegant mini-mansion… one day after Christmas! The nation was transfixed by the investigation. Everyone had a theory. Nothing ever came of it. Twenty years later, the death of JonBenet Ramsey — an elfin blonde beauty queen on the child pageant circuit — remains unsolved, and there is no reason to believe it will ever be solved.
Rather than tackle the gory details in the now familiar style of a "ripped from the headlines" Law & Order episode, filmmaker Kitty Green has devised a novel meta-documentary structure. She plants her cameras in Boulder, Colorado (site of the murder) and interviews local actors who hope to star in her recreation. Totally engrossing! Brava! (JLH: 4/5)
© Jan Lisa Huttner (4/28/17) FF2 Media
Top Photo: One of the auditioning couples act out a scene of JonBenet's parents in their daughter's bedroom after the murder.