Artistry takes priority over substance in Maria Schrader's biographical film, Stefan Zweig: Farewell to Europe, which follows the life of German-Jewish author Stefan Zweig during his exile from Germany during World War II. (EML: 3/5)
Review by FF2 Associate Eliana M. Levenson
The film opens with a long, still shot of a floral arrangement. As the camera pulls back, maids set an elaborate and decadent table, clearly for some sort of celebration. Waiters enter and line the ornate walls as the doors are opened and guests begin to pour in. It is unclear at first who the focus is on. Snippets of conversations about nothing in particular alternate coming to the forefront. Finally, we meet "Stefan Zweig" (Josef Hader), an odd man in mannerisms but commanding in presence who is the guest of honor at the party. It becomes clear that Zweig is an author of great renown, visiting Brazil for a literary conference. However, his trip has a more sinister undertone as he has been rescued and now lives in exile from his home country, Germany, for he is a Jew and World War II is in full swing.
Following the celebration, Zweig holds a private interview with a few media sources. One journalist in particular pushes Zweig to denounce Hitler and the Third Reich but Zweig refuses. While Schrader does a good job of keeping the tension palpable in this scene, it is her protagonist who comes across poorly, the one on the wrong side of history.
The film continues to follow Zweig's adventures through Brazil with his wife, "Lotte Zweig" (Aenne Schwarz). Their travel seems like a vacation, an escape for pleasure and not one of necessity, placing a constant question on whether or not the Zweigs are refugees or merely immigrants.
In an article called "We Refugees" in Hannah Arendt's book The Jewish Writings, she discusses the concept of the refugee and the negative connotation it carries. For Arendt, just like Schrader's portrayal of Zweig, the greatest challenge facing immigrants fleeing persecution in their native countries is a feeling of lack of agency upon arrival in their new home. Throughout their travels, the Zweigs attempt to mask the fact that they were pushed out of Germany by expressing their excitement for their new opportunities, separating themselves from the label of "refugee" and taking back the agency of their own decision to relocate.
However, Schrader does still allow one character to carry the emotional weight of what Zweig's exile means, both for Zweig himself and as a greater representation of the persecuted. This character, surprisingly isn't the male protagonist of the film, Stefan Zweig, but rather this agency is given to a female character, Zweig's ex-wife, "Friderike Zweig" (Barbara Sukowa). Though her character introduction is confusing, and it takes a beat to realize who she is in relation to Zweig, her impact is by far the most emotional and palpable.
Friderike serves as the "old world" force in the film, the character who brings the full impact of what is happening in Europe upon Zweig and forces him to recognize his privilege and influence. She is the one who reads the letters sent to Zweig asking for his help, asking him to use his position to save lives. She is the one who forces Zweig to remember where he came from and reminds him that he has an obligation to help. She is the one who brings the war to the film and adds an emotional beat to an otherwise floundering story.
There is something to be said for Schrader using the female character as the driving force of a film that focuses on the life story of a man. As a female filmmaker, Schrader's choice to have Friderike take on this active role in some ways challenges traditional expectations of gender dynamics in film. Audiences are comfortable with a female character struggling to find their way being guided by a male character, this is familiar. However, Schrader uses Friderike to reverse this dynamic. Instead of Zweig pushing Friderike to understand something about herself, it is Friderike who pushes Zweig. Friderike serves as Zweig's guide, a reset button for Zweig on how to balance a desire to take agency over his own refugee status and his obligation to help those not privileged enough to make any choice at all. Schrader's use of Friderike as a character serves to shift the expectations of a male biopic by giving a female character one of the strongest and loudest voices, a voice that serves to be even stronger than Zweig's male one.
Overall, Schrader's Stefan Zweig: Farewell to Europe seems more focused on creating visual beauty and imagery than telling a compelling story.  Schrader creates a visually impressive piece but, in doing so, compromises on the narrative drive and hurts the audience's ability to connect with the characters. At many times, the pacing of the film seems to drag, only exacerbated through the use of a vignette format, which at times feels unmotivated and haphazard. Schrader succeeds most in the quiet moments where the visuals alone can convey the story, particularly in the final scene, and there is a quiet confidence to her directing. Most strikingly, however, is Schrader's ability to make a male centered biopic feel emotionally driven by a female presence.
© Eliana M. Levenson FF2 Media (5/18/17) FF2 Media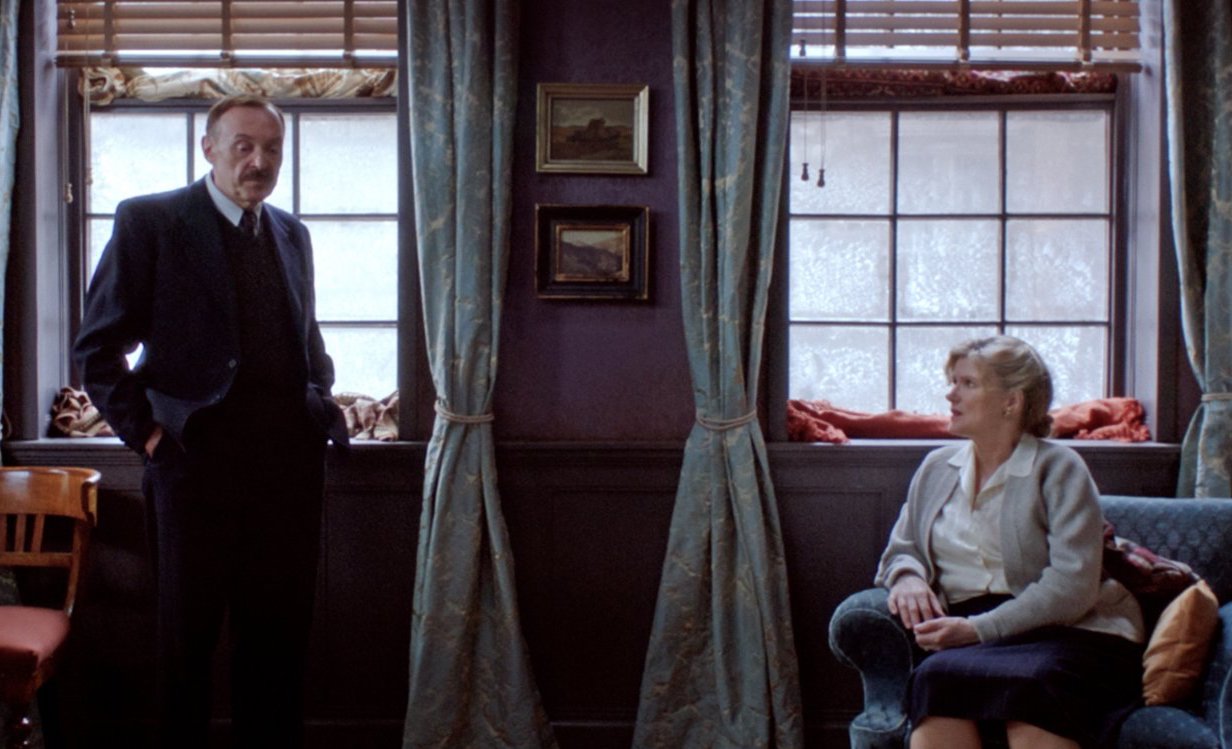 Top Photo: Director Maria Schrader smiles beside Josef Hader, who portrays Stefan Zweig in the film.
Middle Photo: A close-up of "Friderike Zweig" (Barbara Sukowa) who not only takes in her ex-husband but also provides him with much needed counsel, flipping the script on expected gender dynamics.
Bottom Photo: "Stefan Zweig" (Josef Hader) stands beside his ex-wife, "Friderike" (Barbara Sukowa) in their safehouse in America.
Photo Credits: First Run Features
Q: Does Stefan Zweig: A Farewell to Europe pass the Bechdel-Wallace Test?
Sadly, no.
While Friderike's character is a testament to Schrader's ability to use female characters who are well-rounded and impactful, the film itself has no instances of two women talking without a man being a part of the conversation as well.