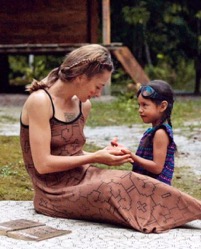 When one young woman refuses to accept the hopelessness of her diagnosis, she travels to the Amazon and prays that an ancient psychedelic brew can save her. Filled with interesting imagery and unusual cinematography, Icaros: A Vision, written by Leonor Caraballo, Abou Farman, and Matteo Norzi and directed by Leonor Caraballo Matteo Norzi, is a film unlike any other.  (LMB: 3.5/5)
Review by FF2 Associate Lindsy M. Bissonnette
American "Angelina" (Ana Cecilia Stieglitz) has traveled all the way to the Peruvian Amazon in hopes that a psychedelic brew can cure her disease, or at least save her soul, after American doctors have deemed her incurable. She stays in a healing center with drug addicts and people with speech impediments, who are all hoping that the shaman can help them.
With the help of shaman "Arturo" (Arturo Izquierdo), who administers the psychedelics, each night the foreigners drink the ancient plant ayahuasca and attempt to embrace the chaos that ensues, and unfortunately all of the nausea and vomiting that come with it. Little do they know that their shaman is facing a battle all his own, as his eyesight continues to fail him.
Arturo tells Angelina that she has susto, or a disease of fear. The only cure is an icaros, or a song of power, used to ward off bad spirits and disease, throughout the rest of the film she begins to accept and understand her fears, and helps Arturo do the same.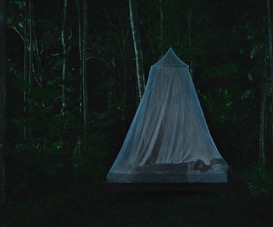 Icaros: A Vision is a fascinating idea. The film is framed much like a psychedelic journey all its own with fragmented and distorted images that seem to make no sense, and then come full circle. All throughout the film is poetry and bizarre sequences: a woman planting a tree in her boat, a young girl with an electric balloon, heartbeats, cells splitting, various shapes and colors all flickering at once. Much of the film feels like a hallucination, with little or no explanation, which unfortunately becomes distracting.
If the psychedelic camera tricks had been saved and used only when the characters are going through their shamanic journeys, the images would have had a deeper meaning, but instead they are tossed in all throughout the film, with no order. Instead of furthering the plot and deepening the audience understanding of what each character is going through and experiencing, it is confusing and hard to follow. The editing does not push the story forward, but instead brings the film to a grinding halt.
There are several really beautiful sequences, when Arturo views his passengers as televisions, and when he sees his mother during a phone call, but the overwhelming number of times the visionary, yet extremely aggressive, psychedelic style interrupts the film, unfortunately brings it down in ratings. Writer/directors Leonor Caraballo and Matteo Norzi and writer Abou Farman have an interesting style, and definitely have found some interesting film tricks to use.
© Lindsy M. Bissonnette (5/22/17) FF2 Media
Top Photo: Angelina with Arturo's daughter.
Middle Photo: Angelina's tent.
Bottom Photo: Arturo observes Angelina as she experiences a psychedelic adventure.
Photo Credits: Factory 25
Q: Does Icaros: A Vision pass the Bechdel-Wallace Test?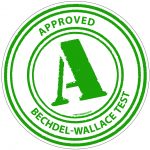 Yes.
There are several scenes between Angelina and a female shaman, Arturo's wife "Disney" (Disney Lopez), and his daughter "Lizeth" (Lizeth Ariana Izquierdo López).