In her directorial debut, director, writer, and star, Zoe Lister-Jones explores the complexities of gender dynamics and expectations in relationships through a couple struggling to hold their marriage together. (EML: 4.5/5)
Review by FF2 Associate Eliana M. Levenson
A dripping faucet. A sink full of dirty dishes. "Anna" (Zoe Lister-Jones) and her husband, "Ben" (Adam Pally) argue in a whirlwind of quick, jabbing dialogue as they move throughout the house. It's a fight we've all had before be it with siblings, parents, roommates or romantic partners and it is here where first time director Zoe Lister-Jones' enters the narrative.
From the start, it's clear this is a couple in crisis. Dealing with a miscarriage that they never acknowledge, Anna and Ben are teetering on the brink of a meltdown. They argue relentlessly, about everything, and yet, underneath it all there is still an undeniable affection for one another.
After a serendipitous jam session at one of their friends' kid's birthday parties, the couple decides to turn their constant arguing into creative expression by starting a band. Using their old instruments stored in the garage, the two begin using their fights as inspiration for untraditional love songs, that allow both to discuss their issues with the other in a healthier way. They invite their strange neighbor, "Dave" (Fred Armisen), to join the band as their drummer.
At first, all seems well and the couple is rekindling their passion for each other through their newfound love of creating music together. However, as Anna becomes more optimistic about the potential of their new musical venture, Ben pulls away, fearing that Anna's only interest is the success and not the happiness. The couple's differences in perspective on how to handle the trials they face both individually and together, makes it difficult for them to see eye to eye and even harder to find compromise and understanding. But, with a desire to keep their relationship together, the two are determined to find a way to understand each other.
There is something quietly remarkable about Lister-Jones' exploration of gender through the lens of the banalities of a long-term relationship. As Anna and Ben struggle to understand each other, the audience can't help but relate to the pitfalls of standardized gender dynamics. Anna constantly pushes Ben to express his feelings, while Ben fights against Anna's emotional outbursts. Even as things improve in their relationship through their shared musical interest, there is a disconnect in their communication. It's the classic, men and women are different and have to learn the language of the other, and yet Lister-Jones makes it feel fresh and interesting.
Band Aid is the type of film you come back to again and again, finding comfort in its genuinity and relatability. Whether in a long term relationship or not, the feeling of being misunderstood by someone close to you is something that everyone can latch on to. Lister-Jones' directing is unobtrusive, allowing the audience to feel like they are part of these intimate moments between husband and wife rather than a voyeur spying on them.
But, while Lister-Jones' directing is a force to be reckoned with, it is her screenplay that truly shines. Primarily conversational, and without relying on gimmicks, Lister-Jones' dialogue is something to marvel at, even having some members of the audience question if the scenes were primarily improvised since they feel so natural. Yet, as Lister-Jones herself says in the after film talk back, the actors stayed fairly true to the page, a testament to the fact that the written dialogue was able to capture the nuance and honesty of normal conversation.
With a woman at the helm and utilizing an all female crew, Band Aid has set the bar for what women in film are truly capable of. Anybody who sees this film will never doubt that women are equally capable of creating universal stories with relatable themes and powerfully engaging storytelling.
© Eliana M. Levenson (6/2/17) FF2 Media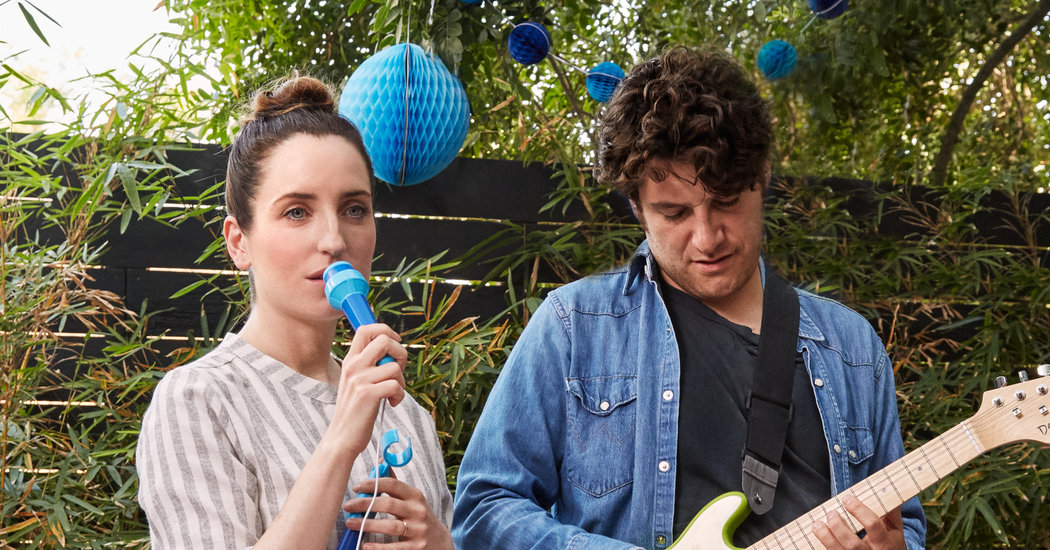 Top Photo: Writer/Director/Producer/Star, Zoe Lister-Jones on the red carpet for the Band Aid premiere at Sundance.
Middle Photo: "Anna" (Zoe Lister-Jones), "Ben" (Adam Pally), and "Dave" (Fred Armisen) have band practice in Anna and Ben's garage.
Bottom Photo: "Anna" (Zoe Lister-Jones) and "Ben" (Adam Pally) perform their first song together, using toy instruments at a child's birthday party.
Photo Credits: IFC Films
Q: Does Band Aid pass the Bechdel-Wallace Test?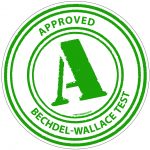 Yes!
While the film primarily focuses on Anna and Ben's relationship, there are moments where Anna interacts with her female friends, allowing for more female voices to enhance Anna's narrative.
For instance, at the infamous child's birthday, Anna and her best friend, played by Hannah Simone of New Girl, discuss Anna's mental state being around kids after suffering a miscarriage. This exchange is just one example of the incredible balance struck between comedy and drama as an incredibly stoned Anna tries to remember the safe word she and her friend discussed if she needed to be taken away from everyone talking about how great it is having kids.