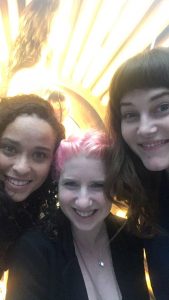 The Los Angeles Team — FF2 Executive Editor, Jessica Perry + FF2 Associate Eliana M. Levenson & FF2 Contributor Elyse B. Thaler — weighs in on this weekend's box office hit Wonder Woman 🙂
Elly's Rating: 4/5
Over the next few weeks, perhaps even longer, a lot will be said about the first female directed superhero film and the first sole female lead superhero film in over a decade. Some will herald Patty Jenkins' work for ushering in a new age for female filmmakers. Others will argue that the success of the film is due to a fear of appearing success, rather than judging the film on its own merits. Regardless of what they are saying, Wonder Woman has become a must-see film for those who wish to stay engaged in the conversation.
Now, Jenkins' film is not flawless by any means. Her use of the slow-motion effect to enhance the battle sequences can, at times, cause the pacing to drag almost to a stand still, and the period elements seem to come in and out of the story when they are convenient. However, it is undeniable that Wonder Woman, with Jenkins at the helm, has pushed the superhero genre into a new direction. Jenkins' heroine is not interested in revenge, she's not compensating for a tragic past or a deep-rooted in security. Unlike her male counterparts, Wonder Woman is pure in her heroism, interested only in preserving what she believes to be the good of humanity and intent on protecting those who cannot protect themselves. In Wonder Woman, Jenkins paints superheroes with a different brush, focusing on heroism driven by love rather than spite or vengeance. (EML: 4/5)
Elyse's Rating: 3.5/5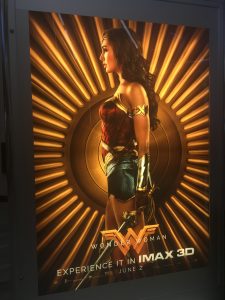 Anyone who saw Monster knows that Patty Jenkins clearly knows how to direct a hit film. But with Wonder Woman she has taken it to an entirely new level; the film's opening weekend success making her the director of the highest grossing film on opening weekend ever to be directed by a woman. Needless to say, there is a lot to celebrate about Wonder Woman.
Another stride forward for women in film was seeing actual female athletes among the Amazonian women. Let's hope Hollywood hears our cheers at seeing these strong, powerful women on the big screen, directed by Jenkins through beautiful fight choreography.
And then there is Gal Gadot, a woman who seems like she was born to play this role. She was not only able to give strength to Wonder Woman. she gave the character humanity. Also, Chris Pine was hilarious as his character "Steve Trevor."
The film is not perfect, the dialogue sometimes felt forced and it was about twenty minutes too long. Even with that said, the good far outweighs the bad. This is the first time I have ever cared about a comic book movie, so even I was surprised when I left the theatre thinking, "I wish I was Wonder Woman!" But that is the beauty of this film, it makes us feel like we can all be superheroes. (EBT: 3.5/5)
Peier's Rating 3/5
Patty Jenkins's Wonder Woman is a popcorn delight: warm, easy on the eyes, a balanced palette, and perhaps more interesting in this case, different packaging. Yes. So before I even throw at you the heavy-handed argument, which truly makes this film a unicorn, you should probably go and check this summer blockbuster out anyway.
It is what it is. There is no need to go into this thinking that you will understand life better. This is an origin story: Robin Wright makes an inspiring appearance as the formidable Antiope who mentors the young dole-eyed wonder girl, Diana, the Princess of the Amazons; elaborated fighting sequences that illustrate Diana's growth; the invasion of men, led by Steve Trevor (Chris Pine); a secret regarding the girl's birth; a well-spun romance between goddess and man; a somewhat clever parallel between the war of men and the war of gods. Not one element lost. Not one story link missed. Let's just say that Jenkins absolutely mastered the superhero genre.
There is also a somewhat meaningful message: good and bad are not so clearly defined, and humans are both. We know this because when the beautiful Gal Gadot is not suspended in mid-air or fighting in slow motion, all the characters engage in serious discussion on whether humans deserve to be saved in shouting matches. Such naïvety, shared by its male counterpart, Superman, is simply the result of our familiarity with this genre. Well, at least, the compensation is that they sure look good shouting those hard-to-swallow lines, and the music certainly helps to add a degree of gravitas.
Finally, we need to return to that heavy-handed argument: yes, this film is a unicorn because it is made by a female filmmaker, and in case you haven't noticed—FIRST FEMALE SUPERHERO. But what does that all mean? Easy. Representation and point of view. Popcorn movies without anything particular to say (not to demean Wonder Woman but it is only the nature of blockbusters) rely on narrative formula, which is so powerful because of its popularity. For instance, we all know how it works, "a boy is the absolute good"—"the boy doesn't know how the world works" – "the boy likes a girl but is too shy to say"— "the boy gets mildly thwarted by his nemesis" – "the boy gets the girl"— "the boy defeats the evil," and throughout this whole arch, there are many sexual innuendos and raunchy jokes that get passed along.
Movies like Wonder Woman (well, the irony is that right now, there are only a handful) Last year, we had Hidden Figures, Star Wars: The Force Awakens, and Ghostbusters) help to facilitate a change of perspective within the constraint of this longstanding formula, simply by switching pronouns. Now it's the girl who is the chosen one. Hermione instead of Harry. The comedic elements in this film function on that change of viewpoints: we are talking about female pleasure!!! Women are looking and the men, abashed, are looking away. It has Chris Pine, almost entirely nude, stuttering that he is indeed "beyond average." Jenkins's camera even functions in line with this new point of view as well—no slow pan that sexualizes the curvaceous female body. Yes, when Trevor expresses his attraction to Diana, his gaze stays with her face. So does the camera. That decision, however trivial, must be a historical first in the age of Megan Fox in Transformers.
Of course, there are always questions regarding representation of perfection: our hero is forever white, young, thin, wealthy… How to change that? Making him a woman might be the first step. (PTS 3.5/5)
Jess's Rating: 4/5
Masterfully directed by Patty Jenkins, Wonder Woman marks a huge stride forward for strong female characters represented on screen. The positive effect Wonder Woman's (as Diana Prince played by Gal Gadot) strength and resilience has already had on young girls is marked. Even as an adult, I found myself inspired as Diana forged into battle, a heroic female figure to reflect upon, as I consciously marked this moment as something new and long overdue. The strong representation of women continues in the incredible Amazonian sequences and in the utilization of a female villain, giving most agency to female characters, in a refreshing change.
While I would have liked to see Diana's ultimate heroic moment as she saves the world from peril come from someplace within her, rather than at the agony over the loss of the man she loved, her character development elsewhere almost forgives this narrative flaw… but not quite. However, from a purely pop culture super hero film standpoint, Wonder Woman is one of the best in the DC Comic Franchise, making it hands down a must see! (JEP: 4/5)
Top Photo (from left): Jess, Elly & Elyse. Photo Credits: Eliana M. Levenson
SaveSave
SaveSave