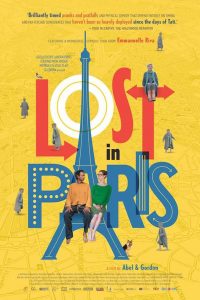 A beautifully colorful and artistically whimsical film, Lost In Paris enchants the eyes, ears and hearts of its viewers –never allowing a second of screen time to be mundane. From directors Dominique Abel and Fiona Gordon, this film comes to share a novel love story: the one where two socially awkward people find love. Too often are beautiful films focused on "classic depictions" of beautiful people; Lost In Paris trails a homeless man as he follows and wins over an awkward Canadian librarian in the streets of Paris. With beautiful music and set decor like nothing you've ever seen before, this film is a must-see. (RAK: 4/5)
Review by FF2 Media reviewer Rachel A. Kastner
In Lost in Paris, the filmmakers star in uniquely brilliant roles. "Fiona" (Gordon) is an exuberantly awkward librarian from the depths of a frozen tundra town in Canada. When she is summoned to Paris to help her distressed 88-year-old grandmother, Fiona hops on a plane. When she arrives in Paris, she finds out her aunt "Martha" (played by Emmanuelle Riva), has gone missing. Fiona is left alone to wander Paris in search of her aunt who is 'losing it,' according to the cops. In what the filmmakers call "an avalanche of spectacular disasters", Fiona meets "Dom" (Abel), a homeless man on the streets of Paris who falls in love with her after finding her bag and passport.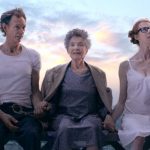 The film is 84 minutes of beautiful cinematography, slapstick humor and wonderful choreography. It feels like a musical without actually having any musical performances (except for one beautiful small impromptu dance number on a bench that feels very 'La La Land'). The entire film takes place over the course of 48 hours. Everyone is in a mad dash around Paris. So much so, that we, as the audience, feel as though we are running around with them.
The characters are quirky, struggling, not beautiful in the 'common' (societal) way. Each of them has so much to offer, and their individual strengths add so much to the film's experience. Riva fully embodies the strong headstrong nature of Martha's character: she is strong, audacious and independent. Fiona is marked by Gordon's characteristically awkward and hysterical physical movements as she flops around onscreen, bumping into literally, everything. And then there's Don. Don, played by Abel, is not your typical tramp. His energy lights the film on fire. Every time Abel is onscreen, something is bound to happen, and it's going to be big. The three characters: Martha, Fiona and Don, represent good things and totally achieve the directors' vision of telling a story of love and adventure and managing to do so without hinting towards any sadness. The film is innocent, non-conformist and funny. Go see it!
Top Photo: Promotional Poster for Lost in Paris.
Middle Photo: Riva, Gordon and Abel sitting on top of the  Eiffel Tower.
Bottom Photo: Riva and Abel say goodbye.
Photo Credits: Oscilloscope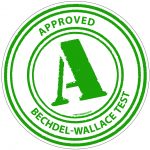 Q: Does Lost In Paris pass the Bechdell Wallace test?
Yes.
Fiona has conversations with Parisian women on the street that are about her aunt Martha.
SaveSave
SaveSave
SaveSave