NOTE: This review of Sofia Coppola's film The Beguiled is written from the POV of someone coming to the material for the second time. Jan saw the 1971 version starring Clint Eastwood, Elizabeth Hartman & Geraldine Page sometime in the way back when, and she watched this Don Siegel version again this week after last week's screening of the Sofia Coppola version. For more from the POV of someone who has not seen the 1971 version, click HERE to read review by FF2 Executive Editor-in-Chief Jessica Perry.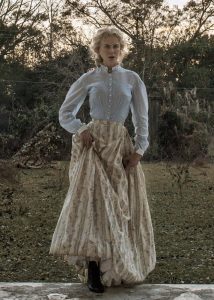 Superb new adaptation of Thomas Cullinan's Civil War novel The Beguiled is anchored by the best performance Nicole Kidman has given in many a year.
Since it circles back to the themes of writer/director Sofia Coppola's first film, perhaps the best way to receive it is as "The Beguiled Virgins." But whereas The Virgin Suicides (1999) was told from the POV of neighborhood boys looking into a haunted house, The Beguiled (2017) is told from the POV of women and girls locked inside a haunted house.
Am I kidding? No, I am not. For example, note, for the record, that the vulnerable "treasures" to be protected inside each house (the Lisbon house in The Virgin Suicides and Miss Farnsworth's house in The Beguiled) are five girls — just like the number of daughters in Pride and Prejudice and the number of daughters in Fiddler on the Roof. I am sure Ms. Coppola is aware of this; now you know it too.
The word "beguiled" itself is somewhat archaic and the best-known use of this word before Thomas Cullinan (who seems to have been a serious and erudite fellow) used it for the title of his 1966 novel was in the King James Bible ("And the LORD God said unto the woman, What is this that thou hast done? And the woman said, The serpent beguiled me, and I did eat.), so maybe Cullinan also knew that Zeophehad had five daughters? It would not surprise me. But did Don Siegel know any of this? If so, I doubt that he cared.
From my POV, Sofia Coppola's adaptation is almost perfect save for one egregious and entirely unnecessary error. My bottom line? An artist has every right to adapt material to her own specifications as long as she owns her decisions. So ignore the faux "controversy,"see this film, and decide for yourself! (JLH: 4/5)
Review by FF2 Editor-in-Chief Jan Lisa Huttner
On February 18, 1980, George Will published a column in Newsweek  magazine opposing the expansion of roles for women in the US military because "the almost instinctive and universal exemption of women from combat draws a line against the encroachment of violence upon havens of gentleness." I know this for a fact because when I read Will's column, I went ballistic. I wrote a vicious rebuttal which I sent to Newsweek (after Richard made several judicious edits of course), and wonder of wonders, they published it!
Sofia Coppola's new remake of Don Siegel's 1971 film The Beguiled is a peek inside one such "haven of gentleness" told from the female POV.
Nicole Kidman stars as the formidable "Martha Farnsworth," a genteel Virginia woman trying to shepherd her remaining students at the Farnsworth Seminary for Young Ladies through the last phase of the Civil War. Miss Martha and "Miss Edwina" (Kirsten Dunst) — the only teacher still onsite — are responsible for five girls who range in age from around 12 to around 16. From the girls' conversations, we can assume that most, if not all, are from prominent families in more perilous zones. Do their families really believe they will be safer with Miss Farnsworth, or are they already so overwhelmed at home that they have ceased to care?
These seven are therefore trapped together like characters in a fairy tale; they are seven Sleeping Beauties, Rapunzels languishing in a tower. They can hear cannon fire in the distance. They can see plumes of smoke in the sky. But they have been consigned to a "haven of gentleness;" seven irrelevant, forgotten females.
Then, one day, a Little Red Riding Hood named "Amy" (Oona Laurence) is picking mushrooms in the woods when she stumbles on the half-dead body of a Union soldier. Barely conscious and in obvious pain, he tells Amy his name and begs her to help him. Amy, the youngest and most tenderhearted of her charges, dutifully brings "Corporal John McBurney" (Colin Farrell) to Miss Martha. The Big Bad Wolf is now inside the Hen House.
In Don Siegel's 1971 adaptation of the eponymous novel by Thomas Cullinan (which I have not read), the plot quickly turns lurid, with plenty of blood and gore plus flashbacks of rape, murder, and incest. Siegel (and maybe Cullinan as well) see poor Corporal McBurney as a wily man trapped in a coven who has no choice but to fight for his life, one man against seven lust-crazed witches.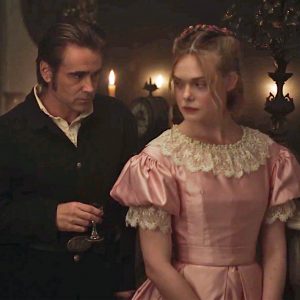 Coppola's narrative, however, is told mostly from Miss Martha's POV. While we never doubt her resolve to put her duty to her students first, there is no hiding the fact that she thrives on this sudden opportunity to prove her mettle. To be part of the action — even in such a small way — after so long on the sidelines seems way more stimulating to Miss Martha than the possibility of a tryst with a man so clearly below her in social status.
But sadly, Miss Edwina is more susceptible. Kirsten Dunst is now 35, and watching her in this new role it is impossible not to think of her performance as teenage "Lux Lisbon" in The Virgin Suicides. The Virgin Suicides, of course, was Sofia Coppola's first film, as well as one of Kirsten Dunst's first leading roles (altho her first screen credit is a bit part in Woody Allen's New York Stories when she was barely old enough to go to school).
You can hear Lux Lisbon's plaintive whine "I'm suffocating!" in The Beguiled, and you can also hear the terse reply of her mother ("But you're safe here!") in Miss Martha's subsequent actions. Of course, it is not true. Lux is not safe inside the Lisbon house, Miss Edwina is not safe at Miss Farnsworth's school, and Marie Antoinette — the best part Ms. Coppola has written to date for Ms. Dunst — was certainly not safe at Versailles even though she was The Queen.
But the other pupils at the Farnsworth Seminary for Young Ladies? Under Miss Martha's tutelage, they just might make it.
© Jan Lisa Huttner (6/23/17) FF2 Media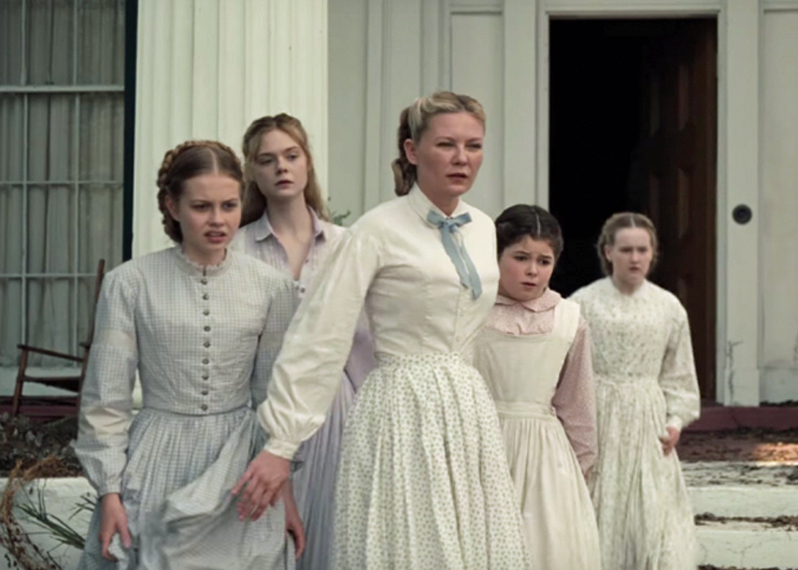 Top Photo: Nicole Kidman gives a commanding performance as the regal Martha Farnsworth.
Middle Photo: Colin Farrell as smarmy "Corporal John McBurney" talks pretty to "Alicia" (Elle Fanning) the eldest of the Farnsworth Seminary students.
Bottom Photo: "Miss Edwina" (Kirsten Dunst) — clearly a spinster on the edge of middle age — instinctively shields her students when young Amy approaches the house with the wounded Yankee soldier.
Q: Does The Beguiled (2017) pass the Bechdel-Wallace Test?
Absolutely!
In addition to their classroom work and chores, the girls discuss the war and give a bit of their backstories. For example, one girl relates news of General Sherman's ruthless March to the Sea. Her family has instructed her not to leave Miss Farnsworth's school while Sherman is still tearing a path across Georgia.
And Yet… Here is the point at which I give voice to my major complaint about Sofia Coppola's version of The Beguiled.
In Siegel's 1971 film (and presumably in Cullinan's novel as well), there is a third adult at the Farnsworth Seminary — a slave named "Hallie" (played by actress Mae Mercer). From my POV, Siegel wants Hallie in his film primarily as an excuse for an ugly rape scene that also gives additional screen time to Martha's odious brother "Miles" (Patrick Culliton) = another character Coppola drops from her cast. And good riddance to you, Miles!
The problem is that without Hallie, it is no longer clear how "activities of daily living" actually get done at Farnsworth Seminary. We do see the "Young Ladies" doing some field work, and helping each other dress by pulling at corset strings (like Mammy so memorably did for Scarlett in Gone with the Wind), but we never see them doing enough work to explain how these well-bred southern belles get by day after day. So perhaps Miss Martha is, indeed, a fine cook, but who does the dishes? I found myself suddenly thankful for the scene in Gone with the Wind in which Rhett recoils in disgust from Scarlett's visibly work-worn hands.
You cannot have it both ways, Ms. Coppola. You cannot applaud Miss Martha's self-sufficiency without showing us more about how she actually manages to "Make It So." Just sayin'
True Story: After we received our copy of the 3/30/80 Newsweek and realized that our letter was inside, Richard and I danced around the apartment singing "What Newsweek hath joined together, let no man separate!" Soon enough, we got married and we've been together ever since…
But looking at his words again, almost forty years later, I now see that George Will's triggering comment tells us a great deal about male privilege. Specifically, only a man who came of age in a colonial empire — where all the battles were always "there" rather than "here" — would believe women could be protected in "havens of gentleness." If we learned one thing in the 20th Century, we learned that when the battles are "here," women are always targets of violence, and this is true wherever "here" is, be it in Congo (in Central Africa) or in Bosnia (in the former Yugoslavia), or anywhere alphabetically in between.
In fact, it took until 1993 until rape was considered "a crime against humanity… when committed in armed conflict and directed against a civilian population." Furthermore, the Rome Statute of the International Criminal Court, which "includes rape, sexual slavery, enforced prostitution, forced pregnancy, enforced sterilization, or any other form of sexual violence of comparable gravity as a crime against humanity when it is committed in a widespread or systematic way," has only been "in force since July 2002."
These are precisely the things — like sexual harassment and spousal abuse — that no one ever talked about in "polite" company before women began to tell their own stories on page, stage, and screen. Way back in 1971, when Don Siegel released his version of The Beguiled, it was simply assumed that "gentlemen" who stumbled into "havens of gentleness" would treat the "ladies" there chivalrously. If they really were "nice girls" and "good women," they would have nothing to worry about, would they?
Now it is 2017, and the predictable #@&% is raining down on Ms. Coppola's head because she dared to make a remake of a mediocre film from a female POV. Well, OK, so her film is not perfect (for the reason specified above), but IMHO it is a hell of a lot better than what came before!