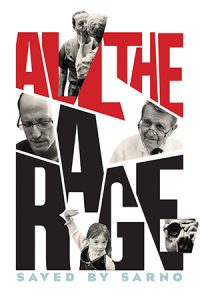 Directors Michael Galinsky, Suki Hawley and David Beilinson delve into Dr. John Sarno's belief system that physical pain is at the root of the human psyche. With celebrity patients like Larry David and Howard Stern, All the Rage (Saved by Sarno) keeps viewers engaged with an engrossing, argumentative look at an alternative to modern medicine. (BKP: 4/5)
Review by Managing Editor Brigid K. Presecky
Think differently. In its truest form, documentaries aim to challenge societal norms and allow viewers to think in deeper, broader ways. Rage is no exception. Dr. John Sarno (who passed away on June 22, a day before the film's release) had a possible solution to the pain epidemic in America's aging population. What Larry David described as the closest thing he's had to a "religious experience," Sarno provides patience with a book instead of a prescription.
Developed for decades at New York University Medical Center, Dr. Sarno's "Healing Back Pain: The Mind-Body Connection," focused on the emotional triggers of physical pain, from stressful relationships to traumatic events of childhood.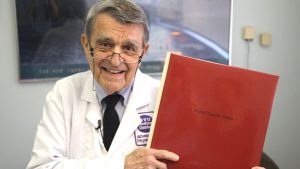 Putting it in broader terms for general public, Dr. Sarno tells viewers, "We all generate feelings in the unconscious mind of which we are totally unaware, as a result of our life experiences which begin in childhood." Aches and pains distract people from the root cause of their problems. Rage towards parents or spouses, for example, can be buried deep down in their unconscious and manifest into a physical ailment.
Although celebrity guests like Anne Bancroft and Howard Stern agree that Dr. Sarno's prescription of knowledge has helped them tremendously, director Michael Galinsky provides a first-hand look at how his life was affected by the mind-body connection. Viewers meet his family and experience his own journey of healing and recovery, a first-person touch that deepen the impact of the documentary.
The pacing of All the Rage is consistent and fluid with a blend of talking heads from experts in the field to footage of lectures, interviews and features (including his national coverage on a 1999 episode of 20/20). Skeptics are highlighted here, a much-needed balance to remind viewers that no, not all pain is in a person's head. What it does show, however, is how the most powerful tool in a human body is the mind – something everyone can agree on.
© Brigid K. Presecky (6/27/17) FF2 Media
Photos: Michael Galinksy and Dr. John Sarno
Photo Credits: Michael Galinksy/Rumur
Q: Does All the Rage (Saved by Sarno) pass the Bechdel-Wallace test?
No.