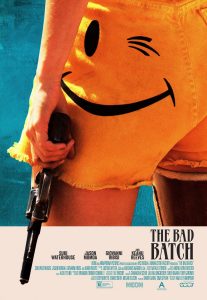 Directed and written by Ana Lily Amirpour, The Bad Batch is her second feature after the acclaimed A Girl Walks Home Alone at Night. The Bad Batch tells the story of a world that is built by those who are unwanted, who have no choice but to live in a wasteland in a society of cannibals. (KIZJ: 3/5)
Review by FF2 Intern Katusha Jin
With the fresh number "BB5040" tattooed behind her ear, "Arlen" (Suki Waterhouse) becomes a registered member of the Bad Batch community. She is taken to a border lined with a high fence, and as she walks through the gate door, it locks behind her.
Arlen is stranded in a desert land with nothing but her bright watermelon shorts, a top, a cap, and a backpack. After eating a burger, she gets up, walks past a foreshadowing warning sign, and starts her aimless walk into the desert. A piece of paper in her hands directs her to "Find the Dream. Find Comfort. South East."
Eventually, she comes across an abandoned car and touches up her lips in the front seat mirror. Beside her reflection, she sees a vehicle coming fast in her direction. Arlen is taken hostage and tied to the ground. She is injected with an unknown fluid as "Muscle Woman I" (Joni Podesta) saws off her arm and leg. The music from a little music player on a nearby table is turned up to hide her screams and her freshly cut off limbs are fried on a pan. Without dialogue, Amirpour step-by-step visually shows the brutal and animalistic nature of these people.
There is a clear idea in this world that the strong survive and the weak do not. Amirpour carefully crafts this distinction with the weak serving as the targeted prey of the strong. She paints a beach filled with sweaty, beast-like humans whose eyes bulge with every weight they lift. The beat in the accompanying music Fish Paste by Die Antwoord further creates the fear of these people and a pumping urgency as this sequence leads us to the introduction of the alpha male "Miami Man" (Jason Momoa).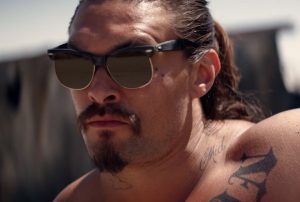 There is a difference between what people want to do and what people have to do. In this movie, the latter overshadows the former completely. The characters do what they have to do to survive in this wasteland. Suki Waterhouse should feel proud of her debut as an actress in a lead role where she's required to completely carry such a film, directed by an acclaimed indie filmmaker. Her performance was truly convincing in its desperateness.
As a movie with no dialogue in the first twenty minutes, and little dialogue overall, the sound is of utmost importance. Vicki Vandegrift, the Foley Artist, and Micaela Cain, the Foley Mixer, did an excellent job in replicating the sounds from the visuals. Peter A. Chevako also deserves a special mention for his work with the prosthetics. The team's member in charge of casting extras, Dixie Webster, made the right choice in hiring extras who were existing members of the community from Slab City, where The Bad Batch was filmed. These people behind the scenes were part of the team that really made the aesthetic of Amirpour's world even more believable.
Amirpour often explains that she likes telling the stories of those in the corner, hidden under the rocks and that the people in this film are a representation of the misfits and unwanted ones. Taking away a leg and arm from someone is a metaphor of the pains people go through and the lasting crippling aftereffects it can have on their lives. Her movie is not one for everyone, but it is an intense experience that forces the audience to see how people will eat away at each other when their survival is at stake.
© Katusha Jin (6/28/17) FF2 Media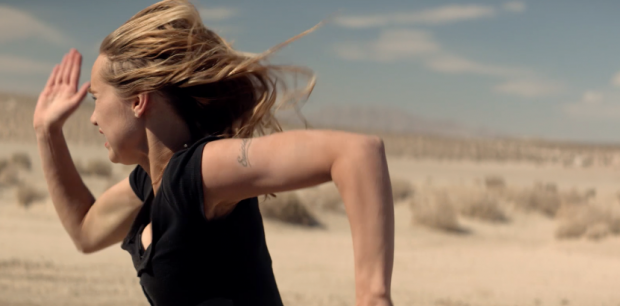 Top Photo: The Bad Batch poster.
Middle Photo: Alpha male "Miami Man" (Jason Momoa).
Bottom Photo: "Arlen" (Suki Waterhouse) running away from an oncoming vehicle.
Photo Credits: Merrick Morton
Does The Bad Batch pass the Bechdel-Wallace test?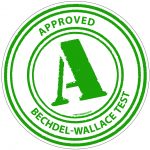 Yes.
There is not a lot of dialogue in the film, but there is a scene where Arlen talks to the little girl, "Honey" (Jayda Fink), about how there is no one else out there in the world who cares about her now.