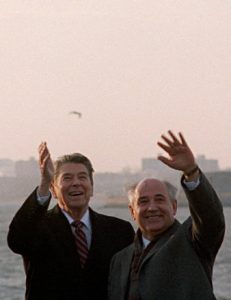 The Reagan Show–co-directed by Sierra Pettengill–documents President Reagan as he navigates the personal and public tensions of negotiations with Soviet leader Mikhail Gorbachev. The filmmakers find a strange humor in their portrayal of Cold War politics. Composed almost completely of footage of Ronald Reagan taken within the White House and of news broadcasts from the time, the documentary takes on the perspective of a detached pundit, attentive but only as close to the action as the public footage allows. (AEL: 3.5/5)
Review by FF2 Intern Amelie E. Lasker
The day-to-day documentation of Ronald Reagan's presidency was unprecedented, in part because film technology had become relatively cheap and accessible, but more so because President Reagan's personal style made public appearances easy. Naturally The Reagan Show's filmmakers would have been drawn to this footage as the basis for a documentary, as it seems to have been an essential facet of Reagan's public policy. When an interviewer asks Reagan whether his experiences as an actor have been helpful to him at all in his political career, Reagan replies, "There have been times, in this office, when I've wondered how you could do the job if you hadn't been an actor."
The frequent public announcements that appear to come directly from Reagan at his stately presidential desk, along with the charade of broadcasting Reagan's daily activities, were indeed an effective political tool for his administration. As an actor, Reagan had been portrayed as the wholesome American hero. Those who filmed the President cultivated that image, so that the White House staff assumed the role of mediator between the President and his public, a role which would otherwise have belonged to the press. Michael Deaver, White House Deputy Chief of Staff, explained to an interviewer, "It's also staging, how you stage the message. It's a game."
Naturally, many reporters challenged the White House's public approach, demanding to know what the administration was doing under all the show. One even suggested that Reagan was nothing but an incredibly talented salesman. As Reagan began summit meetings with the new leader of the Soviet Union, Mikhail Gorbachev, these reporters' questions became motivated less by fascination and more by concern.
While the documentary follows the Cold War negotiations leading up to the 1987 INF Treaty, in which the US and the USSR agreed for the first time to reduce their nuclear arms, the film's focus remains outside the meetings, following Reagan and Gorbachev as personalities competing for public support. We, as viewers, can see only what television audiences were able to see at the time: Reagan exits planes and enters summit meetings, but as reporters point out, he gives no hint as to what is happening inside, only smiling and waving in response to reporters' questions.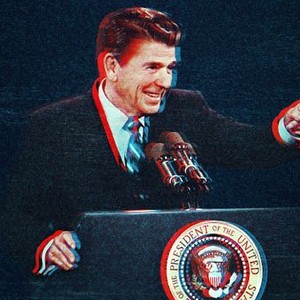 This, however, is the film's weak point. Directors Sierra Pettengill and Pacho Velez and writers Josh Alexander, Francisco Bello, and Velez emphasize an image of Reagan as evasively charismatic, always documented but hardly ever letting his public smile fall. Yet the film does not attempt to delve into what was behind the public personality.
It feels especially important to me that the filmmakers do so in light of its relevance to the personality politics of our current President. The filmmakers touch on this connection, including footage of Reagan's 1980 campaign slogan, "We will make America great again," but they never make anything of the connection. As a result, the film feels far removed from what's happening now, when it had the potential to illustrate a historical precedent for the strangeness of current personality politics. Reagan's consistent and deliberately comforting on-camera persona stands out in contrast to Trump's administration, and the nuclear war paranoia that people had at the time comes across feeling just as distant. The filmmakers represent the feeling of imminent threat only in clips of disaster movies with poor special effects, so that the effect is almost campy.
The Reagan Show circles around a deeper question of what Reagan meant by an American brand of peace, and what people would have thought it meant to be an American at the time. In contrast to the other political threads, this question does feel relevant to our current time, a time in which our President's persona doesn't represent how many of us see ourselves or what we would want for our country. The film ends with people passionately singing "I'm proud to be an American" at the 1988 Republican National Convention, but in the context of so much contrast between the fears and needs of the American people and the mystery of President Reagan's foreign policy, the filmmakers' choice to conclude with this footage feels cryptic. I would like to know more: what did it feel like to be an American during the Reagan presidency and the Cold War? How did audiences at the time, at which the film so often hints but never addresses, see their relationship to their federal government's choices?
In a film that so deftly portrays Reagan's public charm and the curiosity it evoked in audiences, I would like to see it satisfy some of that curiosity. The Reagan Show doesn't give us any insight into what was really beyond the show, working only as a record, if an accurate one, of what people speculated at the time.
© Amelie E. Lasker (7/11/17) FF2 Media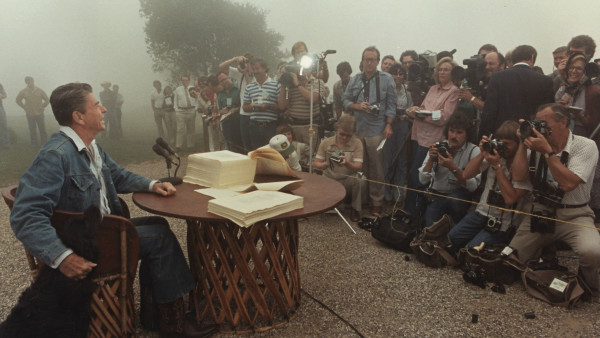 Top Photo: President Reagan and Mikhail Gorbachev meet in New York City.
Middle Photo: President Reagan as he would have appeared on television.
Bottom Photo: President Reagan answers press questions.
Photo Credits: Gravitas Ventures
Q: Does The Reagan Show pass the Bechdel-Wallace Test? 
No.
The filmmakers do turn their focus briefly to Nancy Reagan and to how she negotiated her own public persona, but that persona centers around her support for her husband.