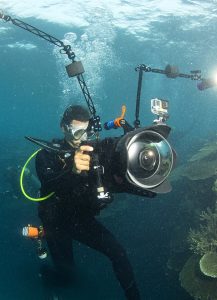 Co-written by Vickie Curtis and from Jeff Orlowski–director of the award-winning documentary Chasing Ice—Chasing Coral is an engagingly crafted climate exposé. The film has a focus on the ways in which climate scientists publicize the importance of their work. It follows coral and ocean scientists and documentarians as they record the bleaching and dying of coral reefs due to global warming.
Although the science is accessible and convincing, the documentary is most successful because it follows the passions of photographer and climate activist Richard Vevers, engineer and documentarian Zack Rago, and a number of other scientists and artists. The filmmakers follow their sense of hope that climate change can be stopped. (AEL: 4/5)
Review by FF2 Intern Amelie E. Lasker
Chasing Coral's filmmakers take a personal approach to the problem of documenting climate change, following the individuals who are most passionate about the beauty and significance of coral. Richard Vevers, CEO of the Ocean Project, leads an expedition to photograph the bleaching of coral reefs, in order to show people that climate change is making a rapid and tangible impact on an entire ecosystem, and that it is getting worse every year. Zack Rago, a young engineer and marine biology enthusiast, designs and places the cameras for the project. John "Charlie" Veron, the leading researcher on coral anatomy, serves as Rago's role model, and as a reminder of the history behind this kind of passion for science.
Richard Vevers points out that people don't seem to be aware of the disastrous effect of climate change on coral reefs, and that this lack of awareness is a problem of advertising. With this project, he attempts to make science communicable by juxtaposing the beauty and variety of coral reefs with the dramatic ways in which they disappear.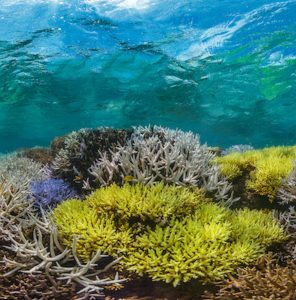 However, the technology involved in this project is not simple. Cameras have to be left deep underwater, remaining intact and in focus for several weeks or months against the elements. It's the diving work of Zack Rago and his team, work that is tedious and sometimes dangerous, that illustrates the strong sense of motivation behind the project. Rago knows coral is essential to an entire ecosystem. He is fascinated by coral as a beautiful creature in its own right, one he would never want to see extinct. No matter how difficult the work gets, he never doubts the importance of his message.
I've often found documentaries or articles about climate change to be incredibly frightening. They show dystopian graphics of what will happen if we don't make a change, and they terrify us into feeling powerless. However, Chasing Coral has a different tone. The filmmakers focus on people who see firsthand the extent to which rising temperatures have already destroyed coral reefs, and yet who are not discouraged. Vevers asserts that abating climate change is very possible with enough large-scale collaboration.
In my favorite scene in the film, Rago gets to meet his role model, Charlie Veron, in person. Veron, an experienced coral researcher, remarks that he is almost relieved to be escaping his career when he is, at a time that feels so dire. Rago sits across from him full of hope, ready for a full career of doing tangible work to help the ocean. If documentation of climate change has a problem of advertising, Vevers and Chasing Coral's filmmakers have found a way to solve it. For its encouraging and essential message, this documentary is a must-see.
© Amelie E. Lasker (7/24/17) FF2 Media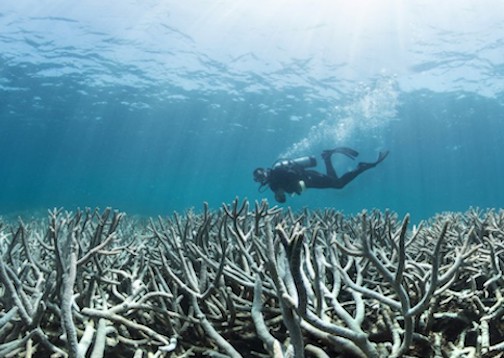 Top Photo: Richard Vevers takes pictures of bleached coral.
Middle Photo: Some coral, after bleaching and before death, turns brilliant neon colors.
Bottom Photo: Zack Rago dives for pictures.
Photo Credits: Netflix
Q: Does Chasing Coral pass the Bechdel-Wallace Test?
 No.
One female marine biologist, Dr. Ruth Gates, is featured often, but the film's three primary figures are male.
SaveSave