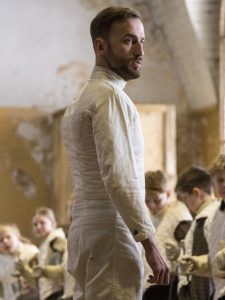 Based on a true story, writer Anna Heinämaa's The Fencer follows an Estonian man on the run from the Soviet government who takes refuge posing as a teacher in a small Estonian village. The film is fun, in that it's weird how the plot is basically School of Rock, but with fencing and set in the USSR. Sadly, it's not a very well made film aside from that. (GPG: 3/5)
Review by FF2 Contributor Giorgi Plys-Garzotto
"Endel" (Märt Avandi) has been fleeing the Soviets for years, ever since he was forcibly drafted by the Nazis during World War II. After hiding in Leningrad for years, he is close to being discovered there, and escapes to a small village in his home country of Estonia, where a friend has secured him a job as a P.E. teacher under an assumed name. When they meet, Endel brings up teaching the children fencing, since he has fencing training, but the principal, a strict, controlling man, dismisses it as "an activity unfit for the working man." For reasons that remain unclear to the audience, Endel feels compelled to oppose this. I guess he's really emotionally invested in fencing?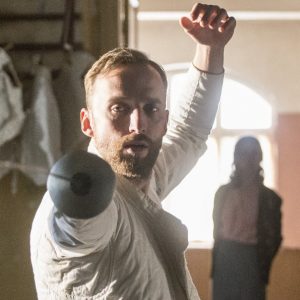 From there, the film takes a School of Rock turn, following the plot of the Jack-Black-starring classic comedy almost exactly. Endel starts a fencing club on the down-low, and his whole P.E. class joins. He initially clashes with some of the students, but eventually wins their respect and affection. Despite the principal's opposition, Endel procures new equipment for the kids and, through hard work, turns the class of inexperienced village kids into a fencing team he can be proud of. And just as School of Rock's "Dewey Flynn" (Jack Black) tries to take his kids to a Battle of the Bands, soon Endel gets the opportunity to take his class to an official Soviet fencing competition in Leningrad. There's only one problem: Leningrad is the city Endel had to flee in the beginning of the film.
Endel hesitates when he hears about the competition, since he would be risking capture by the Russian Secret Police if he goes. He has just decided on saving his own skin, when he is reminded by his love interest "Kadri" (Ursula Ratasepp) of what a father figure he has become to the children—he realizes he can't let them down by denying them the opportunity to compete. At the competition itself, Endel discovers the Secret Police are coming for him at the tournament hall, and must decide whether to abandon the children there with no way to get home, or be arrested. I won't spoil the ending, but I will say that it's not a great one—all in all, a slow, dry film with melodramatic performances.
© Giorgi Plys-Garzotto (7/25/17) FF2 Media
Top photo: Endel teaching a fencing lesson.
Middle photo: Endel practicing fencing on his own.
Bottom photo: Endel, with all the children, and his love interest Kadri.
Photo Credits: Making Movies Oy
Q: Does The Fencer pass the Bechdel test?
It does not. The named female characters have no contact with each other.
SaveSave