Written and co-directed by Valérie Müller, Polina is an incredible work of multi-media storytelling, with a soundtrack by Philip Glass and dances choreographed by the acclaimed Angelin Preljoçaj supporting an already masterful screenplay. "Polina" (Anastasia Shevtsova) is a young ballet dancer who promises to achieve great things with her classical training. Although, as Polina enters adolescence, she begins to find contemporary dance more inspiring. To pursue this new art, Polina finds that in addition to moving far away from home, she must mature emotionally as well. Her growth, both as an artist and as an empathic person, is extraordinary to watch. (AEL: 5/5)
Review by FF2 Intern Amelie E. Lasker
One of my favorite scenes comes early in Polina. The young version of the protagonist, played by Veronika Zhovnytska, is on her way home from an audition for a prestigious ballet school. Skipping through snow, Polina begins to dance, but this dance is different, more jaunty and almost rough. It's clear that, even so young, Polina's dance has creativity beyond her technical training.
After years of ballet training by her acclaimed teacher "Bojinski" (Aleksey Guskov), an older Polina (Anastasia Shevtsova) has learned to dance with strength and precision. The volatility of her emotions, he tells her, hinders her dancing. When Polina's lover "Adrien" (Niels Schneider) goes home to France to study modern dance instead of ballet, Polina follows him. Her parents, played by Miglen Mirtchev and Kseniya Kutepova, are surprised and concerned by their daughter's sudden change of plans, but Polina isn't listening to anyone else's advice.
The contemporary dance corps is more exciting to Polina, but it's difficult for her to let go of her technical training and be more expressive in her movements. The contemporary choreographer in France, "Liria" (Juliette Binoche), explains to Polina that she is too self-absorbed. Artists, Liria says, "observe" more than they perform. Polina discovers she has reached a plateau in her creative growth, and will have to find a way to connect better with people and with the world if she wants to succeed.
The dances in Polina dominate the storytelling, and they are undoubtedly my favorite part of the movie. Choreography by co-director Angelin Preljoçaj, who is an acclaimed dancer and choreographer himself, is matched by an incredible performance by the film's lead, Anastasia Shevtsova. Polina undergoes a transformation both as a dancer and as a person, and though this transformation is often subtle, Shevtsova handles it deftly. While Polina's choreographers criticize her emotional expression, Shevtsova the actress is far from lacking in that area.
However, the camera is always focusing on Polina rather than on supporting characters, so much so that at times the film can feel almost claustrophobic. Polina's dance partners often feel like props instead of characters, and her parents mainly serve to represent the past she abandoned. I've realized that the narrowness of focus serves an essential purpose in Polina's character development: she has an artistic problem of empathy for other people, and the film's scope mirrors that.
A celebration of dance, music, and its nuanced protagonist, Polina is emphatically a success.
© Amelie E. Lasker (8/30/17) FF2 Media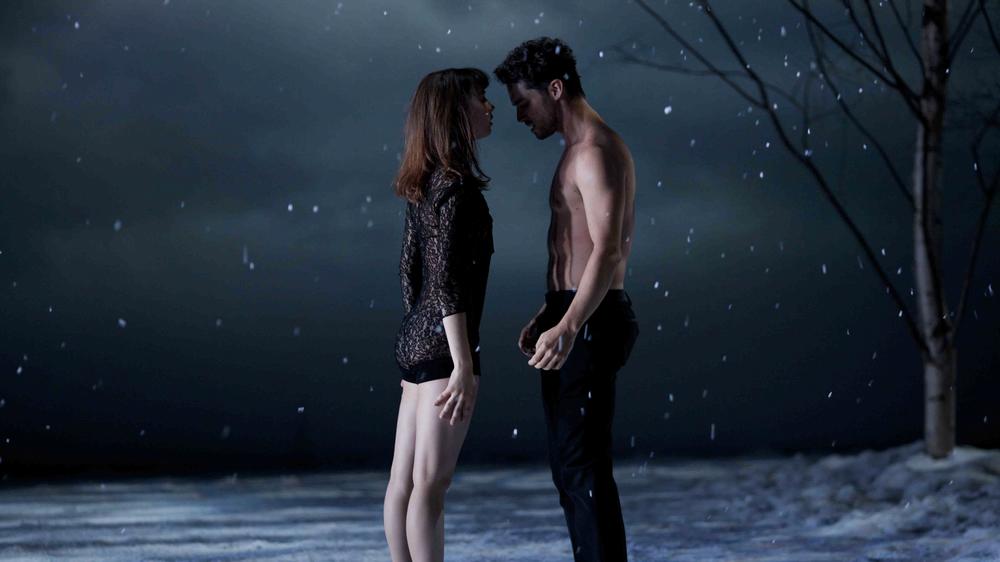 Top Photo: Anastasia Shevtsova as "Polina."
Middle Photo: Aleksey Guskov as "Bojinski" and Anastasia Shevtsova as "Polina."
Bottom Photo: Anastasia Shevtsova as "Polina" and Jérémie Bélingard as "Karl."
Photo Credits: Carole Bethuel
Q: Does Polina pass the Bechdel-Wallace Test?
Absolutely!
The story centers entirely on Polina, and on her growth as an artist, daughter, and lover. Her modern dance choreographer in France gives her an essential piece of advice by telling her to observe other people rather than focusing so much on her own technique. Polina also has an emotional conversation with her mother, who doesn't want her to leave home and abandon classical ballet.