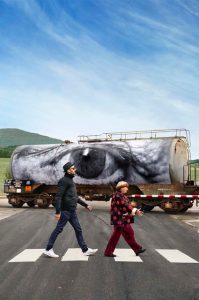 Faces Places (Visages, villages) is a passion project that, depending on the nature and state of the viewer, comes off as either old-lady whimsical or everyday precious. In this documentary, legendary filmmaker Agnès Varda pairs up with millennial photographer JR, and together they hit the road. Along the way they explore stories, memories, and, pretentiously or enchantingly, remind us about the human in humanity. (MJJ: 4/5)
Review by FF2 Intern Malin J. Jornvi
Faces Places is about faces and places and the stories they tell. It is a seemingly haphazard road-movie, which, after a brief introduction of how JR got in touch with Madame Varda, heads north in JR's peculiar photo booth truck. They go on to visit multiple villages and with a slight—or rather, quite recognizable French socialist touch—they learn the stories of former miners, solitary farmers, and "Terminal du France" harbor employees. Their interviewees photograph is taken, a giant stencil is created and is pasted on a nearby wall as a stamp of their existence. The French approach is arguably also visible from an outsider point of view in the chic, though somewhat challenging, way the documentary asks the viewer to tag along and create his or her own reason for the, at times, seemingly random story composition.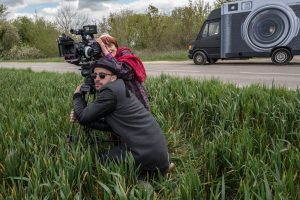 If the humble and appreciative portrayals of the interviewees, who wholeheartedly share their lives with the camera, seems a bit scrambled together, the reflective moments shared between Varda and JR themselves have a more easily discoverable theme, namely, eyesight. While Varda is losing hers, JR refuses to take off his sunglasses. As we accompany Agnès Varda all the way into the surgery room in her effort to maintain the little vision she has left, she attempts to get JR reveal the windows to his soul, just like she did with another notorious visionary: Jean-Luc Goddard (who the couple non-incidentally pay a visit towards the end). The cutest scene in Faces Places is also connected to vision: JR tries to recreate the blurry and moving experience of Varda's eyesight and we get a wonderful and sympathetic scene with an animated optician examination (watch the documentary and you will know what I mean!).
Faces Places received one of the liveliest audience reactions that I have seen since working with FF2: on multiple occasions everyone in the nearly filled theater burst out laughing all at once and a brief, but tangible, sense of community arose. If JR and Varda's film is about "real people" and their stories, all of us theatergoers shared a story in those moments and the documentary's reflective and moral agenda was definitely fulfilled.
After the movie I walked over to Lincoln Center Plaza to their Jardin des Tuileries-inspired seating area, and I could not help but to think back to the spring I spent in Paris, and be thankful for all the people I have met and all the incredible stories they shared. Faces Places reminds us that every single human being has a story to tell: French, American, Swedish, Alien… And that in the most personal stories often lies something deeply universal—a powerful reminder in times like ours.
© Malin J. Jornvi (9/18/17) FF2 Media
Top Photo: Faces Places movie poster artwork.
Middle Photo: Agnès Varda and JR in front of his photo booth truck.
Bottom Photo: One of their interviewees in front of her stencil.
Photo Credits: Cohen Media Group
Q: Does Faces Places pass the Bechdel-Wallace Test?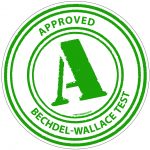 Yes.
In some interview scenes Varda will directly ask the female interviewee follow-up questions that has nothing to do with their respective male relationships.
SaveSave