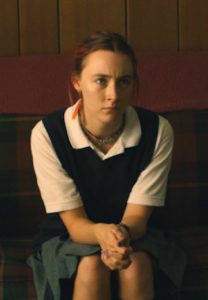 Like many people in their last year of high school, "Lady Bird" (Saoirse Ronan) wants nothing more than to get as far away as possible from her hometown. Her mother "Marion" (Laurie Metcalf) wants her to apply to California state colleges, but Lady Bird is more ambitious, hoping that she can earn a scholarship at "one of those East Coast schools." Written and directed by Greta Gerwig, Lady Bird is sharp and easy to watch. I was disappointed when it was over, because I just wanted to keep hanging out with Lady Bird, and with the person who wrote her character, and maybe share some of their wisdom, too. (AEL: 5/5)
Review by FF2 Intern Amelie Lasker
"Christine McPherson" (Saoirse Ronan), who has recently re-named herself "Lady Bird," says that she is from the "wrong side of the tracks" at her Catholic school where most of the students are much wealthier than she is. She's joking, of course, but it seems like this feels true for her much of the time. She runs every year for student council even though she knows she'll never win, and she lies to a new friend about the fanciness of her family's house. Lady Bird is dryly and charismatically self-centered in that way of people just becoming adults, but still trying to figure out quite how to do it. When her advisor suggests that the math team might not be the best outlet for her skills, Lady Bird replies, "That we know of yet."
In an effort to channel their hidden talents, Lady Bird and her best friend "Julie" (Beanie Feldstein) audition for the school musical, where they meet the charmingly sweet "Danny" (Lucas Hedges), and Lady Bird instantly develops a crush.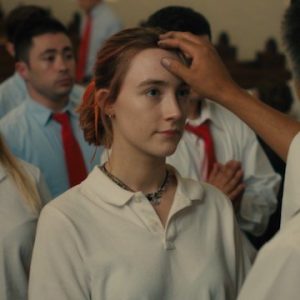 The boys Lady Bird meets and loves are some of the movie's funniest characters, mostly because they are such recognizable Teen Boyfriend types. Danny tells Lady Bird he loves her under the stars, and they break up weeks later. High school musician "Kyle" (Timothée Chalamet) is broody, bookish, unwaveringly self-serious, and far short of the romantic dream Lady Bird thinks he is. Later she'll experience meeting a college boy at a party, and it will be equally visceral and disappointing.
This is a film about Lady Bird and growing up, but it is perhaps equally about Lady Bird and her mother. They fight a lot, mostly over little things like putting clothes away neatly, but they also fight over big things, like Lady Bird applying to college in New York. Marion's love for her daughter is not soft, but it isn't exactly tough love, either. It's very difficult for both of them, and it's incredible to watch.
The interactions between Lady Bird and her mother, along with Lady Bird's sharp one-liners, might be the best displays of Greta Gerwig's writing. I loved Gerwig's earlier film Frances Ha, in which she also starred, for its easy, witty way of showing the anxieties and insecurities of young adulthood, but I felt like its structure, style, and character development could all have been more creative. Lady Bird has all the same poignancy I love about Greta Gerwig, but it's executed in a much more expansive way. Deftly humorous and emotionally potent performances by Ronan and Metcalf especially add to this new movie's appeal. I can't wait to see what Gerwig does next.
© Amelie E. Lasker (11/7/17) FF2 Media
Top Photo: Saoirse Ronan as "Lady Bird."
Middle Photo: Saoirse Ronan as "Lady Bird."
Bottom Photo: Saoirse Ronan as "Lady Bird" and Laurie Metcalf as "Marion."
Photo Credits: Merie Weismiller Wallace
Q: Does Lady Bird pass the Bechdel-Wallace Test?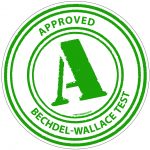 Yes!
This story is about Lady Bird's growing up, and Lady Bird's relationships with the important people in her life, many of whom are women: her mother, her father, her best friend, her once boyfriend Danny, and the nun who is her advisor at school.