Destination Unknown weaves together black and white archive footage, grey and rainy contemporary images of Poland, and interviews with twelve Holocaust survivors. Director and editor Claire Ferguson seamlessly pulls together producer Llion Roberts' 13 years of collected material to create a cohesive and deeply moving quilt of an ashen past that is frighteningly present. (MJJ: 4/5)
Review by FF2 Intern Malin J. Jornvi
The Holocaust is, to a large extent, too difficult to take in. Whenever it is brought up, it is hard to believe the complete terror human beings are able to put each other through, and maybe this is one reason why some deny that it ever happened, while many of us struggle to take it in. But, World War II did happen, and over six million Jews died in concentration camps. This history must never repeat itself, but 70 years have passed, and the eyewitnesses able to account for it are becoming fewer and fewer. To record and store the real stories of what actually went on back in the 1940's is perhaps one of the greatest achievements of Destination Unknown.
Destination Unknown is based on interviews with 12 Holocaust survivors, many of whom were put on trains without knowing the final destination. Producer Llion Roberts spent 13 years conducting interviews, revisiting camps and hiding places, and collecting footage of these survivors. The rigorous process, and the passion for the project, is evident in this respectful and thorough product. Above all, the survivors' different stories and individual personalities are allowed space and time to be developed: Edward Mosberg, a survivor who has spent his life educating younger generations of the horrors, mainly keeps his educational approach and steady voice in retelling for the camera, but when revealing that he never stopped blaming himself for his sisters' deaths, neither his nor any eye in the theater is able to stay dry. Helen Jonas, a woman who was rescued by Oskar Schindler himself, remembers seeing a man being torn apart by the camp general's watch dog and gives a loving account of the man that saved her. Eli Zborowski, who at age 17 found refuge inside a neighbor's basement brick wall, revisits the hiding place and praises the few angelic people who put themselves in danger in order to save his family and who kept his faith in humanity alive throughout the persecutions. 
The 12 individuals featured in the documentary survived, but Destination Unknown begs the question: is there a difference between surviving and living? Accumulating with the survivors' stories is the realization that though these people survived, they have relived the endured horrors every single day since. Mietek Pemper removed the number tattooed onto his hand because he could not stand being expected to talk about his past as soon as anyone saw it. Cesia Mosberg still have nightmares from when the Germans threw her sister in the water, and not knowing how to swim, she drowned. Helen Jonas' husband eventually committed suicide because the ghosts never stopped haunting him. Survivor Marsha Kreuzman wonders: maybe it would have been less painful to die among the first days of the war.
I am of the firm opinion that there cannot be too many stories told about the Holocaust, and that it is absolutely crucial to keep history alive so that it will not be repeated. It is terrifying how today's populistic movements, even though (most of them) blatantly condemn the past, reuse many of the Third Reich's rhetorical and political tools to further their own interest and alienate those perceived as "the other." Working against this development, Destination Unknown successfully shows the human side of what happened 70 years ago, and ends on a note emphasizing the need to focus on the human in all of us in face of coming racist and Neo-Nazi challenges.
© Malin J. Jornvi FF2 Media (11/12/17)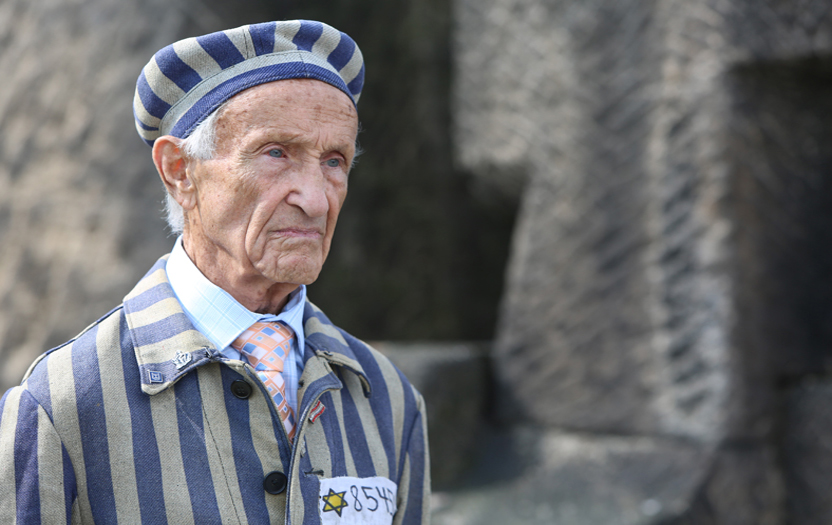 Top Photo: Destination Unknown film poster.
Middle Photo: Holocaust survivor Helen Jonas being interviewed.
Bottom Photo: Holocaust survivor Edward Mosberg wearing a concentration camp uniform.
Photo Credits: Seventh Art Releasing
Q: Does Destination Unknown pass the Bechdel-Wallace Test?
 No.
Since the film is a documentary mixing archive footage with mainly individual takes of the interviewees, there is no scene portraying a woman talking directly to another woman.