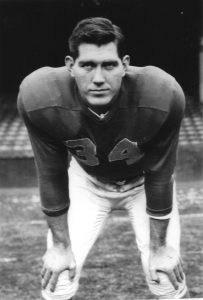 Director Rebecca Carpenter pays tribute to her late father, former NFL player Lewis Carpenter, in the informative, emotional and timely documentary Requiem for a Running Back. After his family donated his brain to a Boston University study, they discovered that Carpenter suffered from a degenerative brain disease that caused erratic behavior they couldn't explain before. Reminiscent of a well-produced episode of 30 For 30, Requiem for a Running Back is an intriguing scientific study balanced with a moving tribute to a husband, father and athlete. (GEP: 4.5/5)
Review by Social Media Manager Georgiana E. Presecky
Lew Carpenter spent 10 seasons in the National Football League as a player and several more as a coach. His daughter Rebecca credits the NFL for teaching her family "commitment, pride and sacrifice." But she discovers over the course of the documentary that it robbed them of much more.
The film provides a clear explanation of his posthumous diagnosis: chronic traumatic encephalopathy (CTE), which subtly but progressively affects the brain and its function, especially in athletes. What was perceived as behavioral changes were actually symptoms of a serious brain injury caused by more than a decade of playing football.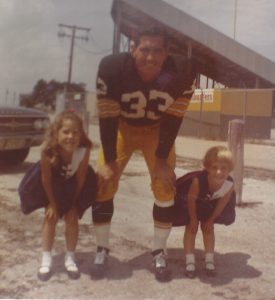 Carpenter's excellent interview subjects provide the foundation for the film, from doctors to players to outspoken critics of football culture. But it's her discussions with other retired NFL players impacted by CTE that are especially heartbreaking and painful to witness. These men are people with families who must deal with the aftershocks of their playing days long after retirement. Former player John Hilton suffers from dementia and struggles to find the words for Carpenter's questions, and it reduced me to tears. Other players committed suicide or suffered in silence.
Moments like these, juxtaposed with scientific evidence and personal anecdotes, are what makes this film especially poignant. It's both educational and heartbreaking, carefully balancing a brief history of football, the progression of a difficult disease, and the impact of one man's life.
Neurological explanations for severe brain injuries caused by repeated blows to the head will make you think about your Sunday afternoon a little differently. But so will Carpenter's story; it gave me a whole new respect for the men and lives beneath the jerseys whose colors we wear so proudly as sports fans. And it made me think even more deeply about an ever-evolving American truth: that this game doesn't quite seem worth it.
But what makes Requiem for a Running Back special is Lew. Rebecca sees her father through the eyes of other family members, former teammates and friends. His family rediscovering his life and journey through the lens of this disease is beautiful to witness and will be especially resonant for fathers and daughters. She asks early on, "How do I use his life to make some meaning? To make it worth something?" I'd say Carpenter has done that and more with this important, fascinating film.
© Georgiana E. Presecky (11/10/17) FF2 Media
Top Photo: Lewis Carpenter during his playing days.
Middle and Bottom Photos: Carpenter and his family.
Photo Credits: Rebecca Carpenter
Q: Does Requiem for a Running Back pass the Bechdel-Wallace test?
No.
SaveSave
SaveSave