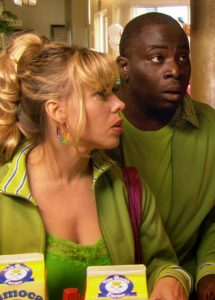 EDITOR'S NOTE: Although Cook Off! wrapped in 2007, but is only now being released in theatres… Why? Probably because Melissa McCarthy has "star power" now, but who knows?
In the ensemble-mockumentary vein of 2000's Best In Show, Cook Off! is a comedy about a cooking contest, in which a group of finalists compete for the million dollar prize. The movie is full of earnest and childish characters like the bickering "Solfest sisters" (played by Wendi McLendon-Covey and co-writer and co-director Cathryn Michon) or the heartbreakingly persistent "Amber" (in a brief appearance by Melissa McCarthy). Still, for a movie that depends on light wit, it doesn't help that many of the jokes fall flat. (AEL: 2.5/5)
Review by FF2 Intern Amelie Lasker
For the first time ever, the annual Van Rookle Farms Cooking Contest is offering its winner a prize of a million dollars. The finalists are hoping that the money, and the validation that comes with it, will save them from their dissatisfaction with their own lives.
The glamorous and self-important "Sharon Solfest" (Cathryn Michon) and her quieter sister "Pauline" (Wendi McLendon-Covey) are competing against each other in the finals, and they're pretending not to feel tense about that. Sharon's fiancé, "Lars" (Gary Anthony Williams), is supportive, but his dramatic insistence that he and Sharon wait until marriage to sleep together is suspect. "Cassandra Dougherty" (Jennifer Elise Cox) is only entering the contest because her mother "Victoria" (Cristine Rose) wants her to, and her mother's close control over her frustrates her endlessly. Likewise, contestant "Del Crawford" (Diedrich Baher), the "only man in the competition," poses as the boyfriend of former contestant "Patty Pasternak" (Romy Rosemont), but it's obvious that he is also entering out of pressure by someone else. "Ladybug Briggs" (Niecy Nash) and her family are very proud of her status as the first black finalist in the contest, but Ladybug's precariously-attached fake nails threaten her chance at winning.
At the contest, family relationships are strained, and ambitions clash. Van Rookle Farms representative "Timothy" (Jack Plotnick) is determined to save face for his business. The contestants' drama is constantly thwarting him, as is the incompetency of his hired "Muffin Man" (Steve Little), who won't behave as a company mascot should.
When contestant "Amber" (Melissa McCarthy) arrives late and begs to compete, Timothy refuses at first, and later he disqualifies her for dropping her finished dish on the floor. The sweet potato concoction Amber made does look horrendous, and it's very likely undercooked, but Amber is so charmingly pathetic that anyone who doesn't want to help her appears like a villain to the contest's on-screen audience.
Amber's brief scene encompasses what I found endearing about the movie: these characters only want to feel successful in something.
While the humor is overtly silly and light, I found some of it quite troubling. "Lars"'s character was unwittingly the brunt of immature sex jokes and generalizations about gay men. The characters' frequent and uncomfortable references to the "first African-American contestant" were likely meant to be cultural critique, but instead they came across as simply racist, especially because all of the non-white characters were stereotypes.
© Amelie E. Lasker (11/18/17) FF2 Media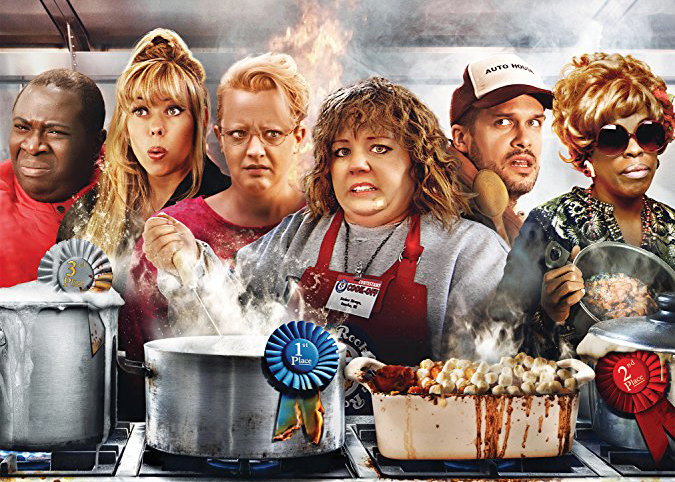 Featured Photo: Melissa McCarthy as "Amber."
Top Photo: Cathryn Michon as "Sharon" and Gary Anthony Williams as "Lars."
Middle Photo: Gary Anthony Williams as "Lars" and Cathryn Michon as "Sharon."
Bottom Photo: Crop from Cook Off! poster.
Photo Credits: Lionsgate Premiere
Q: Does Cook Off pass the Bechdel-Wallace Test?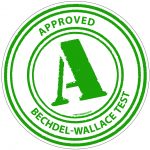 Yes!
Two pairs of female family members are growing together: the Dougherty mother and daughter, and the Solfest sisters. Men are sometimes the subjects of their arguments, but they're marginal to those familial relationships between women.