When two well-decorated soldiers return home, after fighting in WWII, they are received very differently in their hometown. Set in Mississippi, Mudbound takes us through the struggle between race, class, and two families as they learn to coexist. Or do they? When a friendship between a black solider and a white soldier begins, the whole farm goes red. Directed and co-written by Dee Rees (in collaboration with Virgil Williams), Mudbound is one of the absolute "must-see" films of the 2018 awards cycle. (LMB: 4.5/5)
Review by FF2 Contributing Editor Lindsy M. Bissonnette
Based on the novel of the same name by Hillary Jordan, Mudbound is set in rural Mississippi on a farm where two very different families are struggling to survive.
First we meet the McAllan's, a used-to-be-bourgeois white family, who have just recently moved to the farm to follow "Henry's" (Jason Clarke) dream of owning land like his family did during his childhood. His wife "Laura" (Carey Mulligan), used to a more luxurious life in the suburbs, isn't thrilled with the hard life on the farm, and their two young daughters and Henry's racist, father, "Pappy" (Jonathan Banks), make it even more difficult.
Meanwhile, just down the road live the Jacksons, a black family, who are tenant farmers on the land. "Hap" (Rob Morgan) is the father and head of the household, proud to be a tenant and not a sharecropper. His wife, "Florence" (Mary J. Blige) is a kind and intelligent woman, who takes care of the children, cooks, cleans, and is also a midwife.
Henry's brother, "Jamie" (Garret Hedlund) was a flight captain in the war, while Hap's son "Ronsel" (Jason Mitchell) was a sergeant in a tank unit. When they return to Mississippi, they are treated very differently. Ronsel hopes to be treated with the same respect he was shown in Europe, but unfortunately, while the rest of the world has progressed, Mississippi has stayed the same, and he faces the same racism and disrespect he endured before the war. When Jamie and Ronsel strike up a friendship, bonding over their PTSD and frustration at the way things are, there's extreme tension between the two families, which peaks the interest of the town, resulting in a an incredibly horrifying scene that I will not spoil for you.
Mudbound, directed by Dee Rees and written by Dee Rees and Virgil Williams, is a fantastic film that takes the viewer through the day-by-day. It is an agonizing example and exploration of racism, sexism, and overall hatred of others, both physically and mentally, but more than that, it's a metaphor: we all come from mud in some way or another, we are sculpted by the places and events around us, and are all destined to return to it when we finally meet our maker.
The ensemble nature of the film is cleverly executed through voice over, which delves the audience deep into the psyche of the main characters. These short snippets show us the true feelings of each person, though they never say them aloud, and gives us a chance to hear their thoughts. Every actor gives a heart-wrenching and unforgettable performance. One of my personal favorite moments is when Florence describes her sudden understanding as to why her mother always left her and her siblings to go take care of a white family's children: Now I know that love is a kind of survival.
Fabulous acting and script aside, there are many other aspects of this film that make it simply stunning. Mudbound flashes back and forth between the present and the past, giving us a glimpse at the way things used to be, before Laura moved to the farm, before Henry and Laura were married, before Jamie and Ronsel went to war. In fact, the film opens at the end, with Jamie and Henry frantically digging a grave in attempts to beat an oncoming storm. As the water begins to pour down from the skies, the two hurry to get the hole in the ground, but they soon become caked in mud, which makes both digging the grave and getting out of it more difficult.
We see a quick glimpse of Jamie's true nature: behind his boyish good looks, dashing smile, and overtly confident façade lies a terrified child who is incredibly lonely. We also receive a lesson in Henry's unbreakable, stone-like, and hard-headed nature, and he remains so throughout the rest of the film.
From beautiful cinematic pans across hazy fields, to the powerful script, this film is a gripping, metaphoric mental game of classism, sexism, but most of all racism. Mudbound is an absolute, must-see film, and though it is available on Netflix, I highly recommend seeing this one on the big screen. You will not be disappointed.
© Lindsy M. Bissonnette (11/18/17) FF2 Media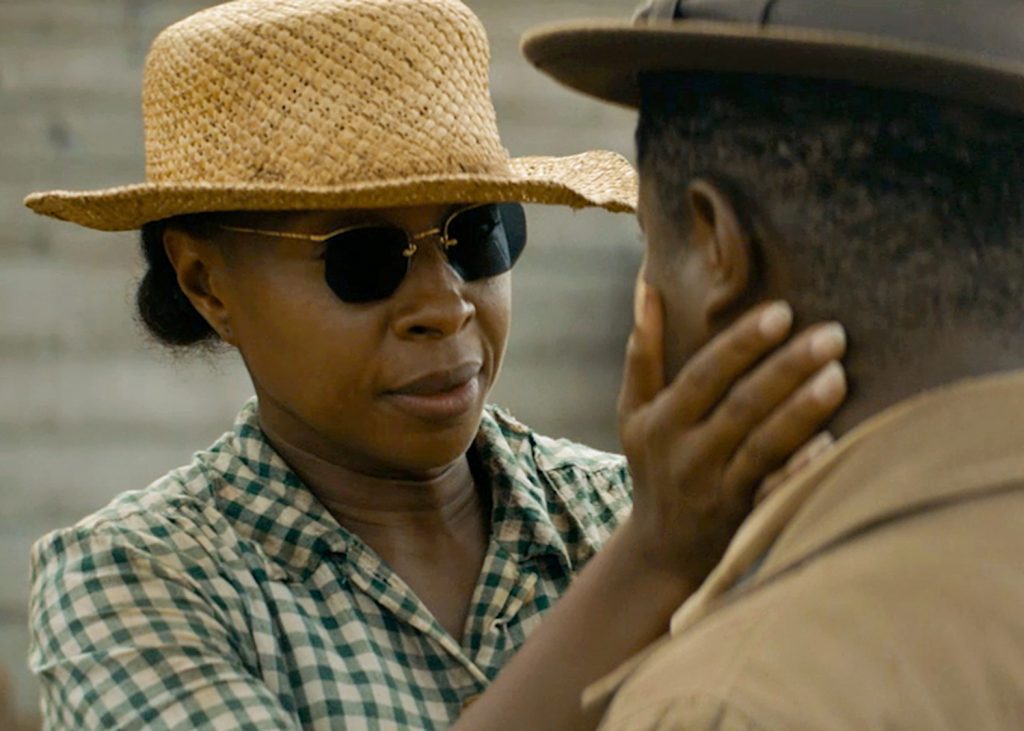 Featured Photo: Mary J. Blige (as Florence) and Carey Mulligan (as Laura) working side-by-side in the McAllen's kitchen.
Top Photo: Laura alone on the farm at twilight.
Bottom Photo: Florence says goodbye to her son Ronzel (Jason Clarke).
Photo Credits: Steve Dietl
Q: Does Mudbound pass the Bechdel-Wallace Test?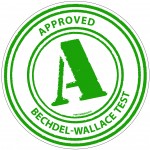 Yes.
Laura and Florence become intimately entwined in their years on the farm — sometimes as neighbors, sometimes as employer/employee, but always as women who are mothers first, struggling to raise their families under difficult conditions.