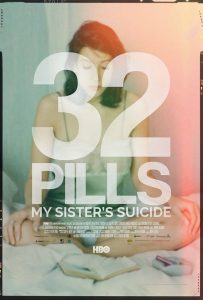 32 Pills: My Sister's Suicide is Hope Litoff's directorial debut and depicts her experience of coming to terms with her sister, New York artist, Ruth Litoff's suicide seven years earlier. Unfortunately, what aims to be a loving tribute and a personal portrayal of a survivor's grief process is hampered by an unfinished storyline and overlooked details. (MJJ: 3/5)
Review by FF2 Intern Malin J. Jornvi
Director Hope Litoff's older sister, Ruth Litoff, committed suicide in 2008 after years of reoccurring attempts. At the time, Hope put her sister's stuff and her own emotions in storage. Seven years later, 32 Pills: My Sister's Suicide, documents Hope Litoff unpacking the boxes.
When the documentary starts, the camera tracks Hope as she returns to the Manhattan Mini Storage that has kept Ruth Litoff's belongings and art pieces. We get to see Hope's face when she reacts to the familiar and emotionally-charged materials, especially the large box that contains Ruth's hundreds of pill containers. In the next sequence, we see an empty large white room into which two movers proceed to unload all the stuff: Ruth's large photographs are leaned against the walls as Hope carefully lines up her sister's prescriptions on a table. We then get to see the interior of a stylish apartment and Hope kissing her husband and two small kids goodbye.
The opening of 32 Pills: My Sister's Suicide introduces the viewer to a lot of questions that are never resolved in the film, and keep lingering. The most prominent one, that at first might seem unrelated yet dominates throughout, is the unexplained
circumstances that allow for Hope Litoff to, not only keep her sister's things in Manhattan for seven years, but also rent out a space to unpack it—and in addition, document the process on film. Only after research did I become familiar with Hope's creative career in editing which, on one hand, could partly explain for funding and the weeks spent on filming, yet on the other, visibly shows the socio-economic differences in grief: if you work three part-time jobs to support your family there is barely time to clear out your relative's apartment before the next month's rent is due.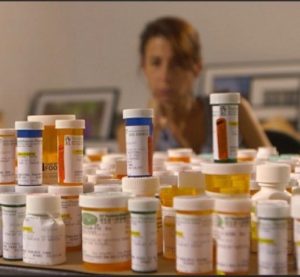 Hope Litoff does, however, take time to go back to the Litoff family history. She openly shares how Ruth's mental illness dominated her childhood, and how they all had to be careful to not tread on Ruth's toes. Hope tells how the situation tore on her mother, a former model who married Hope's father, a Mad Men type, for financial stability and that the only thing Hope herself had in common with him was drinking. Centering the film around her own grief process and taking care to explain the family background, it seems strange that Hope Litoff never comments on how these things affected her; we are consistently showed Ruth's soul-searching journals, but only a few pictures of Hope drinking her teens, and 20s, away. It also becomes clear that both her parents have passed, but we never learn when or from what.
Hope tapes herself at multiple occasions in a vlog-like fashion. Expressing her current emotional state, the videos add to the documentary's autobiographical impression, and also clearly shows how Hope's health starts to deteriorate. She films herself having her first drink in 16 years, and at one point the producer appears on camera expressing her concern when Hope takes two of her sister's tranquillizers. When Hope tapes her sister's calendars all across their living room walls looking for patterns and with red paint writes "??WHY?????," it is hard to sit still in your seat and not wonder if you are witnessing another Litoff becoming ill. Then Hope video tapes herself at rehab.
32 Pills: My Sister's Suicide continues to mix clips of homemade videos with Ruth's art, and with more standard documentary style images of New York. On the film's website, Hope Litoff summarizes the plot:
          Because this film is about my sister—a complex, sometimes dark, and brilliant artist—it was
          important to me that the film reflect those qualities. During its making, I was deeply committed
to the form of the film reflecting its function—to the film itself being a work of art.
Making a piece of art about an artist and the art of surviving is indeed an admirable goal for any film, however, it is telling that I had to go the documentary's website in order to figure that out. It is also a bit of a paradox that a film made by an editor never really decides what story it tells: by the end of this documentary I still do not know much about Ruth the troubled artist, nor Hope and her own life after her sister's suicide.
© Malin J. Jornvi FF2 Media (12/5/17)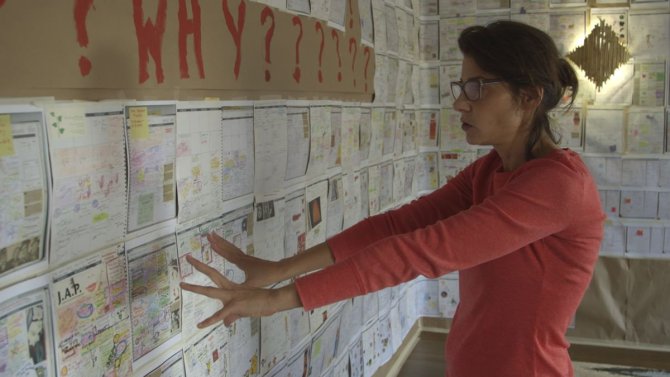 Top Photo: 32 Pills: My Sister's Suicide film poster.
Middle Photo: Hope Litoff arranging her sister's leftover pills.
Bottom Photo: Hope Litoff in front of the walls covered with her sister's calendars.
Photo Credits: Home Box Office (HBO); jewishboston.com; variety.com
Q: Does 32 Pills: My Sister's Suicide pass the Bechdel-Wallace Test?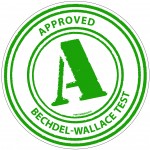 Yes.
One direct interaction between two women occurs when the producer Beth Levison appears in front of the camera expressing concern to not want to be complicit in Hope Litoff's relapsing drug abuse.