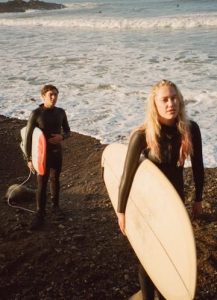 When the Mason family moves to paradise Palos Verdes, California in search of the perfect life, they find that a new setting can't save them from old tensions. Written by Karen Croner, The Tribes of Palos Verdes tells the story of the Mason family's unraveling from the perspective of teenaged "Medina" (Maika Monroe). All Medina wants is for everyone in what she calls her "tribe" to be okay, but of course, the situation is much too complicated for that. (AEL: 3.5/5)
Review by FF2 Intern Amelie Lasker
"Phil Mason" (Justin Kirk) and his wife "Sandy" (Jennifer Garner) move with their high school children to Palos Verdes, where Phil works as a successful cardiologist. In this setting of wealth and aesthetic perfection, the whole family will find paradise together, or so the parents hope.
Teenaged "Medina" (Maika Monroe) hates everything about their new town. It feels fake to her: house's exterior must meet aesthetic requirements, and the other teenagers have taken over the picturesque beaches as territories where they show off their surfing skills. An arsonist who seems to share some of Medina's sentiment has been striking Palos Verdes homes one by one, and the local news reports about it fill even the most comfortable of residents with unease. Medina's only comforts are her new hobby, surfing, and her close friendship with her older brother, "Jim" (Cody Fern).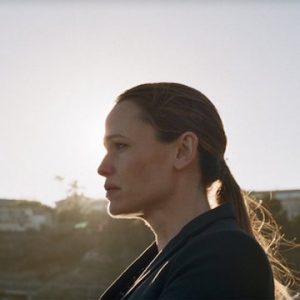 Time moves strangely in the Mason family. Phil is late home to dinner one time, and suddenly Sandy is absolutely sure he has a new lover. Within weeks or even days, Phil has left his family and moved in with a new one. It makes sense that these events happen so quickly, though: Phil and Sandy's unhappiness has been brewing for a long time. Phil even suggests that he moved the family to Palos Verdes to try to make things better for them, and that he was wrong to think it was possible to find respite from themselves.
As her mother Sandy starts to lose control of her emotions and her father becomes more and more distant, Medina begins to construct a smaller, safer world of surfing, her brother, and new love. She values above all else the people who stay with her in her "tribe," but it is never clear to her who exactly will stay, and whether she can save them even if they do.
Jennifer Garner's performance as a tired, betrayed, and grief-stricken wife and mother is a highlight of The Tribes of Palos Verdes. Sandy is not a perfect victim: instead, Garner captures the toxicity she herself can produce out of the vulnerability and hurt of her situation.
The movie's cast is as uniformly and conventionally beautiful as Palos Verdes itself, and the plot structure is just as free of idiosyncrasies, and these qualities sometimes made it difficult for me to get into the story. Still, The Tribes of Palos Verdes has a gorgeous stylistic mood. Polaroid-like montages of Medina and her brother on the waves capture all Medina wants, and heartbreakingly can't get: just to go surfing with the people she loves.
© Amelie E. Lasker (12/5/17) FF2 Media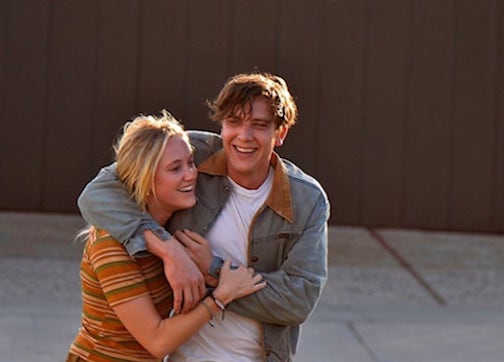 Top Photo: Cody Fern as "Jim" and Maika Monroe as "Medina."
Middle Photo: Jennifer Garner as "Sandy."
Bottom Photo: Maika Monroe as "Medina" and Cody Fern as "Jim."
Photo Credits: Mara Barr
Q: Does The Tribes of Palos Verdes pass the Bechdel-Wallace Test?
Yes, but not where you'd think.
The mother and daughter in this nuclear family are perhaps its most distant pairing, and when they do talk, it's always about concern for, or hurt from, the father and brother in their family. The only conversation between women that isn't about men happens very early, when Sandy has lunch with some of her new neighbors. They talk about makeup and metabolism, and Sandy tries to express how trapped she feels in the perfect Palos Verdes culture, but she only makes the other women uncomfortable.