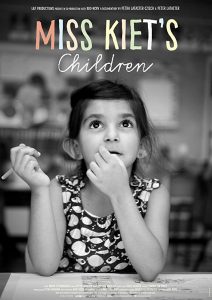 Miss Kiet's Children (De kinderen van juf Kiet) follows school teacher Kiet Engels in her Dutch classroom where many of her children are refugees. Writer/director Petra Lataster-Czisch, through complete neutrality, shows us Kiet's strict but never cruel methods of teaching children who have just escaped a war-torn country. Through Lataster-Czisch's unbiased lens, audiences are able to experience what it is like to learn a new language in the eyes of a child.  (LMB: 4.5/5)
Review by FF2 Contributing Editor Lindsy M. Bissonnette
While enjoying a rare moment of quiet in her classroom, Miss Kiet slowly begins her work. She kneels at each of the desk clumps, gently putting the day's work on top, while sipping her cup of coffee. After she has adjusted each student's space, she stands upright and the sounds of children can be heard. In come a dozen children all giggling, and shouting over each other, excited to continue their day.
One child trails behind with tears in her eyes and mud caked on her pants. This is Haya, a young girl with a big personality and sense of humor, but sometimes takes things too far. We learn that Haya has a difficulty communicating with Miss Kiet, because she speaks Arabic, and Kiet speaks Dutch. Later we meet Leanne, a young, quiet girl who is incredibly smart but has difficulty expressing how she's feeling. We also meet Jorg who struggles to keep his eyes open at school.
Though Haya, Leanne, and Jorg's first language is Arabic, they are all learning Dutch in the classroom. Through a series of close-ups with subtitles, we overhear conversations between the Arabic-speaking children. Miss Kiet has asked that they focus on their Dutch language, and focus on becoming friends with the Dutch children. While many of the students struggle to accept their new living and learning situations, Miss Kiet is determined to help them learn to adapt to their new normal.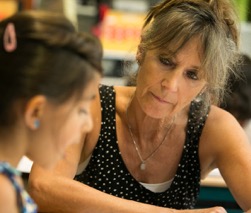 Writer/director Petra Lataster-Czisch brings to life the importance of tenderness in the classroom. Miss Kiet not only helps these children better understand their relationship with others, but also helps her students better understand themselves. In one particularly emotional scene, she, along with other teachers, have the students line up in the gym and approach a large mirror, as different characters, to help them express physicality and emotion. She also teaches the importance of listening to others, both to their words and their body language. The camera acts as a completely unbiased eye, silently observing both children and teacher. Even when they get into trouble, the camera channels Miss Kiet's calm nature.
Miss Kiet's Children is the beautiful story of one how one woman's inspirational teaching method and kindness can help a child overcome nearly any obstacle. From bullying and rudeness, to facing insecurities, to helping children overcome the stress of their past, Miss Kiet's methods work, and she is changing Holland one child at a time.
© Lindsy M. Bissonnette FF2 Media (12/15/17)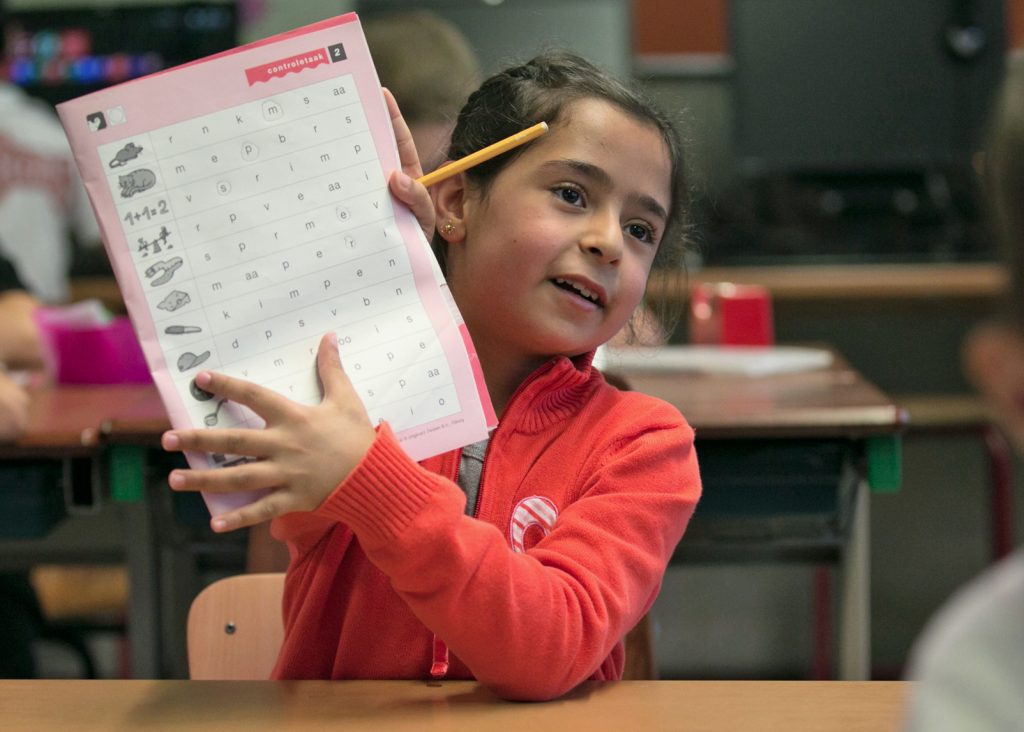 Top Photo: poster for Miss Kiet's Children.
Middle Photo: Miss Kiet working with her students in the classroom.
Bottom Photo: Leanne in the classroom
Photo Credits: Icarus Films
Q: Does Miss Kiet's Children pass the Bechdel-Wallace Test?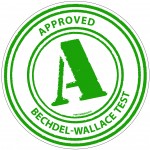 YES.
There are many scenes where Miss Kiet has conversations with her female students. She talks to them about the way the should behave, how they can express themselves.