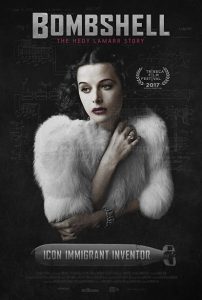 Written and directed by Alexandra Dean, Bombshell: The Hedy Lamarr Story recounts the mesmerizing life of the glamorous Hollywood superstar, Hedy Lamarr, who was also a brilliant woman only recently credited for the invention of the technological basis for Bluetooth as early as the 1940s. (FEA: 5/5)
Review by FF2 Intern Farah Elattar
Although Hedy Lamarr published an autobiography in 1966 entitled Ecstasy and Me: My Life as a Woman, many details of her life were not revealed until the making of this documentary, which exhaustively covers the many layers that form the complicated woman she was. The film includes interviews with her children and grandchildren who seem genuinely dedicated to making sure she posthumously receives the recognition she was never allowed to experience in her lifetime – not for her acting and glamour, but for her groundbreaking invention that forms the basis of many modern-day communication systems.
The film brilliantly moves chronologically through the many different phases of her life, pausing at every one of them in order to explore the multiple facets of her life at the time.  It starts off with a direct quote from her, "Any girl can be glamorous. All you have to do is stand still and look stupid," and devotes the rest of its duration to proving that Hedy Lamarr was everything but a girl who stood still and looked stupid.
Alexandra Dean makes sure to provide the viewer with the necessary information that enables them to understand the demanding lives of twentieth century Hollywood stars. From "Dr. Feelgood," who regularly administered amphetamines to celebrities, to contracts that basically determined their daily routines, stars like Hedy Lamarr were paying a life-damaging price for fame and fortunes, with little-to-no time for themselves. The comprehensiveness of the documentary allows Lamarr to break away from the personal and professional failures that had come to shape her image, and morph into the multifaceted person she was never able to convey during her lifetime.
Dean's exhaustive research clearly shows, in the amount of photos, video footage, articles, and interviews that she includes in the film, which makes it rather dynamic and lively for the viewer. The film quite skillfully and explicitly explores the hardships of being an independent-spirited woman like Lamarr at the peak of the classical, industrial Hollywood studio system. Her appearance-based career was set in stone after a filmmaker tricked her into performing what was cleverly edited into an erotic scene in Ecstasy, which made it difficult for both producers and audiences to regard her as a "serious" actress. Her beauty completely overshadowed her groundbreaking inventions, depriving her of the recognition she should have earned, and would have earned, had she not been a stunning female celebrity in the twentieth century. Dean includes instances of sexism, which prove that Lamarr's life was not as easy as it seemed, in a society where powerful men decide what aspects of a woman deserve to be recognized. Time and time again, she was denied intellectual recognition in favor of being "pretty," and "entertaining the troops" during the war.
Only posthumously does Hedy Lamarr get the recognition she deserved, not for her beauty, but for the empowering woman that she always was.
Even to the novice viewer, by the end of Bombshell, Lamarr is sure to take on a very inspiring, emotional position in their afterthoughts.
© Farah Elattar (1/21/18) FF2 Media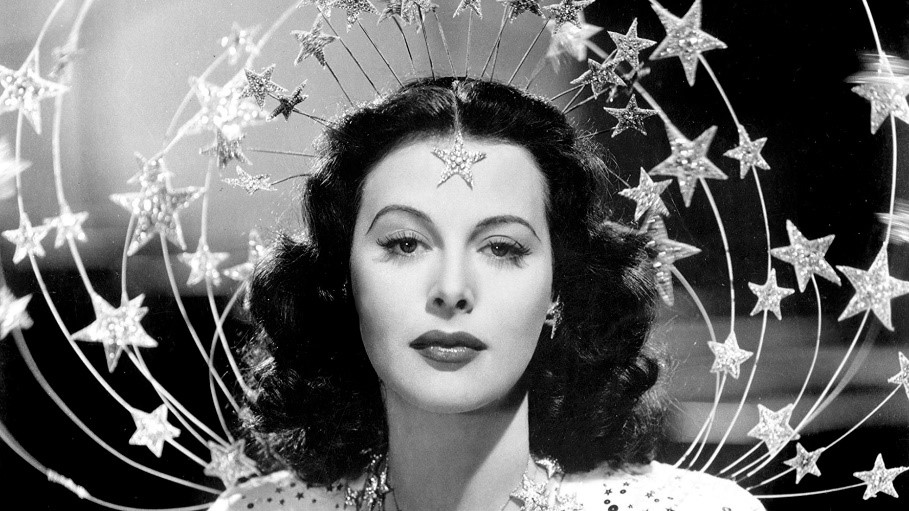 Top Photo: Poster for Bombshell.
Middle Photo: Hedy Lamarr in Bombshell.
Bottom Photo: Spencer Tracy and Hedy Lamar in Bombshell.
Photo credits: Kino Lorber
Q: Does Bombshell: The Hedy Lamarr Story pass the Bechdel-Wallace Test?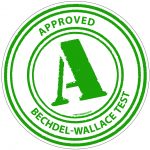 Yes.
There are several women interviewed by Dean, including Lamarr's granddaughter, where they discuss the star's life and her relationship with her family.