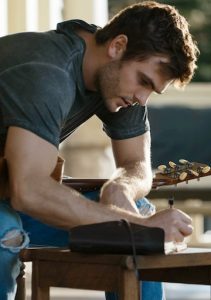 Written and directed by Bethany Ashton Wolf, Forever My Girl tells the story of country music star "Liam Page" (Alex Roe). Tired of his fame and generally uninspired, Liam returns to the small, close-knit town in Louisiana that he abandoned abruptly years ago. Liam has to mature very quickly as he reconnects with old friends and family. While undoubtedly a romance, Forever My Girl is also a story of forgiveness, grief, and family. It's a success of its genre. (AEL: 4/5)
Review by FF2 Intern Amelie Lasker
We are first introduced to "Josie" (Jessica Rothe) on the day of her wedding in a tiny, close-knit town in Louisiana. Josie's groom, "Liam Page" (Alex Roe), is an aspiring songwriter and performer, and he's just had his first hit song released. Just before the wedding is supposed to start, a friend gives Josie word that Liam isn't coming. He's decided that he wants something different from life, and that he has to cut off all ties with his hometown to get it.
Eight years later, Liam's country music fame has him on the covers of tabloids, and his name has become the object of girls' fantasies around the world. Still, Liam is disillusioned. He is grouchy and suffering from writer's block, and he's starting to become unhinged. When his beat-up flip phone breaks, he is desperate to fix it, only to retrieve a single voice message from Josie, his ex-fiancée. This is a romance, after all: he's been listening to that message every day for the last eight years.
When he hears news of the death of one of his best childhood friends, Liam returns for the funeral. Members of the community — most especially Josie and Liam's father "Pastor Brian" (John Benjamin Hickey) — are shocked and angry to see him. Gradually, he discovers how much hurt he caused when he left. Since Liam's mother died when he was a child, his father, having lost communication with his only son, has been alone. Then Liam learns that he is the father of the child Josie has been raising alone. The existence of precocious "Billy" (Abby Ryder Fortson) is a tender twist that is almost too sentimental, but it passes nonetheless.
A lot stands between Liam and reconciliation. Death and grief are very present in this community: Liam and his father never really finished grieving for Liam's mother, their beloved friend "Mason" (Terayle Hill) has just died in a tragic accident, and Josie, shaken by the death of her mother, is terrified to lose another family member.
Liam has a lot of growing to do himself. He's been a pop star since he was a teenager, so he hasn't learned how to be dependable, or how to depend on other people.
Forever My Girl certainly doesn't pass the Bechdel-Wallace test, nor would it pass any racial equivalent, if there were such a thing. Perhaps there should be, or perhaps the fact that there isn't indicates that these tests are not an effective form of universal value judgment. All of this movie's main characters are white and beautiful, and the only character with any sense of an arc is Liam himself. In fact, Liam has to change to meet the already-angelic heights of his ex-fiancée and daughter. The conflict is as straightforward as any high-budget romance can be expected to be.
Nevertheless, the story is unexpectedly sweet and emotionally compelling, and for that filmmaker Bethany Ashton Wolf should be commended. If you're in the mood for a particularly well-done albeit formulaic romance, Forever My Girls is absolutely a Must See.
© Amelie E. Lasker (1/20/18) FF2 Media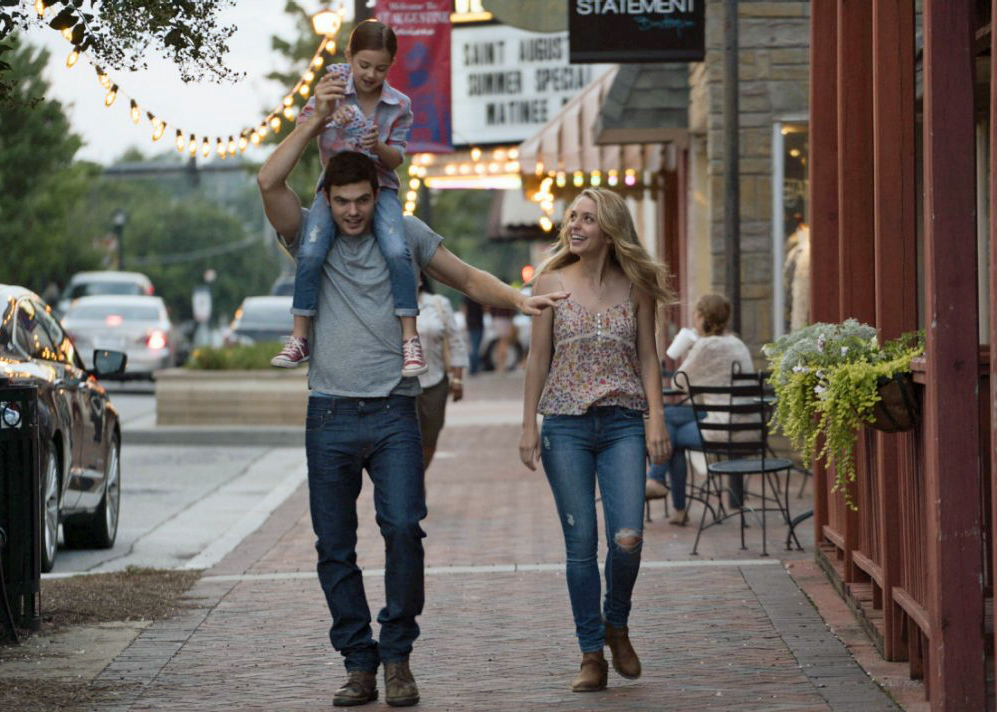 Top Photo: Alex Roe as "Liam."
Middle Photo: Alex Roe as "Liam" and Abby Ryder Fortson as "Billy."
Bottom Photo: Jessica Rothe as "Josie" and Alex Roe as "Liam."
Photo Credits: Roadside Attractions
Q: Does Forever My Girl pass the Bechdel-Wallace Test?
Nope.
Every conversation Josie has with another female characters, including her daughter Billy, is centered on Liam.